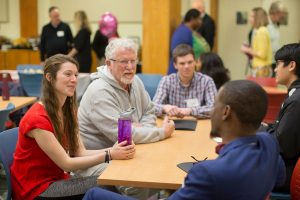 On Campus Recruiting
Employers are encouraged to come to the Wake Forest University campus to meet with students who will be graduating from the School of Divinity and are seeking employment.
Employers may hold information sessions that describe the position or positions available and the attributes of working for that church, organization, school or business. The information session may be followed up by open sign-up interviews in which students have the opportunity to sign up for an interview and employers agree to interview all who sign up by a specific deadline, set by the employer.
Employers may also contact Career Services to request resumes that meet certain criteria for the available position (for example, Baptist students interested in youth ministry, Disciples students seeking to be a pastor, etc.). Potential employers may then directly request interviews with selected students from that list, who may accept or decline the interview.
Wake Forest School of Divinity students and graduates are serving as outstanding leaders in congregations, non-profit organizations, chaplaincy, and other ministry settings. Potential employers are encouraged to contact Chris Copeland to meet our students and to set up opportunities for information sessions and interviews.