Main Content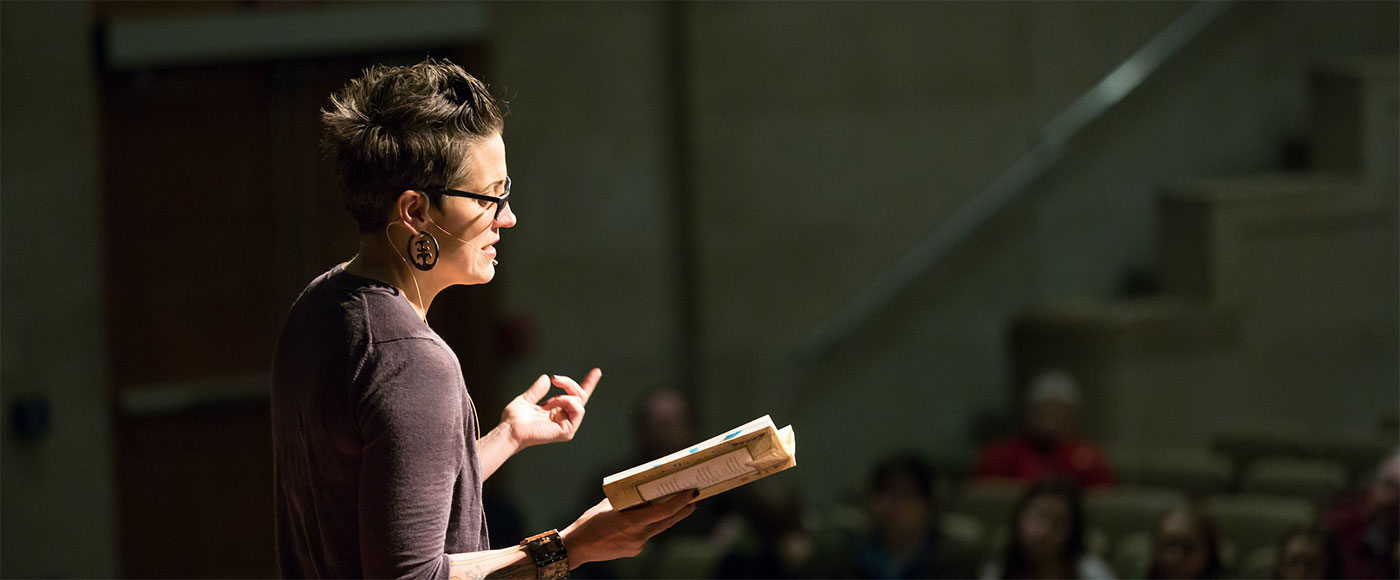 Experience our lectures and special events again or for the first time.
Click a link below to be taken directly to the lecture or special event you're looking for:
Looking for an event not listed?
Contact the Office of Communications at divcomm@wfu.edu with the name and, if possible, the date of the event to see if a shareable recording or manuscript is available.
Fall 2017
"Redeemer Nation and Lost Cause Religion: Making America Great Again (for the first time)"
Rev. Dr. Bill J. Leonard
Founding Dean of the School of Divinity, and Dunn Professor of Baptist Studies and Professor of Church History
Fall 2016
"What the World Needs Now: Building Authentic Community"
Rev. K. Killian Noe ('80)
Founder, Recovery Café, Seattle, WA
Fall 2015
"Why Theology Matters"
Rev. Dr. E. Frank Tupper
Distinguished Professor of Divinity Emeritus
Fall 2014
"The Necessity of Moral Dissent in Times Like These"
Rev. Dr. William J. Barber II
Pastor, Greenleaf Christian Church, Goldsboro NC; President, North Carolina NAACP
Fall 2013
"Faith, Values, and the Common Good"
Melissa Rogers
Special Assistant to the President and Executive Director of the White House Office of Faith-based and Neighborhood Partnerships
Spring 2013
"The Baptist Motif: Celebrating the Dunn Chair of Baptist Studies"
Dr. Harvey G. Cox, Jr.
Harvard Divinity School
Fall 2012
"Relearning our Mother Tongue: Finding Our Soul as We Find Our Voice for Health, Mercy, and Justice"
Dr. Gary Gunderson
Wake Forest Baptist Medical Center
Fall 2011
"Are Religious Convictions Bad for the Planet?"
Dr. William Schweiker
University of Chicago Divinity School
The Mac Bryan Prophetic Preaching Series was established at Wake Forest University School of Divinity in honor and memory of George McLeod "Mac" Bryan, Sr. ('41, MA '44) by George ('61) and Carol  ('64) Williamson. Bryan was professor of religion and taught at the University for thirty-seven years after joining the religion faculty in 1956. He introduced courses on feminism, religion and science, medical ethics, and black and liberation theology. He fought tirelessly for Civil Rights, pursued social reform, and was instrumental in helping to integrate Wake Forest College in the 1960s. Bryan wrote several books on social justice, including These Few Also Paid a Price and Voices in the Wilderness.
Bryan had a lasting impact on the Williamsons. In talking about his impact, George paints a vivid picture: " Mac's character was to bring others along in his confident intention toward reform of the human folly for public injustice." The series brings preachers and speakers to campus who will inspire students to live and serve at the intersection of Christianity and social justice.
The Williamsons are long-time supporters of Wake Forest and early advocates for the importance of the School of Divinity at Wake Forest.  George currently serves on the Board of Visitors for the School of Divinity.
2021
Dr. Cornel West
Professor Emeritus, Princeton University
2021
"The Origins of Our Discontents"
Isabel Wilkerson
Pulitzer Prize-winning author of Cast
2019
Rev. Dr. Emilie M. Townes
Dean of the Divinity School and E. Rhodes and Leona B. Carpenter Professor of Womanist Ethics and Society, Vanderbilt Divinity School
No audio or video available.
2017
Rev. Minerva G. Carcaño
Bishop of the California-Nevada Annual Conference of The United Methodist Church
No audio or video available.
2016
"Where All Are Welcome"
Rev. Dr. John Dorhauer
Ninth General Minister and President of the United Church of Christ (UCC)
2014
"The Necessity of Moral Dissent in Times Like These"
Rev. Dr. William J. Barber II
Pastor, Greenleaf Christian Church, Goldsboro NC; President, North Carolina NAACP
Matter and Desire: An Erotic Ecology
with Andreas Weber
Could it be that our planet is not suffering primarily from a financial crisis, or even an ecological one, but from a critical lack of love?
Andreas Weber asks a radical and challenging question. In speaking of love and of eroticism, Weber is not referring to sentimental feelings but to a new basis for ontology itself, based on a mix of cutting-edge biological findings and philosophical insights.
A German biologist and eco-philosopher, Weber delves deep into the continuity and connections between our bodies and those of all living beings. In this talk he will discuss his new book Matter and Desire: An Erotic Ecology. Written in the tradition of John Muir and Rachel Carson, the book weaves personal narrative and lyrical descriptions with a discussion of ecology and psychology, offering a new—and necessary—way to move through nature to ultimately achieve a heightened sense of self-awareness. The book is part of Weber's larger project of developing an eco-philosophy—or as Weber calls it, a "biopoetics"—for the Anthropocene.
Event Sponsors: Wake Forest University School of Divinity Food, Health, and Ecological Well-Being Program; Wake Forest University Humanities Institute; National Endowment for the Humanities; Wake Forest University Center for Energy, Environment, and Sustainability (CEES); and The Center for Education, Imagination, and the Natural Word.
The Margaret A. Steelman Lectures were endowed in 1998 with a gift from Dr. Sanford L. Steelman in honor of his wife, Margaret A. Steelman, and to establish a legacy at the newly established School of Divinity at Wake Forest University. The Steelmans were originally from Hickory and returned there to retire in 1988.  Dr. Steelman spent 28 years with Merck Research Laboratories in New Jersey.  His career as a biochemist was distinguished with hundreds of scientific articles and five patents.  They were active members of First Baptist Church, Hickory, NC. This lectureship provides funding for prominent lecturers of Judeo-Christian theology.
2017
Samuel Y. Pang
Professor of Inter-cultural Studies and World Christianity at the College of Theology and United Graduate School of Theology at Yonsei University in Seoul, South Korea.
No audio or video available.
2016
"Is God's Charity Broad Enough for Bears?"
Dr. Elizabeth Johnson
Distinguished Professor of Theology, Fordham University
2013
"The Spiritual Mode of Preaching"
Rev. Dr. Luke A. Powery
Dean of Duke Chapel and Associate Professor of the Practice of Homiletics, Duke Divinity School
2012
"Christianity After Religion: The End of Church and the Birth of a New Spiritual Awakening"
Diana Butler Bass
Author, speaker, and independent scholar specializing in American religion and culture
No audio or video available.
2011
"Are Religious Convictions Bad for the Planet?"
Dr. William Schweiker
University of Chicago Divinity School