Main Content
Interim Dean of the Wake Forest University School of Divinity, Wake Forest Professor of the Humanities, and Director of the Program in African American Studies
A scholar committed to a broad and inclusive vision of human flourishing, Corey D.B. Walker is Interim Dean of Wake Forest University School of Divinity, Wake Forest Professor of the Humanities, and Inaugural Director of the Program in African American Studies.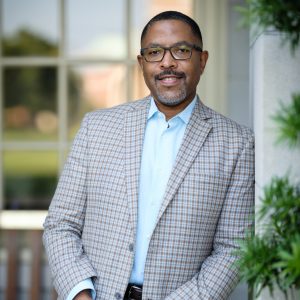 Dean Walker has an extensive record of scholarly accomplishment and academic leadership. He served as Vice President, Dean, and Professor of Religion and Society at the Samuel DeWitt Proctor School of Theology at Virginia Union University; founding Dean of the College of Arts, Sciences, Business and Education and inaugural John W. and Anna Hodgin Hanes Professor of the Humanities at Winston-Salem State University; and Chair of the department of Africana Studies at Brown University, where he was also a tenured professor and faculty affiliate in the department of American Studies, department of Religious Studies, Center for Latin American and Caribbean Studies, Center for the Study of Race and Ethnicity, and Committee on Science and Technology Studies. He served as a faculty member in the department of Religious Studies and the Carter G. Woodson Institute of African American and African Studies at the University of Virginia and was the inaugural director of the Center for the Study of Local Knowledge established by the Carter G. Woodson Institute, with support from the Ford Foundation, as the only research center in the country dedicated to new and innovative research related to the concept of local knowledge. Dean Walker also served as a visiting professor at the Historisches Institut at Friedrich-Schiller Universität Jena in Germany, where he delivered the Johann Gustav Droysen Lecture, University of Richmond, and Union Presbyterian Seminary. He was Freedom Forum Institute Senior Fellow for Religious Freedom at the Freedom Forum Institute in Washington, DC and Non-Resident Fellow at the W.E.B. Du Bois Institute for African and African American Research at Harvard University.
Dean Walker's research, teaching, and public scholarship spans the areas of American and African American social and religious thought, ethics, and religion and American public life. He is author and editor of several books and has published over sixty articles, essays, and book chapters in a wide variety of scholarly journals and publications. He is currently completing his next book, Disciple of Nonviolence: Wyatt Tee Walker and the Struggle for the Soul of Democracy, to be published by the University of Virginia Press. Dean Walker also served as Book Review Editor and Associate Editor of the Journal of the American Academy of Religion, generally considered the top academic journal in the field.
An ordained American Baptist clergyperson, Dean Walker speaks to congregations and communities across the nation and has appeared on a variety of media outlets in the United States and abroad.
Contact
Email: walkerco@wfu.edu
Phone: 336.758.3957
Office: Divinity and Religious Studies Building 109
Media Requests
The Office of Communications is responsible for communicating information regarding faculty research, programs, and other news to appropriate media sources. Faculty are available to provide comment for a story or be interviewed (recorded and/or live).  To request, contact Cheryl Walker, director of news and communications for Wake Forest University.
Education
BS, Norfolk State University; MDiv, Virginia Union University; MTS, Harvard University;
PhD, The College of William and Mary
Religious Affiliation
American Baptist Churches USA
Books
Disciple of Nonviolence: Wyatt Tee Walker and the Struggle for the Soul of Democracy

(Charlottesville: University of Virginia Press, under contract).

With Sabrina E. Dent, ed.,

African Americans and Religious Freedom: New Perspectives for Congregations and Communities

(Washington, DC: Freedom Forum, 2021).

With Melody C. Barnes and Thad Williamson, eds.,

Community Wealth Building and the Reconstruction of American Democracy: Can We Make American Democracy Work

(Gloucestershire, UK: Edward Elgar Publishing, 2020).

A Noble Fight: African American Freemasonry and the Struggle for Democracy in America

(Champaign: University of Illinois Press, 2008).
Select Journal Articles, Book Chapters and Essays
"On Capitalism, Christianity, and Culture" in Cornel West,

Prophesy Deliverance! An Afro-American Revolutionary Christianity

, 40th Anniversary Expanded Edition (Louisville: Westminster John Knox Press, 2022). 

"To Think Is to Resist: Notes Toward a Critical Pedagogy of Freedom,

"Political Theology Network

(June 2022). 

"Thinking Religion and Democracy at the Beginnings," Symposium on Kathleen M. Sands,

America's Religious Wars: The Embattled Heart of Our Public Life

,"

Syndicate

(January 2022). 

"1724-1729: The Spirituals" in

Four Hundred Souls: A Community History of African America 1619- 2019

, Ibram X. Kendi and Keisha N. Blaine, eds. (New York: Pantheon, 2021). 

"Humanism and the Modern Age," in

Oxford Handbook on Humanism

, ed. Anthony Pinn (New York: Oxford University Press, 2021). 

"Religious Freedom's Racial Reckoning,"

Berkley Forum

, Berkley Center for Religion, Peace & World Affairs, Georgetown University (December 2020). 

"Paideia

, Politics, and the People: Deep Democracy and the New Urban Commons," in

Community Wealth Building and the Reconstruction of American Democracy: Can We Make American Democracy Work

, eds. Melody C. Barnes, Corey D. B. Walker, and Thad Williamson (Gloucestershire, UK: Edward Elgar Publishing, 2020). 

"'A Serious Human Discourse': Charles H. Long and the Challenge of Elliptical Thinking,"

Black Theology: An International Journal

18.1 (2020).

"How Civil Rights Leader Wyatt Tee Walker Revived Hope After MLK's Death,"

The Conversation

(February 2020). 

"'Is America Possible?' Martin Luther King, Jr. and an Ethics of Dissent"

American Baptist Quarterly

37.1 (2019).

"Beyond the Politics of Nostalgia: Religious Freedom and the Ends of Democracy," Freedom of Religion, Religious Freedom Center (August 2019).
Select Academic Lectures
"After . . .: Religion and Democracy in Dark Times," Religion and Its Publics Project, University of Virginia, 2022 

"'Fierce Urgency of Now': Climate Change and the Ethics of Deep Democracy," Virginia Environmental Justice Gathering, Virginia Interfaith Power and Light, 2021

"'My Skin as a Legacy': Toward an Ethics of Slavery, Race and Memory," Inaugural Slavery, Race and Memory Project Lecture, Wake Forest University, 2019 

"The Racial Roots/Routes of Religious Freedom," Religious Freedom Annual Review, International Center for Law and Religion Studies, J. Reuben Clark School of Law, Brigham Young University, 2019 

"Desegregating God: Toward a Politics of Freedom," Annual Meeting of the Virginia Baptist Historical Society, 2019 

"Democratizing Classical Education in the 21st Century," Classical Learning Test Higher Education Summit, 2019 

"'God is Black': James H. Cone and the Black Radical Theological Tradition," Annual Humanities Lecture, Claflin University, 2019

"'Love is creative and redemptive': Beloved Community and the Politics of the Human," MLK Diversity Lecture, Florida Atlantic University, 2019 

"The Politics of Piety and Profession: Towards a Decolonization of Seminary Leadership," Association of Theological Schools Presidential Leadership Intensive Conference, 2018

"Birthright Nation and Beloved Community: Race, Religion, and the Politics of Dissent," African American Denominational House, Chautauqua Institution, 2018 

Commencement Address, Baptist Theological Seminary in Richmond, 2018

Baccalaureate Address, Virginia Union University, 2017

"'The Sovereignty of the Imagination': African American Freemasons and the Problem of Democracy in the Modern World," Third Annual Lecture in American Fraternalism, Boston University, 2017
Select Sermons, Educational Series, and Church Presentations
Current Board Appointments
Board of Trustees, Lincoln University

Board of Directors, Center for Faith, Justice, and Reconciliation

Board of Academic Advisors, Classic Learning Test

Executive Committee, Virginia Baptist Historical Society

National Advisory Board, Middle Passage Ceremonies and Port Markers Project