Main Content
Start the next step of your journey with us.
As an ecumenical divinity school part of a Top 30 national university, you'll find accessible and accomplished faculty (in fact, our student to faculty ratio is 5:1), diverse community engagement programs and service opportunities, an innovative and evolving curriculum with interdisciplinary academic opportunities, and dynamic spiritual life, leadership development, and career services offerings.
The Office of Admissions staff looks forward to talking with you about these opportunities and connecting you with alumni, faculty, or current student to give you a fuller glimpse into community life. As you look further at the opportunities here by visiting or starting the application process, we are available to make sure the School of Divinity meets your needs as you prepare for graduate studies in theology and ministry.
"Our holistic admissions process takes the full person into consideration. God has called your full and authentic self to become an agent of justice, reconciliation, and compassion. We invite you to bring that full and authentic self to our application process" Brittani Hunt, Director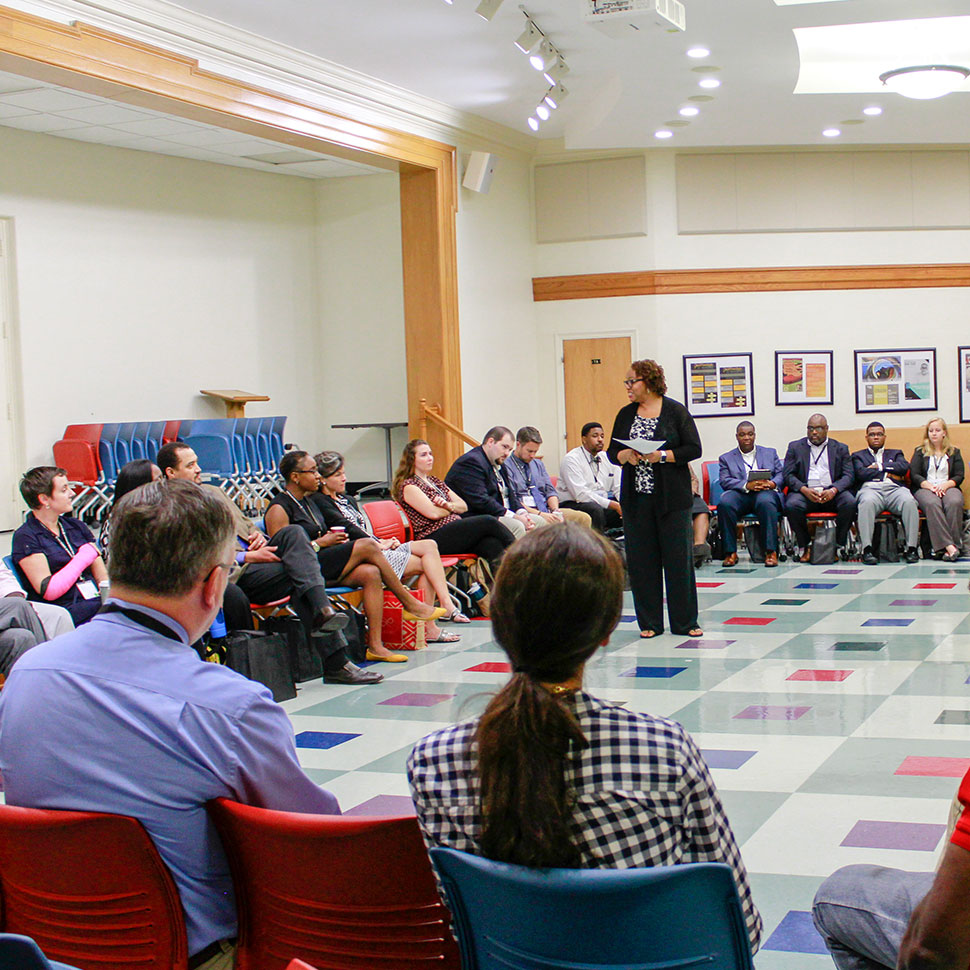 Did You Know?
We thrive on innovation and
creative work.
With interdisciplinary degree options in bioethics, counseling, education, law, management, and sustainability to concentrations in faith and health, to expansive community engagement programming, we are transforming the way religious leaders are educated. With opportunities for community-oriented service, worship arts, social justice advocacy, and activism, you will have opportunities to discern and develop your passions hands-on.
We have resources to
inform your research.
Ours is the Library of Champions: Z. Smith Reynolds Library is a previous recipient of the Association of College and Research Libraries Excellence Award. Think Super Bowl, but for libraries. And they have over 95,000 theological holdings and a dedicated librarian for divinity students to help you obtain the information you need.
We are working for you.
The Office of Leadership Development at the School of Divinity takes the long-view perspective, helping our students from the time they arrive on campus to find their academic and vocational passions and prepare them for lives of meaning and purpose. It provides seminars and workshops, denominational connections, career counseling, and mock job interviews. 97% of the class of 2020 was employed or continuing their education six months after graduation.

8 years of consistent recognition
The School of Divinity has been recognized annually by the Center for Faith and Service since 2013 as part of the Seminaries that Change the World. "Wake Divinity's curriculum aims to teach religious professionals that it is not enough to clothe the naked and feed the hungry; we must better understand the sources of vast food deserts and diminishing resources. It is not enough to welcome the stranger; we have to interrogate social, political and theological logics that render some people strange in the first place," said dean Jonathan Walton.