Spiritual Life
The School of Divinity recognizes the importance of providing opportunities to nurture the faith development and spiritual life of students. These opportunities – including community worship, group spiritual practices, spirituality retreats, and other formational events – help students pay attention to the movement of the Spirit as an integral part of their theological education and formation.
As students deepen their knowledge about the Bible, ethics, church history, and theology, they are also invited to deepen their spiritual lives and experiences by encountering God in familiar and new practices of faith.
---
Weekly Chapel Service
Fall 2023 Schedule
August 29: Interim Dean Corey D. B. Walker
September 5: Melva Sampson
September 12: Wynnetta Wimberley
September 19: John Carter
September 26: Gabrielle Banks (MDiv '24)
October 3: Ben Boswell
October 10: Bishop Tejado Hanchell
Fall Break | October 12-15, 2023 (Thursday-Sunday)
October 17: Bill Leonard
October 24: Lynda Blackmon Lowery
October 31: TBD
November 7: TBD
November 14: TBD
November 21: NO CHAPEL
November 28: Labyrinth
December 5: Lessons in Carols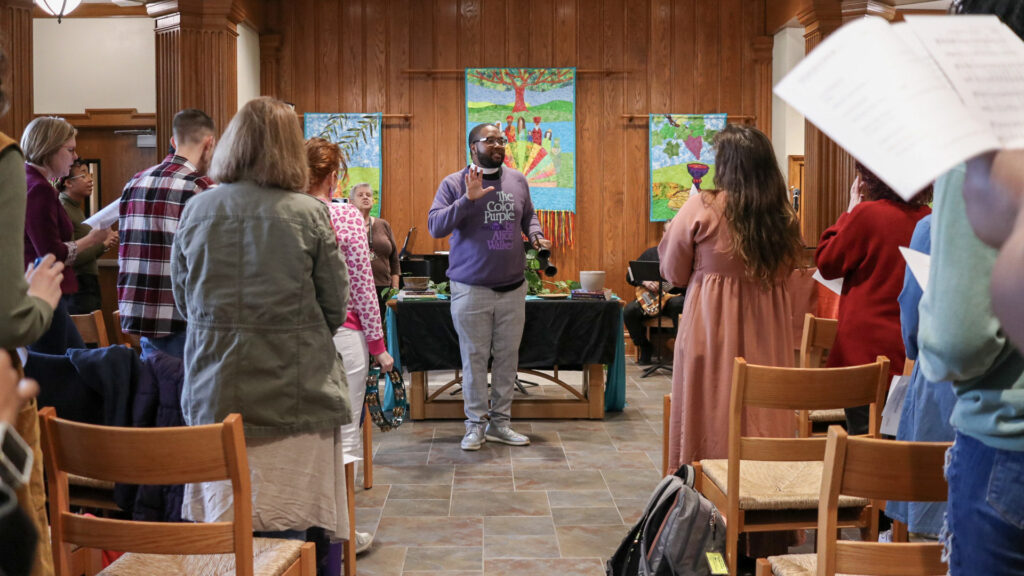 Community Worship
We study. We teach. We learn together. We also worship together. Weekly chapel services at the School of Divinity give students, faculty, staff, and community friends an opportunity to encounter God as we pray and sing together. School of Divinity worship services also give worshippers unique opportunities to embody what they are learning in classrooms, even to infuse that learning with spiritual and theological insights peculiarly present when a community prays together.
---
Prayer and Meditation Room
Located in Wingate 213, the prayer and meditation room is available for students, faculty, and staff during the semester 8:00 a.m. – 4:00 p.m., Monday through Friday.
Retreat Resources
An important aspect of nurturing the spiritual life is taking time away from the routines of life, school, and work to ground ourselves in God and listen attentively to the Spirit. Going on retreat – seeking spiritual direction, taking Sabbath, or even building community with others – is a powerful way to nurture and grow our spiritual lives. There are a number of centers and spaces in North Carolina that offer retreats for individuals and groups to reconnect with the Divine and remember who we are created to be.
Worship Opportunities in Winston-Salem
Finding a faith community to join during your journey at the School of Divinity is important, not only for support, but for spiritual growth and community involvement. To help you find a church, we've put together a Worship Opportunities Resource Guide with local churches suggested by current students. Please note that this is not meant to be an exhaustive list of worship opportunities in Winston-Salem, but an accurate representation of the diversity of worshipping communities.