Main Content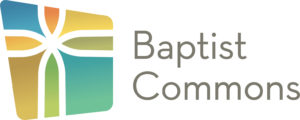 Christian by tradition, Baptist in heritage, and ecumenical in outlook, we are Baptists committed to justice, reconciliation, and compassion.
The Baptist Commons forms students, engages alumni, and cultivates relationships with supporters to deepen the distinct Baptist heritage of our ecumenical learning community, recognizing the School of Divinity's role as a vital institution in fostering excellence in leadership among diverse communities of Baptists committed to justice, reconciliation, and compassion.

In the News
Wake Forest School of Divinity names its first program manager of Baptist Commons, School of Divinity News (March 27, 2020)
$1 Million Lilly Endowment Inc grant supports Wake Forest University School of Divinity to help congregations become agents of justice, School of Divinity News (November 5, 2020)
What's a Baptist? Seminary aims to help Baptists figure that out, Baptist News Global (April 2, 2018)
Baptists embodying justice, reconciliation, and compassion, School of Divinity News (March 22, 2018)
Dr. Bill J. Leonard, Senior Columnist at Baptist News Global
The School of Divinity is committed to honoring and nurturing its Baptist heritage. Without the support of 19th-century Baptists in North Carolina, the nationally prestigious Wake Forest University we call home would never have been born. (Note that in 1986, the University officially broke ties with the Baptist State Convention of North Carolina in order to freely choose its trustees without interference from the Convention.) WFU still honors its Baptist heritage in word and deed. For example, the school motto is "ProHumanitate" (For Humanity). The University fulfills opportunities for service arising out of that heritage.
Baptists also played a significant role in the beginnings of the School of Divinity. In 1989 the trustees of the University approved the idea of forming a School of Divinity, and Baptist churches were major financial contributors to the new school, founded in 1999. The very first gift came from the First Baptist Church in New Bern, NC, where Samuel Wait, founder and first president of WFU, once served. (We would be remiss if we did not mention the history of slavery for the Waits and Wake Forest University. WFU has begun the Slavery, Race, and Memory Project to confront its past.)
Even though Baptist heritage informs the School of Divinity, from the beginning the school has been intentionally ecumenical in terms of faculty, student body, and curriculum. It is the first university-based divinity school to begin with no formal denominational affiliation. The faculty and administration embody the traditional Baptist values of respect for individual conscience and freedom of religion. Rather than imposing a particular theological perspective on students, the faculty of the School of Divinity provides future ministers with the tools and resources that help them to think seriously about God, the church, the world, and their own vocation. In true Baptist fashion, students are challenged to internalize their education so that they can serve as effective agents of justice, reconciliation, and compassion in an ever-changing world. The School of Divinity is intentionally ecumenical and open to a variety of viewpoints, valuing Wake Forest College's Baptist heritage that was shaped by "soul freedom."
Common Conversations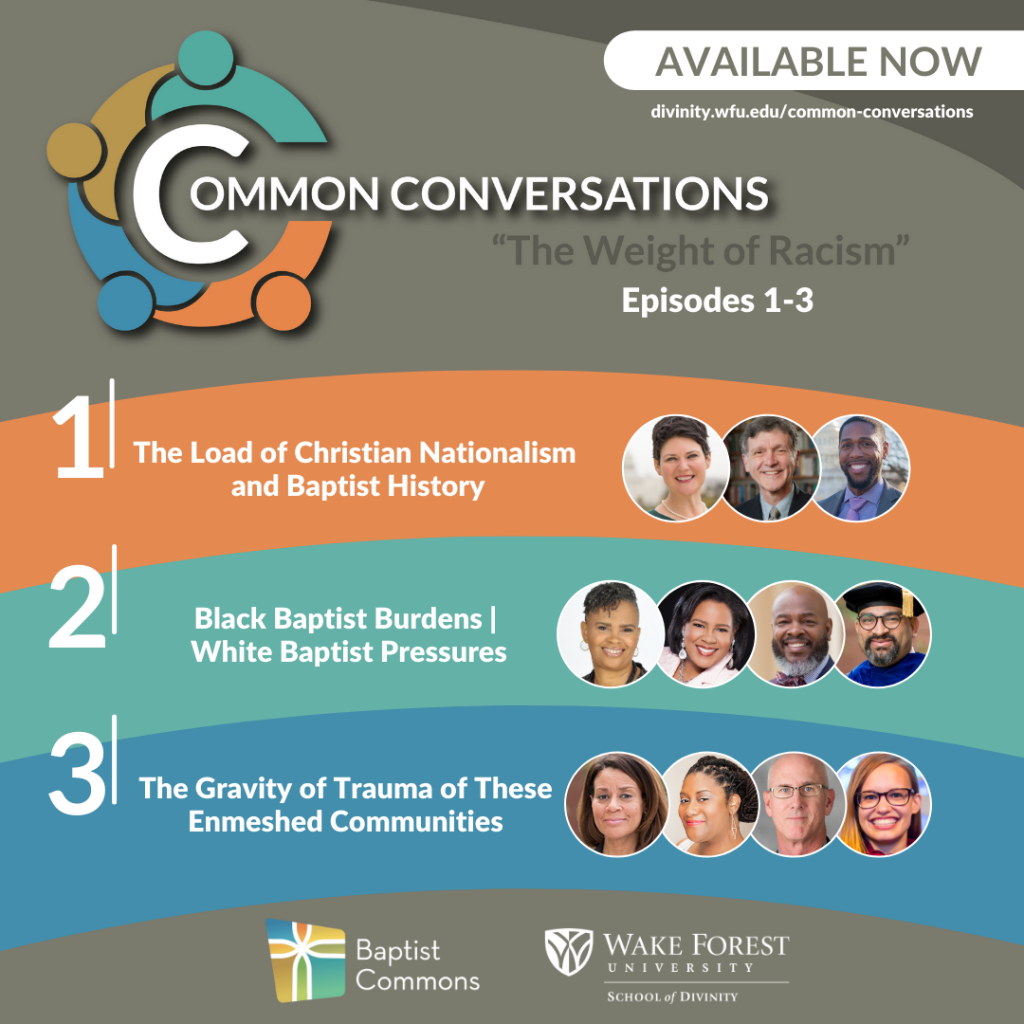 The Baptist Commons will aid in the continuation and creative imagining of how we can best support the holistic educational formation of faith leaders who embrace Baptist identities and connections. Over half of alumni identify as Baptist and the more recent classes of students average a third who enter as Baptists, though within the name "baptist" they may represent as many as 19 different fellowships, associations, or national organizations. Amidst the school's broad, ecumenical future, its Baptist heritage holds value for students, alumni, and the institution itself. Wake Divinity graduates have thrived within Baptist life, where alumni have served in significant positions of leadership in local churches and in larger denominational bodies. Wake Divinity graduates have been among the strongest voices for progressive change and inclusion within their Baptist denominational bodies, and the school has been noted for its influence in shaping such a perspective. This success is not only a point of pride for students and graduates but also a mark of the success of the School in assisting students with meaningful opportunities post-seminary. It is an important link to the University's Baptist roots and religious origins. The maintenance of this sense of a Baptist heritage at an ecumenical seminary is important to continuing in shaping a hopeful future.
Wake Divinity is home to the James and Marilyn Dunn Chair of Baptist Studies. Established in honor of the Dunns, influential Baptist leaders for more than half a century, the chair positions the School of Divinity as a leader in the ongoing conversation about the future of ministry in Baptist churches. James Dunn, who joined the School of Divinity faculty in 1999, was internationally known for his leadership of the Baptist Joint Committee for Religious Liberty and his expertise on church and state issues. Marilyn Dunn, a soprano, was a well-known Baptist musician. "In the classroom, the pulpit and the public square, James has spoken out for Baptist ideals of separation of church and state, as well as Baptist theology and history," former Dean Gail O'Day said. "Over the past decade, James has helped to prepare dozens of new ministers for the challenges they will face as religious leaders, not only within congregations and non-profit agencies but in the political and social issues of their communities."
The Baptist Commons is designed to provide reflective and educational spaces for students, alumni, and others who have stories to share about what it means to be Baptists committed to the common good. However, even with the investment into the Baptist Commons, our work will not only be for, from, or about Baptists. We will undergird the vision and goals of the diverse School of Divinity. The progressive Baptist heritage of the school is important, but the ecumenical character of the school is indispensable.
Learn more about Program Manager Natalie Aho and read her welcome letter from August 2020.
The School of Divinity is not a Baptist school, but it is a great place to be Baptist.
The Baptist Commons provides:
Networking and Alumni Relations –

We assist Baptist students with network development and placement post-graduation, helping students to find meaningful and realistic and strategic placements of employment while supporting their long-term ministry goals. We help the school to build its network for purposes of student and donor recruitment. We maintain a healthy alumni network for Baptist graduates. We host the annual Cooperative Baptist Fellowship reception event and will develop comparable gatherings at other annual denominational meetings and gatherings. We help Baptists network the diverse Baptist community.

Community Building –

We meet regularly with Baptist students, alumni, and supporters for fellowship and hosted conversations with invited guests on issues particular to Baptist life. We will develop service opportunities, pilgrimages, immersion events, and class trips. We will build community with congregations, renewing relationships between churches and theological schools by building trust and awareness of what we do to educate and form students.

Vocational Formation –

We provide opportunities for mentoring, internships and relationships, including membership, with Baptist congregations and nonprofit organizations. We assist the Office of the Art of Ministry in internships and the Office of Career Services and Leadership Development in vocational programming for Baptist students. We connect students with congregational and denominational resources for Baptist practices, worship elements and traditions, and understanding and applying for ordination.
Education and Enrichment –

We coordinate periodic events or classes each year within the scope of Baptist Studies (soon to be developed). We will develop a Baptist Studies Certificate conferred on graduates that have completed elective coursework in Baptist Studies in coordination with the Dunn Professor of Baptist Studies. To sustain professional formation, we will develop seminars, institutes, conferences, and classes as continuing education opportunities for all. We may also develop a Thriving Congregations program (grant approval pending). We provide spiritual growth and formation opportunities and experiences.

Peer Learning and Practical Support –

We cultivate communities of practice and leadership training among peers in ministry and nonprofit work and connect them with mentors and other practitioners in their field for practical and spiritual support. We utilize Baptist clergy and laity as resources to address questions and concerns related to Baptist identity and practice.

Advancement –Under the direction of the Office for Advancement, we assist in the recruitment and cultivation of donors within our Baptist network that are interested in the distinctives of the School of Divinity. We will work towards additional scholarships for Baptist students. The goal of The Baptist Commons Initiative is to raise start-up funds and money to permanently endow the program. If you would like to contribute, contact Sheila Virgil, Assistant Dean of Development, at virgils@wfu.edu or 336.758.5872. To support Wake Divinity, give to our annual fund.
Wake Forest University School of Divinity
The Baptist Commons
Statement on Racial and Social Justice
Spring 2021
As a theological institution, the Wake Forest University School of Divinity (Wake Divinity) equips students to be "agents of justice, reconciliation, and compassion in Christian churches and other ministries." In a world of injustice and suffering, preparing leaders who will be agents of change throughout the country is of foundational importance. As we define it, Justice is working to ensure that all of God's creation can flourish; Reconciliation is seeking to heal the brokenness within and among communities as we are led into action by the Holy Spirit; and Compassion is cultivating authentic, Christ-like concern for others to participate in healing and transformation.
We have witnessed the rise of violent acts by radicalized extremists using the name of Christ for its validity in the past, including but certainly not limited to the deadly actions at the Mother Emanuel AME Church in Charleston in 2015, in Charlottesville in 2017, and on January 6, 2021, at the US Capitol. We recognize the damage done by racism, radicalized Christian nationalism, and oppression in the world, the church, and in the lives of individuals and communities. We join our voices to condemn all forms of oppressive violence committed in the name of Jesus Christ, theologically and publicly.
The Baptist Commons, a program of Wake Divinity, reaffirms Jesus' call articulated in Luke 4:18-19 believing that justice, equity, and equality are possible through co-laboring with God in the ministry of wholeness. As a school that is Christian by tradition, Baptist in heritage, and ecumenical in outlook, our mission is the continuation and creative imagining of the holistic educational formation of faith leaders who embrace Baptist identities akin to Nannie Helen Burroughs, Martin Luther King, Jr., Addie Davis, James H. Dunn, Gardner C. Taylor, Maya Angelou, Melissa Rogers, Bill Moyers, Amy Butler, Bill J. Leonard, and Jonathan Lee Walton.
As Christians, we have committed ourselves to the call of the prophets and the liberating Gospel of Jesus Christ, standing in solidarity with those who experience discrimination, marginalization, and oppression in our churches, communities, and society. We recommit ourselves to challenging Christian nationalism, systemic racism, and systematic oppression occurring in various institutions of our nation, such as but not limited to the educational system, the justice system, and the political system.
To that end, we will critically engage in dialogue and action in the following ways:
We commit to racial justice on a personal, ecclesial, and systemic level.
We commit to repair and heal the wounds of the past.
We commit to listen to and amplify the voices of people of faith who have been marginalized by the colonizing force of white supremacy.
We commit to participating in diversity, equity, inclusion, anti-racism, and anti-oppression training.
We commit to all efforts in our power that increase the diversity of the divinity school faculty, staff, and students and advocate for diversity throughout the institution.
We commit to hosting regular conferences on theological and social justice.
We commit to supporting and uplifting student, alumni, and supporter voices that are protesting for equity and justice.
We commit to fostering a welcoming and affirming space for our students, faculty, and staff that invites innovative responses to systematic oppression.
We reassert our pledge to be architects of equity, hope, and healing on the campus of Wake Forest University, in Winston-Salem, NC, and the communities we serve around the nation.
In solidarity with Christ and God's creation,
The Baptist Commons Advisory Council 2021-2022
Natalie Aho
Oliver M. Thomas
Mark Jensen
Lin Story-Bunce
Ryan M. Eller
Emily Hull McGee
LaTonya McIver Penny
Garrett Vickrey
Bill J. Leonard
Justin A. Thomas
Catherine Jackson-Jordan
Rebecca Wiggs
Baptist Commons Advisory Council – 2021
Faculty and Staff:

Dr. Jonathan Lee Walton, Dean of Wake Divinity, Presidential Chair of Religion and Society, and Dean of Wait Chapel
Dr. Mark Jensen, Teaching Professor of Pastoral Care and Pastoral Theology at Wake Divinity
Natalie Aho, Program Manager for the Baptist Commons at Wake Divinity
Dr. Bill J. Leonard, Founding Dean of the School of Divinity and Professor of Divinity Emeritus
Council Members:
Dr. Oliver M. Thomas ('10), Chairman of the Baptist Commons Advisory Council, Associate Pastor of Young Adult Ministry at Providence Baptist Church, Greensboro, NC, and Adjunct Faculty at North Carolina A&T State University, Greensboro, NC
Rev. Ryan Eller ('07), Co-Founder & Executive Director at The New Moral Majority, Louisville, KY
Rev. Emily Hull McGee ('09), Pastor of First Baptist Church on Fifth, Winston-Salem, NC
Catherine Jackson-Jordan ('22), Student at Wake Divinity, Winston-Salem, NC
Rev. Dr. LaTonya McIvers Penny ('13), Pastor of New Mt. Zion Baptist, Roxboro, NC, and Executive Director of Family Abuse Services of Alamance County, Inc
Rev. Alan Sherouse ('05), Senior Pastor of First Baptist Church, Greensboro, NC
Rev. Lin Story-Bunce ('09), Associate Minister of Youth at College Park Baptist, Greensboro, NC
Captain, Rev. Justin Thomas ('13), Air Force Chaplain, Colorado Springs, CO
Stay connected with the Baptist Commons.
For more information, contact Natalie Aho, program manager of the Baptist Commons at 336-758-4416 or ahon@wfu.edu.