Assistant Teaching Professor of Preaching and Practical Theology
Sampson is a practical theologian and ordained minister. Her research interests include Black preaching women's embodiment, African heritage spiritual traditions, Black girls' ritual performance, and the relationship between digital proclamation and spiritual formation. She is the creator and curator of Pink Robe Chronicles ™ and Raising Womanish Girls ™, both digital platforms used to elucidate the role of sacred memory and ritual in the collective healing of marginalized communities.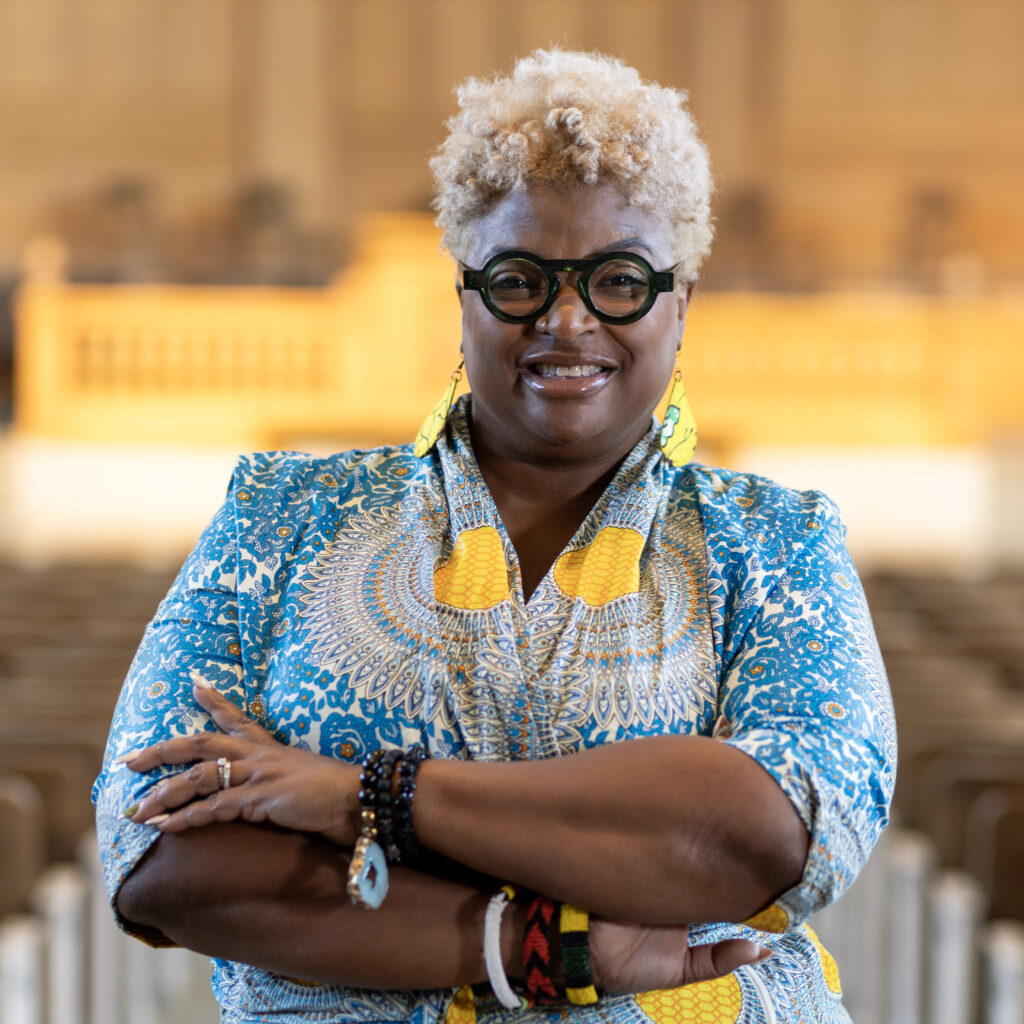 Contact
Email: sampsoml@wfu.edu
Phone: 336.758.6055
Office: Divinity and Religious Studies Building 102
Media Requests
The Office of Communications is responsible for communicating information regarding faculty research, programs, and other news to appropriate media sources. Faculty are available to provide comment for a story or be interviewed (recorded and/or live). To request, contact Cheryl Walker, director of news and communications for Wake Forest University.
---
Education
BA, Virginia Union; MDiv, Emory; MA, Howard; PhD, Emory
Religious Affiliation
Baptist – Progressive National Baptist
Presbyterian Church (USA), Ruling Elder
Courses Taught
Introduction to Homiletics and Worship
Womanist Proclamation
Spiritual Formation and Digital Proclamation
African American Preaching Tradition
Preaching from the Margins
Introduction to African Heritage Religions
Art of Ministry
Select Journal Articles, Book Chapters, Book Reviews
"No Redemptive Quality: Black Women's Bodies, Black Church and the Business of Shame," www.thefeministwire.com. February 14, 2017.
"Hell No!" Those Preaching Women: A Multicultural Collection, eds., Ella Pearson Mitchell and Valerie Bridgeman Davis (Valley Forge: Judson, 2008) 27-31.
"After Katrina and Rita: What Must I do to be Saved?" The Sky is Crying: Race, Class and Natural Disaster,ed. Cheryl Kirk-Duggan (Nashville: Abingdon Press, 2006). 188-196.
Select Academic Lectures
Reclaiming Sacred Memory as Rituals and Liturgies for Healing, Samuel DeWitt Proctor Conference, Richmond, VA, 2017.
Holla if Ya Hear Me!: Hip Hop and Religion IV, Interdenominational Theological Center, Atlanta, GA, 2014.
African Roots: Christianity and the Black Church in North America, Candler School of Theology, Emory University, Atlanta, GA, 2013.
Dream a Bigger Dream: A Legacy of Women in Transformational Ministry, Sisters Chapel WISDOM Center Conference on Vocation and Discernment, Spelman College, Atlanta, GA, 2013.
Sankofan Preaching: Looking Back, Speaking Forward, Copher Lecture (Respondent) Interdenominational Theological Center, Atlanta, GA, 2012.
Raising Womanish Girls!: The Implications of Womanist Posturing and the Performance of Mothering, American Academy of Religion, San Francisco, CA, 2012.
Select Sermons, Educational Series, and Church Presentations
"Assume the Position," Midway Missionary Baptist Church, June 2017.
"Giving Up, Holding On: Lenten Season Meditation," www.facebook/pinkrobechronicles.com, February – April, 2017.
"No Justice, No Peace," Wake Forest University School of Divinity Community Worship, September 2016.
Professional Affiliations
American Academy of Religion