Main Content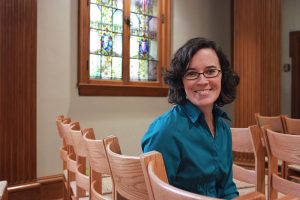 Dr. Elizabeth O'Donnell Gandolfo, Earley Associate Professor of Catholic and Latin American Studies, has been named Associate Dean of Academic Affairs beginning July 1, 2023. Dr. Gandolfo is a distinguished theologian and educator whose teaching and research place Christian theology in conversation with human responses to vulnerability, suffering, violence, and oppression, especially in contexts of social injustice and ecological degradation. During her tenure, Dr. Gandolfo has served on the Admissions and Scholarship Committee, Latin American and Latino Studies Steering Committee, the Graduate Honor Council, and the Institutional Effectiveness Committee.
"Professor Gandolfo is an accomplished scholar, gifted teacher, and dedicated mentor who will advance the academic mission of the School of Divinity," said Interim Dean and Wake Forest Professor of the Humanities Corey D. B. Walker. "She is a first rate theologian whose scholarship exhibits a critical attentiveness to the voices and experiences of the marginalized and the oppressed. She is also an extraordinary teacher who truly embodies the best of our teacher-scholar ideal. I am delighted that she will serve our community in this academic leadership role."
Dr. Gandolfo will lead as associate dean as the School of Divinity launches its Doctor of Ministry program and prepares to welcome its inaugural class in the fall of 2024. Her keen insight into the importance of applying Christian theology in response to today's most pressing social issues will further position the School of Divinity as a leader in graduate theological education. 
"Wake Div stands at a critical juncture in our journey as a young, nimble, and innovative Divinity School approaching our 25th anniversary next year," said Dr. Gandolfo. "I look forward to serving the academic needs of our learning community as we seek to envision and enact the future of theological education at our institution. I am especially excited to collaborate with colleagues in the ongoing renewal of our curriculum, and to work more closely with students on behalf of a Wake Div experience that integrates their theological formation in the classroom with their practical commitments to justice, reconciliation and compassion in the church and wider world." 
Dr. Gandolfo joined the faculty in the School of Divinity in 2015. Dr. Gandolfo is the author, co-author, or co-editor of multiple articles, book chapters, and books. Her first book, The Power and Vulnerability of Love: A Theological Anthropology (Fortress, 2015), draws on women's diverse experiences of maternity and natality to construct a feminist theology of suffering and redemption that is anchored in the reality of human vulnerability. She is also co-editor of Parenting as Spiritual Practice and Source for Theology: Mothering Matters (Palgrave, 2017), which brings together theological reflections on mothering by an intergenerational, interracial, and intercultural group of women scholars in theology, bible, and ethics. 
In recent years, Dr. Gandolfo has turned to decolonial studies as a critical dialogue partner for Christian theology. Her co-authored book Re-membering the Reign of God: The Decolonial Witness of El Salvador's Church of the Poor (Lexington, 2022) places the decolonial praxis of the ecclesial base communities of El Salvador in critical conversation with the continued coloniality of Roman Catholic ecclesiology and eschatology. Her most recent book, Ecomartyrdom in the Americas: Living and Dying for Our Common Home (Orbis, 2023), highlights the ongoing murder of land and environmental defenders, particularly in Latin America, and theologically engages their witness in light of recent developments in Catholic social thought and liberation theology.
Gandolfo earned a BA from Saint Joseph's University, an MTS from the University of Notre Dame and a PhD from Emory University. 
Recent Posts
June 1, 2023

May 19, 2023

April 5, 2023