Main Content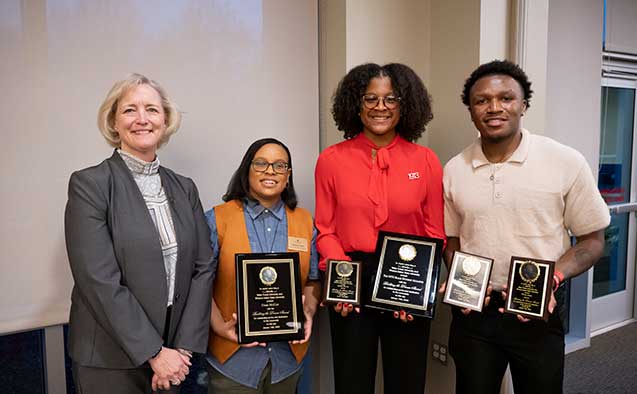 For more than two decades, Wake Forest University and Winston-Salem State University have collaborated to host events honoring Dr. Martin Luther King Jr.
One of those is the annual 'Building the Dream' awards. Both universities present the honor to professors, administrators or students who exemplify King's qualities and promote diversity within their communities.
Six individuals were recognized this week during a joint MLK celebration luncheon. The winners are listed below.
Wake Forest University award winners: (Pictured left to right above) Wake Forest University President Susan R. Wente, Demi McCoy, Janeel Black, Gah'ques Ligons. Photo Courtesy of WSSU. 
Demi McCoy, creative program manager with the Wake Forest School of Divinity.
Rev. McCoy has worked at the intersection of theological education and community engagement at Wake Forest University since 2014. As an artist, McCoy has recorded and published numerous musical works. McCoy has established herself as a voice for marginalized individuals and in particular, Black LGBTQ women and gender non-conforming persons. She was also honored for her leadership in supporting various grassroots organizations that serve youth in Forsyth and Guilford County communities and for her work on campus.
"Demi is a creative, passionate and engaged leader on and off campus for the work of justice and equity," said Rayce Lamb, director of admissions and enrollment management at Wake Forest University School of Divinity. "As its Creative Program Manager, Demi has led WFU's Compass Initiative Faith Coordinating Center's efforts to partner with faith communities to de-stigmatize and better support persons with HIV/AIDS."
Categories: News
Recent Posts
May 19, 2023

April 5, 2023

March 21, 2023