Wake Forest Baptist Church Endows Scholarship for Future Wake Forest University School of Divinity Students
Main Content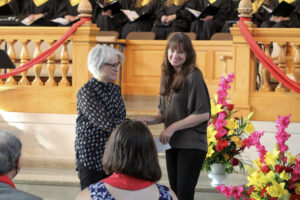 Wake Forest Baptist Church has established the Wake Forest Baptist Church Scholarship at Wake Forest University School of Divinity. The endowed scholarship is made possible by a $100,000 gift presented to the School of Divinity at the church's Celebration of Life service held Saturday, November 5th.
In August 2022 the church voted to dissolve after 66 years of worship on the campus of Wake Forest University. The scholarship serves as a lasting testimony of the church's impact on the university. Disbursements from the fund will support students who are active members of moderate to progressive Baptist churches with a record of advocacy on behalf of the LGBTQ+ community.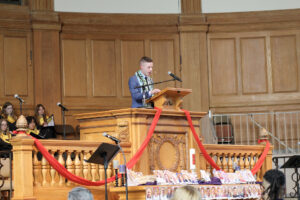 "The establishment of this fund and scholarship will serve as a testament to the historic legacy of Wake Forest Baptist Church," said Rev. Rayce J. Lamb, interim pastor of Wake Forest Baptist Church. "The church's strong history of being good stewards of its funds has allowed it to cultivate new seeds of impact even as its congregational ministry comes to a close."
Rev. Lamb is also the director of admissions and enrollment management at the School of Divinity. He has witnessed firsthand the difference scholarship funding makes for students. During the Celebration of Life service, Hannah McMahan King, assistant dean of development, accepted the scholarship gift on behalf of the university. Divinity school students also participated in various aspects of the service along with members of the University Chaplain's Office and University Choir.
"Wake Forest Baptist Church has held a clarion voice calling our community to the cause of justice," said King. "We, at Wake Forest University School of Divinity, are honored to carry this legacy forward through the establishment of the Wake Forest Baptist Church Scholarship."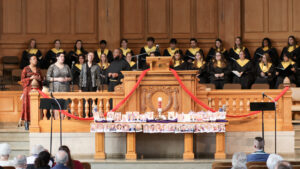 The church also made a gift of $20,000 to the university's library archives and will have materials submitted into the North Carolina Baptist Historical Collection. Other gifts in-kind include a donation of the church's music library to the university's music department and worship supplies to the gospel choir and School of Divinity chapel team.