Main Content
Annually, Wake Forest University School of Divinity hosts The Wake Divinity Dialogue Series (WDDS) in the spring.  Our sustained dialogue (or conversations) engages the community in critical conversations regarding intersections of identity, as well as, other pressing issues. The weekly conversations are designed to offer individuals an opportunity to engage with other individuals who have a different and distinct perspective. Specifically, we will gather theologically diverse people connected to the School of Divinity, and engage deeply with those who identify as being theologically conservative or traditional.
Participants are asked to commit to the program for three weeks beginning February 4,2019. Each participant will be placed in a group that will determine the time and location of their weekly conversation.  
Kick-Off Dinner
Monday, February 4, 2019
5:30 – 7:00 p.m.
with guest speaker Shayla Herndon-Edmunds, Director of Diversity Education at Wake Forest University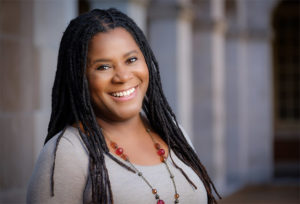 This is a weekly commitment after the kick-off for two weeks.

A trained moderator will guide a group of 10-12 people through a meaningful conversation on a topic selected in advance. The same group will meet each week, with time and location determined by the group. These conversations will often take place over a meal.  Participants will quickly get to know each other and form community as they share stories of personal experiences and ideas related to the selected topic.

It's a conversation, not a debate. They require no expertise or unique knowledge, just a willingness to share, listen and respond. This is not an exercise in problem-solving, but an opportunity to explore ideas and enjoy a sense of connection.

While you'll be a part of this experience because Wake Div values face-to-face engagement, this conversation is not meant to be a discussion about our School of Divinity. Rather, the conversations will privilege conservative theology in a way that flips the script on the typical progressive leaning of the divinity school and strengthens our ecumenical stance.  Our mission is to educate agents of justice, reconciliation, and compassion, and our belief is that the stories, values and ideas that emerge from this sustained dialogue will influence how we prepare our students for the future.
What's meant by "traditional or conservative" theology?
We acknowledge that theological labelling is limited and challenging, and doesn't not always help in describing the diversity of Christian traditions.  In an attempt to capture language (not type-cast) terms often used by students in the School of Divinity, we would note that some might describe theological differences in this way:
Traditional Theology
Conservative
Evangelical
Claims Biblical authority and inerrancy, and often interprets the Bible literally
Maintains faith in divine providence, understood as God being "in control"
Focuses on the sacrificial death of Jesus Christ as atonement for our sins
Values preserving tradition
Reluctant to change positions based on current opinions of society
Views God's laws as essential to Christian living
Takes seriously the great commission to spread the Gospel
Progressive Theology
Liberal
Willing to question tradition(s) and biblical authority, especially regarding divine power and sacrificial atonement
Accepting of human diversity, including religious and sexual diversity
Focuses on care for and/or liberation of the oppressed
Sees Jesus as a model for living, not just worshipping
Some would describe their theological disposition with attributes from both of these limited categories.
1. Increase opportunities for Wake Div community members to interact interculturally
2. Provide opportunities for Wake Div students to more fully engage the School's mission through active interaction in conversation across difference
3. Cultivate our students by introducing the skills and awareness that are integral to their abilities to become effective religious leaders
4. Encourage students to find consistent ways to think deeply, communicate graciously, and engage the intellectual and social challenges of the times
5. Assist faculty, staff, and students by providing more opportunities for them to connect through sustained intellectual and social interaction
Application to Participate