Main Content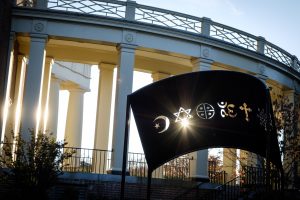 Worshipping with Wait Chapel
At the School of Divinity, our mission is to fostering agents of justice, reconciliation and compassion. Our purpose is to train architects of equity, hope, and healing. Our Worship at Wait Chapel programs convene and equip agents and architects in collective worship experiences, expanding community and fellowship to encompass all who would come.
Together we will invite growth and discussion, combine community with theology, and foster deeper understanding towards calling for clergy and congregants.
---
For more information, contact the Office of the Dean:
Phone: 336.758.3957
Email: divdean@wfu.edu
Venue Rentals
Both Wait Chapel and Davis Chapel are available to the public as rental spaces on campus.
Questions? Contact:
Building and Event Manager
School of Divinity
Phone: (336) 758-5702
Email: aharris@wfu.edu