Main Content
Fall Term 2020
Dear Friends:
Fostering agents of justice, reconciliation, and compassion is central to the mission of Wake Forest University School of Divinity. Training architects of equity, hope, and healing constitute the core of our purpose. 
As our communities confront challenges unique to our lifetime born of a global pandemic, Wait Chapel seeks to be both a training ground and convening space for such agents and architects. Current conditions find our purposes aligning even more closely with local parishes.  From the seminarian to the seasoned pastor, each of us is trying to reimagine worship in a virtual world. How might we reimagine a worship service not predicated on physical space or gathering?
The pandemic and resultant public health protocols have rendered all of us students. Hence, we must also become one another's teachers. 
Wait Chapel's plan for worship during this upcoming academic year has three components. 
Design and disseminate regular services in conjunction with congregations led by Wake Divinity alums and partners.  No longer must a pastor leave her congregation to join us for worship. A pastor and people might record service segments—the reading of scripture, poetry, prayer, song, and sermon—which we then assemble to create a virtual experience. 

Students on the Wake Divinity worship planning team to contribute to the elements of worship each week.  Students will work with faculty and congregational leaders to consider theological/liturgical tradition and the aspects of editing and visual design.

Host a Zoom "Talk Back" for Wake Divinity students the week following each service to provide participating clergy the chance to reflect on the choices mentioned above. What resources informed the homily, i.e., books, articles, movies? What key takeaway did the proclaimer, musician, liturgist, or preacher seek to leave with hearers? What resources might Wait Chapel make available for those who want to explore this particular takeaway further? We will provide footage of the conversation and take away resources on the Wait Chapel website. 
Wake Forest University School of Divinity understands that our nation and the world need thoughtful, wise, and well-informed religious leaders. Wait Chapel seeks to lean into this moment to benefit students and members of local congregations alike. 

One Luv,
Jonathan Lee Walton
Dean of the School of Divinity 
Dean of Wait Chapel
Presidential Chair in Religion & Society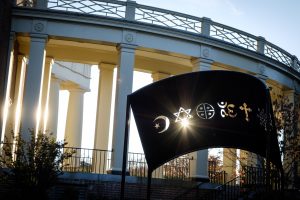 Worshipping with Wait Chapel
At the School of Divinity, our mission is to fostering agents of justice, reconciliation and compassion. Our purpose is to train architects of equity, hope, and healing. Our Worship at Wait Chapel programs convene and equip agents and architects in collective worship experiences, expanding community and fellowship to encompass all who would come.
Together we will invite growth and discussion, combine community with theology, and foster deeper understanding towards calling for clergy and congregants.
---
For more information, contact the Office of the Dean:
Telephone: 336.758.3957
Email: divdean@nullwfu.edu