Main Content
I'm covered in soil today. I'm kneeling in it, caked with it, making it into little rivers of mud in the sweat on my forearms. I breathe in its sloughed-off self on the wind, dry and dusty. I'm fingering and breaking the clods I turned up with the walk-behind tractor. Today, I'm planting grass.
I work as a land and program manager for an ambitious start-up which strives to be a farm, retreat center, camp and education center. This is the first growing season for the farm under our new banner, and the co-creation of people and land has produced edible bounties that one visitor described as 'an amusement park of vegetables'. It feels miraculous.  I suppose it is—relationship is miraculous. Because we see farming and the care of this land as a reciprocal, affectionate relationship, the farm manager and I have decided to plant every seventh row of the garden beds in flowering and/or perennial plants.  These sabbath rows act as windbreaks, build the soil, and invite pollinators. Of course, they are much more and they do much more. They are micro-ecosystems proved by their sheer soundscape: the hum of crickets and frogs grows in my ears as I walk towards a seventh or fourteenth row.


Renewing theological education for the 21st century, we equip religious leaders with the knowledge, skills, and pastoral habits necessary to guide congregations and other faith-based organizations into creating more redemptive food systems, where God's shalom becomes visible for a hungry world.
So today I'm planting native grass in one of these sabbath strips. These little clumps will grow roots that go more than 10x as deep as Kentucky bluegrass. They'll host innumerable beneficial insects and soil-organisms. I might look a little crazy out here in the blazing heat, gently breaking clumps of what may seem like weeds and tenderly tucking them into the ground in neat rows. It's certainly not normal. This grass won't be eaten, won't be grazed by the farm animals, and indeed doesn't serve any sort of direct, 'revenue-generating' purpose.
But these warm-season grasses—Big bluestem! Indian grass! Switchgrass!–they belong here. Their genetics and morphology have prepared them to slip into this ecosystem like long-lost puzzle pieces. They thrive in the heat of summer, growing when other plants swoon and senesce. Once established they laugh at drought and even relish an occasional burn. As I heal them into the clay-loam, I decide that if I look crazy I might as well go all out— "Claim your inheritance! I'm sorry it's taken this long… please don't wither on us!" I say to the little green and tawny clumps.
It's not normal to plant native grass in a garden plot. The normal is to plant European grass in lawns or pastures. Those European fescues, bluegrasses, ryegrasses… they are the species brought by my pioneering ancestors to aggressively claim the pastured portions of Ohio's landscape. They quite literally colonized once forested or prairied land in much of our country. I don't resent the plants themselves—they were used as a biological tool (or weapon) by people who operate under a colonial mindset. They are one of many living members of a foreign ecosystem that have been craftily—and in many ways violently, blindly and ubiquitously—applied in North America.
As I researched strategies for planting native warm-season grasses on farmland last year, I came across a particular USDA-published document on using prairie plants for grazing. In it was a grainy, black-and-white photo of American Bison behind a barbed wire fence. The caption reads "Even livestock as exotic as bison can be used to supply managed grazing treatments on plantings." Hang on a second. That's what was written in a federally published document: Even livestock as exotic as bison. The dictionary definition of 'exotic' is "of foreign origin or character; not native; introduced from abroad, but not fully naturalized or acclimatized." Bison in North America are entirely, laughably, horrifyingly the exact opposite of this definition.
We have a very deep perception problem. In this perception, anything which is not germane to the norm becomes exotic—a dangerous trend which pushes all sorts of creatures, plants and people to the perilous margins. Bison were pushed from the Midwest long ago, and much of their prairie grasses replaced. In a culture of plant-blindness and eco-illiteracy, a lot that is actually endemic looks exotic, even weedy.
Planting grass in a farm field is a rather exotic notion in this rural region of Ohio. But today, with those mud-sweat-rivers serpentine on my arms and the earth receiving this sabbath of warm-season grass, I see it as an act of new-endemism and radical hospitality. Tucking in the little roots reminds me that I too am a transplant. We are sharing this common soil, me and the Big Bluestem, the Switchgrass, the Indian Grass. So I plant these perennial native plants as reparation, to give at least some of the land back over to the systems that created her. Systems that encourage deep roots and resilient, diverse eco-neighborhoods. This is such a small piece! This is such a small work! But it is oh so delightful. When I look up from the dirt to straighten and stretch my spine, motion of wings catches my eye. I see an older row of perennials and flowers six rows beyond this one swarming with life: monarch and black swallowtail butterflies glint. I think I see a couple of those enormous native digger wasps dipping into rose-mallow blossoms, and I can bet that at least a couple hummingbirds, snakes and toads have taken sustenance or shelter under the monkeyflowers and sedges today. If just 1/7th set aside invites in this many of my more-than-human kin, I have hope that this start-up farm and camp is a place where the 'normal' could begin to change.
Jessica Anne Miller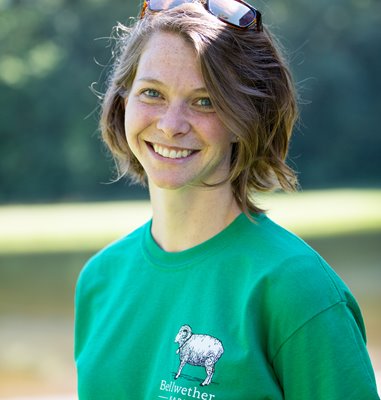 Jessica Anne Miller currently lives and works in Northern Ohio where she was born, nurtured and grown. Throughout her adult years her affection for people, nature, and spirituality has brought her to live and work in various places in the Midwest as well as the South Pacific. A botanist and environmental-educator by training, she has been the Land Stewardship and Program Manager for Bellwether Farm since March 2017. As of September, she is leaving her full-time role at Bellwether Farm for a Community Forestry position with the Holden Arboretum. She continues to support Bellwether professionally through consultation and as a committed friend of the staff and land communities. She is trying to get the rest of those native perennial plants in the ground before the snow flies!