Main Content
In this fifth gathering of the Summer Institute we consider the metaphor of the ecotone. In the field of biology an ecotone is a transition zone between two ecosystems, not so much a place as a heightened transfer of energy between two distinct entities. In these edges between field and forest, ocean and estuary, we find the greatest exchanges of life taking place. Ecotones are rich and fecund, brimming with abundance. They are also places of risk, uncertainty, and death.
Each year, Wake Forest University School of Divinity's Food, Health, and Ecological Well-being Program hosts a Summer Institute on food, faith, and ecology in western North Carolina. Here, on holy ground, faith leaders gather for four days to participate in God's active renewal of the face of the earth and explore ways they are called to join God in that good work.
For those of us working on issues like food justice, sustainable agriculture, or climate change, we find ourselves simultaneously inhabiting places both rich with opportunity and aching with loss and defeat. Today's challenges call for a strenuous, sustained response. Yet how do we sustain our spirits in the face of hunger, social inequity, and ecological ruin? How do we develop a spirituality for the long haul? And what riches do we find in the Christian contemplative tradition that might aid us on our journey?
Biological diversity creates abundance and resilience in physical ecosystems, and the same is true of human ecologies. To that end we welcome cultural and theological diversity at our gatherings. This year we are thrilled to host Gary Paul Nabhan, ethnobotanist and lay Franciscan brother as our main speaker, as well as a host of compelling workshop presenters. Join us!
We invite you to join us.
From June 10 – 14 we will gather on the lovely campus of Warren Wilson College in Swannanoa, NC, just ten minutes from downtown Asheville. For lodging, participants can either choose their own lodging nearby [select the "Commuter Rate"] or you can choose to stay on campus in the EcoDorm, in either a shared or single dorm room.
 View a visual tour of the 2016 Summer Institute "Bread in the Wilderness."
Monday, June 10
3:00 – 5:00 p.m.
Check-in
Eco Dorm
5:00 – 6:00 p.m.
Dinner
Dining Hall
7:00 p.m.
Reception and Introductions
Ransom Fellowship Hall
Tuesday, June 11
7:30 – 8:30 a.m.
Breakfast
Dining Hall
8:30 – 9:00 a.m.
Lauds Worship Service*
Ransom Fellowship Hall
9:00 a.m. – 12:00 p.m.
Morning Session
Ransom Fellowship Hall
12:00 – 1:00 p.m.
Lunch
Dining Hall
2:00 – 5:00 p.m.
Workshops
Various Locations
5:00 – 6:00 p.m.
Dinner
Dining Hall
7:00 – 8:00 p.m.

Poetry Reading with Jessica Jacobs, Nickole Brown, and Gary Paul Nabhan

Ransome Fellowship Hall
Wednesday, June 12
7:30 – 8:30 a.m.
Breakfast
Dining Hall
8:30 – 9:00 a.m.
Lauds Worship Service*
Ransom Fellowship Hall
9:00 a.m. – 12:00 p.m.
Morning Session
Ransom Fellowship Hall
12:00 – 12:45 p.m.
Lunch
Dining Hall
2:00 – 5:00 p.m.
Workshops
Various Locations
5:00 – 6:00 p.m.
Dinner
Dining Hall
Thursday, June 13
7:30 – 8:30 a.m.
Breakfast
Dining Hall
8:30 – 9:00 a.m.
Lauds Worship Service*
Ransom Fellowship Hall
9:00 a.m. – 12:00 p.m.
Morning Session
Ransom Fellowship Hall
12:00 – 12:45pm
Lunch
Dining Hall
1:00 – 4:00 p.m.
Workshops
Various Locations
5:30 p.m.
Outdoor Farm-to-Table Dinner and Celebration
WWC Gardin Cabin
Friday, June 14
7:30 – 8:30 a.m.
Breakfast and Dorm Check Out
Eco Dorm  and Dining Hall
8:30 a.m.
Lauds Worship Service*
Ransom Fellowship Hall
9:00 a.m. – 12:00 p.m.
Final Morning Session
Ransom Fellowship Hall
*Lauds Worship Service: For more than 1,500 years, Christians in the Benedictine tradition have been greeting the dawn by praying the daily service of Lauds. Though it will be different in style (and will happen long after dawn!), our daily morning worship will follow in that centuries-old tradition of beginning our day in prayer. The 30 minute service will combine readings from the Psalms, contemplative prayer, singing, and perhaps a brief reflection.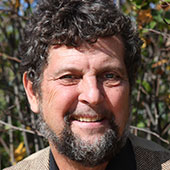 Each morning we will hear from Gary Paul Nabhan. Gary Nabhan is an ecumenical Franciscan Brother, an agricultural ecologist, and a pioneer in the local food movement and heirloom seed saving movement. He is a graduate of The Living School at Richard Rohr's Center for Action and Contemplation. The recipient of a MacArthur "Genius" grant, Nabhan has written, co-written or edited over 39 volumes of nonfiction, poetry, conservation science and children's literature that has been translated into eight languages. He is the co-founder of Native Seeds/SEARCH, a non-profit conservation organization which works to preserve place-based Southwestern agricultural plants as well as knowledge of their uses. He now serves as the Kellogg Endowed Chair in Southwestern Borderlands Food and Water Security. There, he founded the Center for Regional Food Studies and catalyzed the initiative to have UNESCO designate Tucson as the first City of Gastronomy in the U.S. He is currently married to cultural ecologist and indigenous health activist Laurie Monti (formerly of the Christensen Fund and four universities) and lives in Patagonia, Arizona on a five-acre homestead southwest of Tucson. He farms a diverse set of heirloom fruit and nut varieties from the Spanish Mission era and from the Middle Eastern homelands of his Lebanese ancestors, as well as heritage grains and beans adapted to arid climates.
Tuesday, June 11
Restoring and Re-Story-ing our Sacred Places
Our capacity to restore the land its relation with our communities depends on our skills at re-story-ing the landscape of spirit to be more inclusive, responsive to people and species in need or peril. We will do exercises to find new stories to tell about our interactions with the land and it's many cultures rather than the doom and gloom, fatalistic ones about climate change that make us all passive victims rather than responsible agents of positive change.
Wednesday, June 12
Food from the Radical Center
America has never felt more divided. But in the midst of all the acrimony comes one of the most promising movements in our country's history. People of all races, faiths, and political persuasions are coming together to restore America's natural wealth: its ability to produce healthy foods.
In Food from the Radical Center, Gary Nabhan tells the stories of diverse communities who are getting their hands dirty and bringing back North America's unique fare: bison, sturgeon, camas lilies, ancient grains, turkeys, and more. These efforts have united people from the left and right, rural and urban, faith-based and science-based, in game-changing collaborations. Their successes are extraordinary by any measure, whether economic, ecological, or social. In fact, the restoration of land and rare species has provided—dollar for dollar—one of the best returns on investment of any conservation initiative.
As a leading thinker and seasoned practitioner in biocultural conservation, Nabhan offers a truly unique perspective on the movement. He draws on fifty years of work with community-based projects around the nation, from the desert Southwest to the low country of the Southeast. Yet Nabhan's most enduring legacy may be his message of hope: a vision of a new environmentalism that is just and inclusive, allowing former adversaries to commune over delicious foods.
Thursday, June 13
TBD, An open-ended discussion looping back on earlier themes in first two talks. Panel discussion with Gary Nabhan, Fred Bahnson, and various guests from our week together.
Two-Part Workshops on Tuesday and Wednesday
TRACK I:  Church of the Wild
with Victoria Loorz
A movement of churches leaving buildings to reconnect people with their watersheds and their own wild souls, un-taming God in the process.  This workshop will move beyond talking ABOUT the intersection of spirituality and nature, and will describe a growing movement of pastors who are putting it into practice by leaving the windowless buildings that entrench a pervasive worldview of separation at the core of our ecological crises.  Pastors and lay leaders from multiple denominations (and no denomination) are moving their practice of Christian spirituality and worship into direct relationship with the Holy in and through the natural world. In turn, they are developing spiritual practices of re-membering ourselves into the watersheds where we live through an embodied Theology of Place, adapting liturgies to include the natural world as co-congregant and expanding the boundaries of the Beloved Community beyond our species, and practicing, as Thomas Berry says, "the communion of subjects" with all beings as a reciprocal, sacred relationship of transformation.  The Wild Church movement is more than an alternative church for "outdoorsy people." Rather it is, an act of restoration and even reformation to re-connect with the ground where we live as sacred, to reWild our domesticated souls, and expand our relationship with a wild, unbounded God.
Victoria Loorz, MDiv, is a Wild Church pastor in Bellingham, WA and convener for the Wild Church Network, an emerging movement of churches from the Christ tradition who worship outside of buildings, connecting directly with the Holy in and through the natural world.   Her work integrating Christian spirituality and nature began over 25 years ago when she wrote an extensive toolkit for World Vision and the NRPE, sent to 50,000 evangelical churches, called "Let the Earth Be Glad," encouraging pastors to include the natural world in their indoor worship services.  Twenty years later, after launching and founding a youth climate advocacy organization, iMatter, with her son, she founded the first Church of the Wild in Ojai CA as a way to remove the built separation altogether and connect her congregants with God directly through what the ancient and medieval Church called the First Revelatory Book of God (nature).    Victoria is Guide and co-Founder of Seminary of the Wild, a Wild-Church training program called Wild Christ, Wild Soul, Wild Earth that launches Summer of 2019 at Ghost Ranch in NM, keynoted by Brian Maclaren and Richard Rohr.  She is also Director of the Sacred Ground Initiative, a network and container for an emerging movement of Spiritual Ecology practitioners, those whose lifework focuses on restoring sacred relationships with the land.
TRACK II:  Storytelling for Social Change: Climate Change, Indigenous Wisdom, and Relational Networks
with Nikki Cooley and Duncan Hilton
Part I: Tuesday afternoon with Nikki Cooley
We are at risk of losing our connection to the sacred places that make us whole. Whether you feel the effects instantly or gradually, it is hard to ignore the intensity of floods, wildfires, rain and snow events occurring more frequently in a shorter amount of time. We see and hear the first-hand accounts of people being directly impacted by climate change, especially the most vulnerable such as low income, rural, and tribal communities. Based on her climate advocacy work with the Tribal Climate Change Program, Nikki brings an indigenous perspective to the work of climate change organizing and adaptation. She will discuss the spiritual and emotional toll climate change takes on people, landscape, and animals, especially her own Navajo people, but she will also share the good news of resilience and resistance. A movement is gaining strength through the restoration of gatherings, reconnections to our sacred places, stories, prayers and songs. In this two-day workshop Nikki will share examples of indigenous/First Nations people who are changing not only their narrative but helping others do so.  Participants will: 1) Hear stories about the Native/Indigenous resilience movement and methods of dealing with climate change , 2) Discuss why dealing with emotional and spiritual impacts from climate change is important, 3) Share your own stories , and 4) Learn actions you can take to have a meaning and respectful conversation about climate change impacts in your communities.
 Nikki Cooley serves as the co-manager for the Tribal Climate Change Program at the Institute for Tribal Environmental Professionals (ITEP). She is of the Diné (Navajo) Nation by way of Shonto and Blue Gap, AZ, and is of the Towering House Clan, born for the Reed People Clan, maternal grandfathers are of the Water that Flows Together Clan, and paternal grandfathers are of the Manygoats Clan. Nikki received her Bachelor's and Master's of Forestry (emphasis in ecological restoration and traditional ecological knowledge) from Northern Arizona University (NAU). For her undergraduate and Master's studies she has worked extensively with the Cherokee Tribe of North Carolina, and now works at ITEP with tribes across the nation, including Alaska, on learning about and planning for the adaptation to current and future climate change effects. In addition, as a river guide and cultural interpreter working on the Colorado River-Grand Canyon and San Juan River, Nikki is the co-founder of the Native American River Guide Training Program and Fifth World Discoveries, was the first Native American President and Vice-President of the Grand Canyon River Guides Association (GCRG), and is a former associate director of the Native Voices Program. She also served a six year term as the first Native American to serve on the board of the Grand Canyon Association (GCA). She is very passionate about advocating for and education about the protection and preservation of the environment and its resources. Nikki fluently speaks her Navajo language and culture, and is committed to encouraging people to continue the path of a holistic respect and knowledge towards food and life.
Part II: Wednesday afternoon with Duncan Hilton
Making change, building a strong team and navigating uncertainty all require the craft of storytelling and intentional relationship-building. Duncan will share a model for storytelling and relationship-building developed by Marshall Ganz, longtime organizer with the civil rights movement and Cesar Chavez and current professor at the Harvard Kennedy School. Duncan trained under Prof. Ganz and has worked with hundreds of groups and individuals at universities, non-profits and churches to help them learn and apply these tools. The workshop will include an introduction to the tools, practice in small groups, and reflection.
Duncan Hilton has been Priest for Discipleship and Discernment at St. Michael's Episcopal Church  in Brattleboro, VT since 2017. Before arriving in Vermont and being ordained, Duncan worked for five years as Executive Director with the Leadership Development Initiative (LDI), where he trained Episcopal parishes in team-based leadership practices in order to help them launch local mission projects. He also worked as Training Director for Life Together, the Boston-based Episcopal Service Corps program, and as a  Teaching Fellow with Professor Marshall Ganz at the Harvard Kennedy School in his class, "Organizing: People, Power, Change." Duncan's career shifted from congregational ministry in the United Church of Christ, where he served as a minister for youth and children, to leadership and organizing through his experience in 2010 as Field Coordinator for the Promise Arizona campaign, which registered over 15,000 new voters in the state.
TRACK III: The Ecotone of Spirituality and Ecology: A Creative Writing Workshop
with Asheville poets Nickole Brown and Jessica Jacobs
Part I (Tuesday afternoon): Writing in the Age of Loneliness: Eco-Literature & the Writer's Task, with Nickole Brown
We are now in the throes of a sixth mass extinction of plants and animals. Some call it the Anthropocene, but biologist E.O. Wilson said it may be called by scientists and poets alike the Eremozoic, meaning "The Age of Loneliness." If we take the worries of climate change and habitat destruction seriously—and in this lonely age potentially bereft of our fellow creatures—how can we help but feel an incapacitating sense of hopelessness that threatens to render things like literature and poems utterly useless? In this intensive, we'll strive together to find ways past this potentially debilitating hurdle. We'll ask questions that instead of silencing ourselves will urge us on: What is our responsibility as writers to this epoch? Can the average working person with limited access to nature make any difference? How might we depict the suffering of non-human but sentient beings? How can one write about plants and animals without producing work that is sentimental, overly personified, flat-lined with facts, or, worse, rendered incapable of communicating from its own rage? What impact can we make with our words? Depending on the time we have together, we'll study poems, lyric essays, and stories that have their own solutions to these pitfalls and will try our hands at writing through this darkness with awareness, control, and yes, even hope.
Nickole Brown is the author of Sister, first published in 2007 with a new edition reissued by Sibling Rivalry Press in 2018. Her second book, Fanny Says, came out from BOA Editions and won the Weatherford Award for Appalachian Poetry in 2015. The audiobook of that collection became available in 2017. She is the Editor for the Marie Alexander Poetry Series and periodically teaches at the Sewanee School of Letters MFA Program, the Great Smokies Writing Program at UNCA, the Hindman Settlement School, and other places. She lives with her wife, poet Jessica Jacobs, in Asheville, NC, where she volunteers at a four different animal sanctuaries. Currently, she's at work on a bestiary of sorts about these animals, but it won't consist of the kind of pastorals that always made her (and most of the working-class folks she knows) feel shut out of nature and the writing about it. A chapbook of these poems called To Those Who Were Our First Gods recently won the 2018 Rattle Chapbook Prize.
Part II (Wednesday afternoon): In the beginning: Exploring Questions of Spirituality & Religion Through Poetry, with Jessica Jacobs
We live in a time of always more, always faster, a time of disembodied screen-living where what's new insists on itself as what's most important. But outside this frenzy are questions that demand slow pondering, queries old as human consciousness: Why are we here? Is there a God? How do we live knowing our lives have a definite deadline? The long history of human engagement with these ideas, the striving after answers, is best recorded in religious texts. There, we find the stories and rituals, commandments and prohibitions, that, whether or not we believe in a faith of our own, have shaped the world in which we live. In this workshop, after closely reading poems drawing on Biblical texts, you'll delve into a text to write a poem of your own, adding your voice to a conversation that stretches across geography and time.    
Jessica Jacobs is the author of the poetry collections Take Me with You, Wherever You're Going, published by Four Way Books in March 2019, and Pelvis with Distance, a biography-in-poems of Georgia O'Keeffe, winner of the New Mexico Book Award in Poetry and a finalist for the Lambda Literary Award. Her poetry, essays, and fiction have appeared in publications including Orion, New England Review, Guernica, and The Missouri Review. An avid long-distance runner, Jessica has worked as a rock climbing instructor, bartender, and professor, and serves as the Associate Editor of Beloit Poetry Journal. She lives in Asheville, NC, with her wife, the poet Nickole Brown, and is at work on parallel collections of essays and poems exploring spirituality, her Jewish heritage, and time.
"The Art of…" Workshops on Thursday
The Art of Community Gardening with Susan Sides
The Lord's Acre grows food for donation, with beauty, intentionality and hope. We're a safe place with a bold calling. Safe because we encourage folks to join us in contributing from their unique skills and passions and because we value people over production but this work also calls us to be bold. It takes courage to get to know where and why your neighbor struggles to eat well, to learn that 1 in 4 children faces food insecurity and to begin thinking of ways we can each be part of the solution.
We believe there are many types of hunger, that everyone is hungry for something and that everyone has something to give. We also believe that simply growing food and giving it away won't eliminate hunger. Our true goal, then, lies in working towards communities that are once again places where everyone is welcome and valued. Where folks come to be inspired, share their skills, relearn the lost art of food literacy, meet, work alongside each other, share food and get to know their neighbor.
Note: This workshop requires participants to drive to The Lord's Acre, roughly 20 minutes from WWC campus. Carpools can easily be arranged once on site.
Susan Sides has been passionate about gardening organically for forty years. As a teenager, she read everything she could find on the subject and turned a portion of her backyard into an experimental garden. Her love of the interconnectedness of living things led her to acquire a BS in biology in the 70s. From 1984 to 1990, she worked for The Mother Earth News magazine at their eco-village gardens, the first year as an intern, and thereafter, as their Research Gardener and Garden Writer. While at the Eco-Village, in addition to writing gardening articles, she was given the task of writing The Healthy Garden Handbook, which the magazine published under Fireside. When the magazine moved from its Hendersonville headquarters to NYC, she and her family declined to follow. Instead, she remained active in the field of food sustainability, taught beginning gardening classes, raised small livestock, home schooled her sons and studied primitive gardening methods. Today, she resides with her husband Franklin in Fairview where they co-manage The Lord's Acre Garden, a dream garden that brings together research, beauty, community and compassion.
The Art of Bread Baking with David Workman
This workshop will cover the basics of baking bread at home, and will include hands on instruction on how to mix, shape, and bake bread in a home kitchen. We will cover the basics of sourdough and yeasted bread doughs from start to finish, in order to give the students an overview on how to make sourdough loaves, pita bread, focaccia, and pizza doughs at home. Students will leave with the confidence to mix bread at home, by hand, without a mixer, and the knowledge of how to shape and bake beautiful loaves in a basic home oven. This will be hands on class and all students will get to enjoy the feel of bread dough on their fingers, and to taste the results of their work right out of the oven. If weather allows, we will fire up the outdoor wood-fired oven and bake there. The bread you make in this workshop will become our communion bread for that evening's celebratory eucharistic meal.
David Workman joined forces with Scott Unfried in the summer of 2006 to open West First Wood-Fired and to take on the responsibilities of running the Flat Rock Village Bakery. He has been working as a baker since his first bakery job in Missoula, Montana in 1994. Much of his experience has been on the job, although he has been to San Francisco Baking Institute several times for professional training. Before joining up with Scott, he was the head baker at City Bakery in Asheville, N.C. for 7 years. His focus has shifted from just bakery production to managing all aspects of a busy bakery/café. During his limited free time, he runs, cycles, and enjoys the company of his wife Amy and their two daughters, Isabel and Iris. He also passionately tends a vegetable garden to fulfill his family's requirement for fresh organic veggies.
The Art of Conscious Foraging  with Alan Muskat
Foraging can truly feed us, not just with food, but with the knowledge that we are safe and provided for. Going back to nature, we go back to our true nature as loving, open beings. We can finally "let go and let God." We welcome the world with open arms, and we find that it has been waiting all this time for us: for us to come home. Join wild foraging expert Alan as he leads a walking, grazing tour of the forest around Warren Wilson's campus and brings back a taste of the wild life, helping you experience the life of a modern hunter-gatherer firsthand. Participants will learn how to identify a number of wild foods, some of which will be added to our celebratory dinner that evening.
Alan Muskat founded No Taste Like Home, the first forage-to-table tour company in the country, launched the first wild foods public education program on the continent, and runs one of the largest foraging tour companies in the world. Based in Asheville, he has appeared in a variety of major media and is the author of Wild Mushrooms: From Forest to Table, The Haggadah Vita, and Coming Home: Finding our True Nature. When it comes to bringing out the fun in fungi, he's the champignon.
Early Bird Rates (before May 17)
| | | |
| --- | --- | --- |
| Commuter Rate | $275 | Includes course fee, lunch on Tuesday, Wednesday, and Thursday, and the celebratory dinner on Thursday evening |
| Shared Double Room | $550 | Includes course fee, shared dorm room* Monday through Thursday night, and all meals |
| Single Room | $700 | Includes course fee, single dorm room* Monday through Thursday night, and all meals |
Regular Rates (after May 17)
| | | |
| --- | --- | --- |
| Commuter Rate | $375 | Includes course fee, lunch on Tuesday, Wednesday, and Thursday, and the celebratory dinner on Thursday evening |
| Shared Double Room | $650 | Includes course fee, shared dorm room* Monday through Thursday night, and all meals |
| Single Room | $800 | Includes course fee, single dorm room* Monday through Thursday night, and all meals |
*Lodging will be in the Eco Dorm on the Warren Wilson campus. The dorm is comfortable, clean, simple, and designed with ecological principals. Single and double rooms are available. The dorm features a small kitchenette if you need to bring your own food. Your dorm room will share a bathroom with other rooms on the hall. If you require a private bathroom, or you'd like something a bit more upscale than a dorm room, we suggest you book a nearby hotel and choose the Commuter Rate.

Renewing theological education for the 21st century, we equip religious leaders with the knowledge, skills, and pastoral habits necessary to guide congregations and other faith-based organizations into creating more redemptive food systems, where God's shalom becomes visible for a hungry world.