Main Content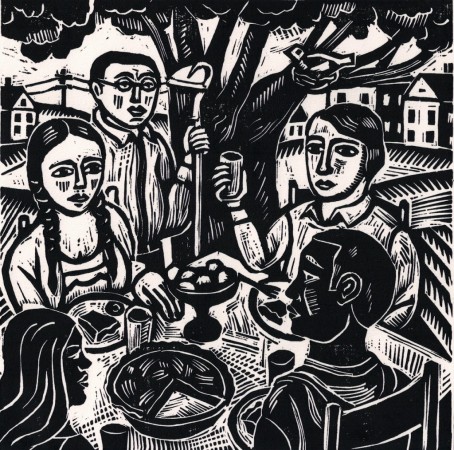 Our interdisciplinary course has grown into a vibrant polyculture of concepts and practices: biblical scholarship, regenerative agriculture, social justice, watershed discipleship, and contemplative spirituality.
How can we think and act holistically about our interrelated challenges—ecological degradation, social inequity, and climate change—all of which find their focus around food? And for people of faith, how can we eat with a deeper sense of gratitude and communion? These are just some of the questions guiding our work at the Food, Health, and Ecological Well-Being Program, and questions we explore in this annual 4-day course.
Each June we gather in Katuah, the Cherokee name for this part of western North Carolina, to learn, connect, and renew. The Katuah bioregion is renowned for its biological diversity—a fitting metaphor for the rich ethnic, geographical, and theological diversity among participants who've attended this course. The unifying belief in the midst of this diversity is that God is still working to renew the face of the earth, and that we are called to join God in that good work.
The theme changes year by year, but the daily pattern more or less remains constant. Each morning our resident biblical scholar offers a stimulating lecture on scriptural themes of food, land, and Creation. In the afternoon we offer two different workshop tracks that feature experiential learning. Evenings are reserved for socializing, music, and visits to nearby Asheville, a city known as "the Paris of the South." Each day is bookended with Lauds and Vespers, short services of Psalms, music, and silent prayer, which provide a contemplative frame to the course. Meals are mostly shared in common, allowing plenty of opportunities for networking and developing friendships. Toward the end of the week on Thursday night we gather for a Eucharistic dinner and table liturgy in the garden. All of this takes place in a beautiful mountain setting in one of the most diverse, fecund bioregions in the world.
Those who've attended in years past have come away energized, inspired, and renewed to continue their work. To learn more about this year's theme and our talented faculty, visit the tabs on the right.
I hope you will join us,

Fred Bahnson
Director | Food, Health, and Ecological Well-Being Program
This was the course I had been seeking – without knowing what I was looking for – for the last twenty years of my life. It was deeply inspiring and caused me to rethink my life and ministry in profound ways. I am very grateful.

Rev. Nurya Love Parish, 2014 Participant and 2015 Course Chaplain
Artwork by Rick Beerhorst, used with permission.