Main Content
Executive Director
Dr. Allison Mathews serves as Executive Director and Research Fellow in Faith and Health. She specializes in integrating technology, social marketing, community engagement and social science to examine the intersections of race, class, gender, sexuality and religiosity on HIV-related stigma and to innovate clinical research engagement and access to health care for underserved populations. Dr. Mathews has been invited to speak about HIV and COVID-19 on national and international platforms, including TEDxCaryWomen. Dr. Mathews and Ms.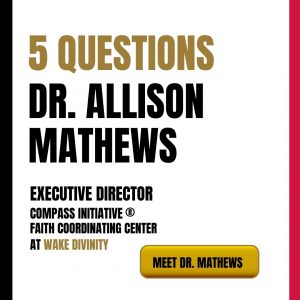 Kimberly Knight co-founded and had December 14 officially declared by the state of North Carolina as HIV Cure Research Day to raise awareness about HIV cure research and encourage community involvement in ending the HIV epidemic. Her most recent work focused on engaging communities in COVID-19 related studies to raise awareness about COVID-19 vaccines, connect people affected by COVID-19 to wrap-around services, and better understand the impact of the COVID-19 pandemic on underserved communities. She earned her BA in Sociology from Howard University and her MA and PhD in Sociology from UNC-Chapel Hill.
She completed her postdoctoral work at UNC-Chapel Hill in the Department of Social Medicine and the Institute for Global Health and Infectious Disease.