Main Content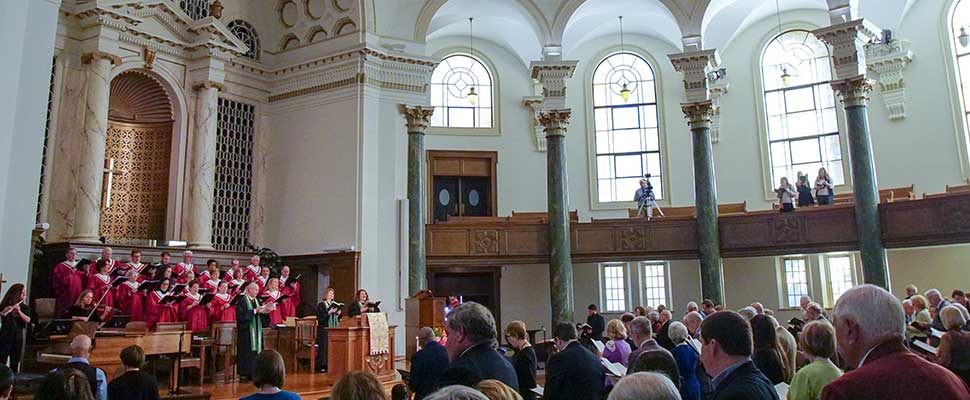 The School of Divinity enjoys a lively tradition of a student-designed and -led weekly chapel services that enrich the communal life of the school. Because we see the formative and transformative value of our collaborative worship planning process, we have partnered with three worshiping communities and their pastoral leaders in the region to renew their own worship experiences.
In small to mid-sized congregations, the responsibility for planning worship services often falls almost entirely to a single ministry leader (sometimes in partnership with a music director). In such cases, only one person experiences all the requisite joys and burdens of the creativity, discernment, and energy required for worship planning.  To plan the School of Divinity's two weekly community worship services, we use such a planning process. Over the last three years as we have imagined, developed, and renewed our collaborative worship design model, we have gained much wisdom about what works well and what challenges to anticipate.
The School of Divinity values worship design as a spiritual practice. In this spirit we will work to promote, in our partner worshiping communities and in our school, theologically substantive worship services that cultivate in worshipers a spirit of gratitude to God, collaborative hospitality with and toward each other, and embodies Gospel care in and to the world.
By sharing our process with local ministers and congregations, we envision the partnerships birthed through this project to benefit from shared wisdom, collaborative dialogue and brainstorming, and troubleshooting as together we renew and adapt the School of Divinity's worship planning process for different contexts. In return, the School's Worship Committee (and our wider learning community) will benefit from the voices, experience, and practical wisdom of our partner congregations and leaders. Our hope is that the conversations and actions generated by this project will encourage worship planning processes that are themselves spiritual practices and will cultivate vibrant worship in both settings.
Partner Worshiping Communities:
Parkway United Church of Christ
Winston-Salem NC
Grace Presbyterian Church
Winston-Salem NC
First Christian Church (Disciples of Christ)
Greensboro NC
The Goals
empowers the School of Divinity learning community in dialogue with local faith communities to design theologically substantive worship services;
gives students practical experience in worship creation that extends to the partner faith communities and/or student internship sites;
will provide opportunities to explore the benefits and growing edges of our renewed "worship design as spiritual practice" in a congregational setting beyond the School of Divinity and the initial partners; and
will aid in the development of a public access point for worship resources created by School of Divinity students and faculty and partner congregations.
The Process
initial orientation weekend: period of observation and conversation will follow during which congregational leaders will be invited to observe our committee's worship creation process and worship services and students and faculty from our committee will observe our partners' planning processes and worship services
weekend seminars: participate in structured dialogue and learning about worship design as spiritual practice and partnering communities, supported by a student on the School of Divinity worship committee, will begin to develop a collaborative place-connected and spiritually formative process for designing worship in their contexts
concluding session: includes a celebratory worship service, open to the wider community, planned by leaders from our partner congregations and the School of Divinity worship committee
The Vision
This project draws on the understanding of worship by advocating diversity and communal intentionality in worship planning. We believe that multiple voices represent the living God and therefore multiple voices are necessary when planning worship services. Our model for planning School of Divinity chapel services reflects this understanding by emphasizing worship design as a communal spiritual practice; we see the planning space of worship as a space of Christian worship in and of itself. By encouraging faith communities to be more intentional and collaborative in how they design worship, by providing students with opportunities to create and experience diverse worship services, and by providing liturgical resources, we seek to carry forward this understanding of worship.
"Worship planning as a spiritual practice reminds us of the value of becoming aware of, reflecting on, and integrating the wisdom of a wide array of voices and of Christian worship practices as we consider our own worship leadership styles and identities and how we, along with our communities, embody theology when we gather around the Lord's table to eat, sing, pray and proclaim the Gospel. " Rev. Dr. Jill Y. Crainshaw, Project Director and Blackburn Professor of Worship and Liturgical Theology
This program is made possible through a grant from the Calvin Institute of Christian Worship.