Main Content
A warm welcome to you, class of 2025!
Horizons tell a story. They tell the story of what is and what is to come. They reveal the breaking of dawn and the settling of dusk. They set day apart from night.
You are the marker of a holy horizon – the place where our post-pandemic world will look to for stories of faith and hope. You are evidence of the newness and faithfulness of God. You are a reminder of a God who calls us to courageously rise above darkness and set our hearts on the light that this world so desperately needs.
New Student Orientation (August 16 & August 17)  and the start of your School of Divinity experience is quickly approaching. As you prepare for this new phase in life, we hope that you are excited to join our community of learners.
Orientation is designed to nurture the strength, grace and curiosity that will carry you throughout the Master of Divinity program. Over the course of 2 days, you will discover the ways that Wake Div will equip you through academic instruction and spiritual formation. You will begin to experience the ways that community, compassion and call work together to form your hope filled stories as agents of change and architects of hope. We invite you to join us Tuesday, August 16 – Wednesday, August 17 as you turn yourself toward a new and holy horizon.
The orientation will be full of information to help you become familiar with academic vibrancy, student community, and University life. We will get to know you, and you will get to know us, along with resources and tools that will help you thrive here. You will also hear from faculty and current students.
Are you excited? Show us by using #wakediv2025 on Facebook, Twitter, and Instagram.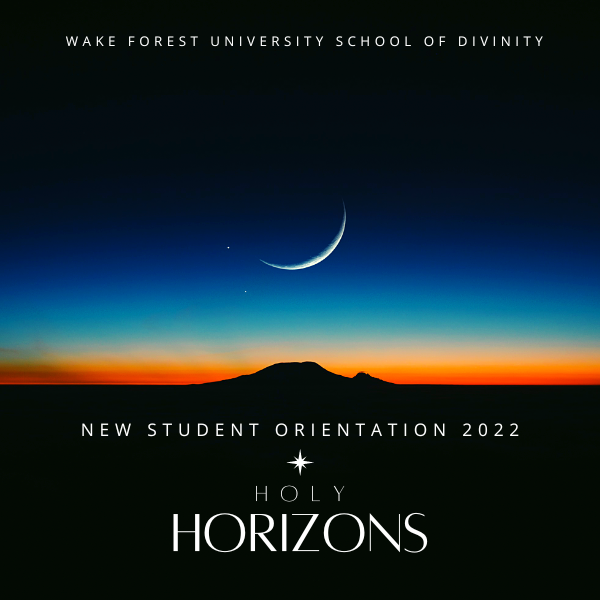 Tentative 2022 Orientation Schedule
Registration is mandatory for all incoming Fall 2022 students
Tuesday, August 16
9:30-10:00a Check-in/Pictures/Breakfast       
10:00-11:00a Welcome and Orientation Overview    
11:10-11:55a Opening Worship
12:00-1:30p Lunch and Student Panel
1:30-2:30p Intro to Theological Education and Curriculum Overview
2:30-2:40p Break
2:45-3:15p Vocational Formation    
7:00pm Welcome Reception
Wednesday, August 17
9:00a Gather and Breakfast    
9:15-10:15a Academic Skills, Academic Integrity, and Plagiarism Language and Hospitality
10:30-11:15a Campus Tour
11:15-12:15a Library Information Session  
12:30-1:50p Lunch and Faculty Panel
2:00-3:00p Financial Workshop
3:15-3:45p Closing Meditation
3:45pm-5:00 p.m.  Academic Advising / Financial Aid 1-1 Session/ Registration Updates (add/drop)
Are you excited?
Show us by using #wakediv2025
on Facebook, Twitter, and Instagram.