Main Content
Director of the Food, Health, and Ecological Well-Being Program, and Assistant Professor of the Practice of Ecological Well-Being
Bahnson's research and teaching focus on the intersection of ecology, sustainable agriculture, and contemplative spirituality. He is the author of Soil and Sacrament (Simon & Schuster) and co-author with Norman Wirzba of Making Peace With the Land (IVP). His essays have appeared in Harper's, Orion, The Sun, Image, Washington Post, and the anthologies Best American Spiritual Writing, Wendell Berry & Religion, and State of the World 2011: Innovations that Nourish the Planet. He is currently at work on a book about climate change and Christianity's ecological vocation. In his capacity as director of the Food, Health, and Ecological Well-being Program, Bahnson convenes gatherings of faith leaders throughout the year across North Carolina's Piedmont and mountain regions and is co-founder with Matthew Williams of the Re:Generate fellowship.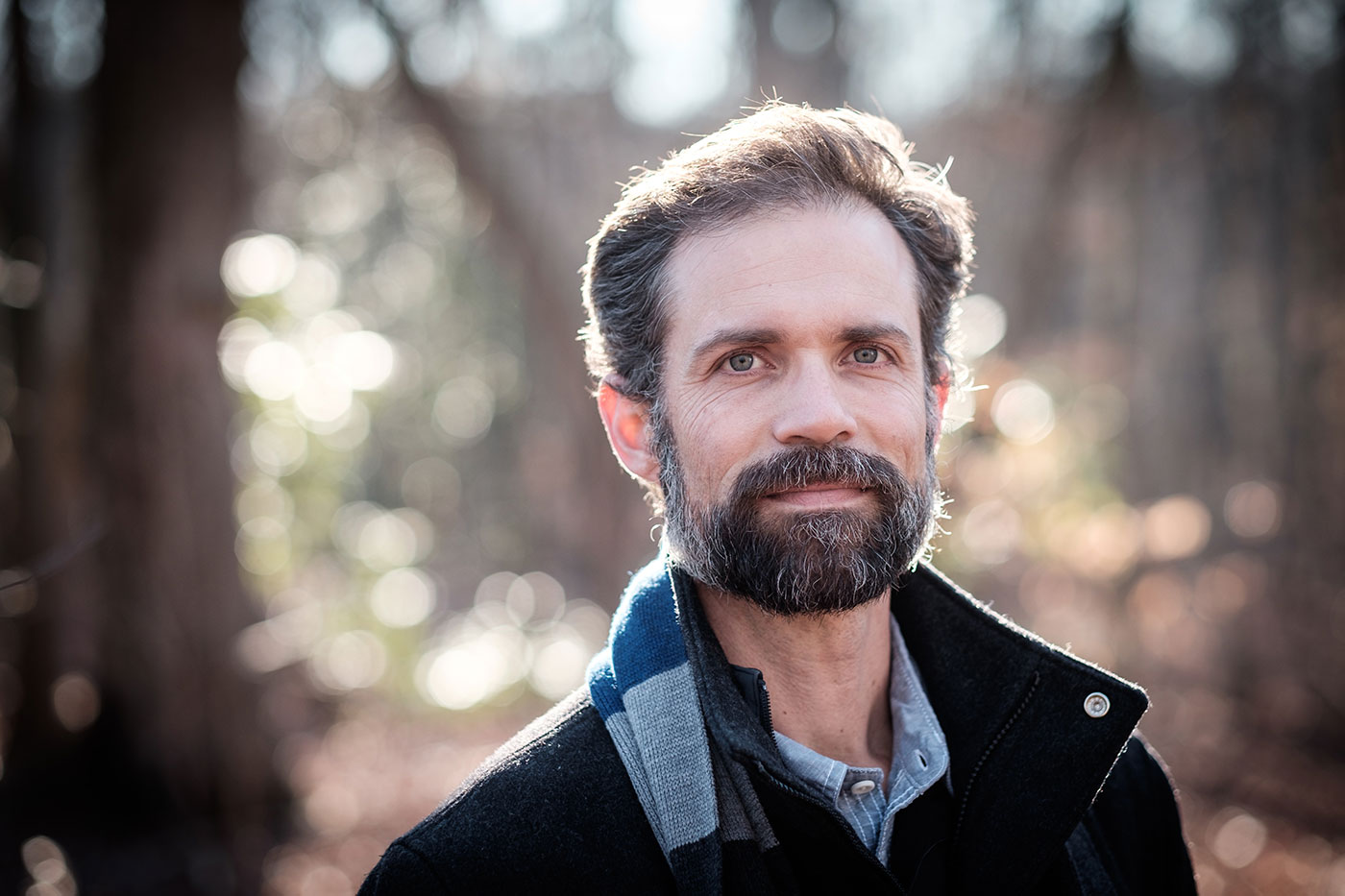 Education
BA, Montana State University; MTS, Duke Divinity School
Religious Affiliation
Episcopal Church
Courses Taught
Field, Table, Communion: Food and the Work of Ministry

Modern Spiritual Writing: A Language to Make Us Whole

The Monastic Impulse Old & New: Prayer, Work, and the Spirituality of Food

Roots & Branches: Eco-Judaism for Christian Leaders

Tree of Life: Christianity, Climate Change, and Ecological Vocation
Books
Soil and Sacrament: A Spiritual Memoir of Food and Faith, Simon & Schuster, 2013.
Making Peace With the Land (co-authored with Norman Wirzba), InterVarsity Press, 2012.
Select Essays, Journal Articles, and Book Chapters
"On the Road With Thomas Merton,"

Emergence

magazine, December 2018.

"The Ecology of Prayer: Faith and Resistance in the Age of Climate Change,"

Orion

, 35th Anniversary Issue, December 2017.

"The Priest in the Trees: Feral Faith in the Age of Climate Change,"

Harper's Magazine

, December 2016. Volume 333, No.1999

"Sons of Noah,"

Image

, Summer 2015, Issue 85.

"Back to the Garden: A New Asceticism,"

Reflections

, Yale Divinity School, Fall 2014.

"What Grows in a Garden?"

Washington Post

, July 31, 2013

"The Underground Life of Prayer,"

Image,

Spring 2013, Issue 77.

"The Day After,"

Oxford American

, Spring 2013.

"Ending the Hunger Season,"

Sojourners,

August 2011.

"Field of Teens,"

World Ark,

Summer 2011.

"Reading Isaiah in Chiapas,"

The Sun,

April 2011.

"Churches Moving Beyond Hunger Relief," in Worldwatch Institute, ed.,

State of the World 2011—Innovations That Nourish the Planet

. W.W. Norton, 2011.

"The Tender Groin of the Land," in Jennifer Bove, ed.,

Wild With Child: Adventures of Families in the Great Outdoors,

Traveler's Tales, 2010.

"Could Acacia Trees Solve Africa's Hunger Problems?" co-authored with Danielle Nierenberg,

Christian Science Monitor

, Dec.24th, 2010.

"Acacias in the Desert: Breaking the Cycle of Drought,"

Christian Century,

20th, 2010.

"Farmed Out: Wes Jackson on the Need to Reinvent Agriculture,"

The Sun,

October 2010.

"The Salvation of the City: Defiant Gardens in the Great Northern Feedlot," in

Wendell Berry and Religion: Heaven's Earthly Life,

Joel Shuman and L. Roger Owens. University Press of Kentucky, 2009.

"Martyr's Mirror" in

The Sun,

June 2009.

"The Field at Anathoth: A Garden Becomes a Protest,"

Orion,

July/August 2007.

"Climbing the Sphinx," in Best American Spiritual Writing 2007, ed. Philip Zaleski. Mariner, 2007.
Select Academic Lectures
Presenter at Halki Summit III on "Theological Education and Ecological Awareness," Ecumenical Patriarchate of the Eastern Orthodox Church, Istanbul, Turkey May 31-June 4, 2019.

Visiting Writer-in-Residence, Brevard College, March 13, 2019.

Terry Tempest Williams Fellowship in Land & Justice, Mesa Refuge Writing Residency, Point Reyes, CA, Nov.1-15, 2018.

Panelist at

Towards a New Economy: Justice, Culture, and the Social Market,

Georgetown University, Washington, D.C, April 7, 2017

co-organizer and presenter for

Faith in Literature: Contemporary Writers of the Spirit

, a conference jointly sponsored by WFU School of Divinity & UNCA in Asheville, NC Oct.21-22, 2016.

Keynote talks for

Just Food

conference, The Farminary at Princeton Theological Seminary, Princeton, NJ. Sept 22-24, 2016.

Lecture for "Value of Food" series, Cathedral of St. John the Divine, New York, NY, March 10, 2016.

Keynote for

Food Justice, Faith, and Climate

conference, Univ. of Arizona in Tucson, Feb. 10-12, 2016.

Jerry Jackson Lecture in the Humanities, Western Carolina University, January 27, 2016.

Pittsburgh Theological Seminary, "The Good Earth: Creation & Ministry in an Ecological Age." June 8-10, 2015, Pittsburgh, PA.

Nourish New Haven conference, Yale Divinity School, Sept.19-20, 2014, New Haven, CT.

Junaluska Signature Series lecture, Aug.10, 2014, Lake Junaluska, NC.

Festival of Faiths, May 14, 2014, Louisville, KY.

Summit on Environment and Global Climate Change, University of Central Florida, March 25, 2014, Orlando, FL.

Religion and Society Lecture Series, DePaul University, March 5, 2014, Chicago, IL.

Memphis Center for Food and Faith, February 1, 2014, Memphis, TN.

Shi Center for Sustainability, Furman University, Nov.11, 2013, Greenville, SC.

NC Campuses Against Hunger Summit, Wake Forest University, Sept.6, 2013, Winston-Salem, NC.

TEDx Manhattan, "Changing the Way We Eat," Feb.16th, 2013, New York, NY.

Reconciler's Weekend, Duke Divinity School, Sept. 20-21, 2012

Wake Forest University School of Divinity, "Healing Communities" conference, Sept.30, 2011

Furman University, "Abundance and Scarcity: Rethinking Food in God's Economy" and "The Altar of Creation: Food and Sustainability," Feb.7-8. 2010
Visiting Writer Events, Educational Series, and Church Presentations
Faculty for "Into the Fire" writing workshops,

The Sun

magazine, Wildacres, NC May 20-22, 2016.

Search for Meaning Book Festival, Feb.28, 2015, Seattle, WA.

Visiting Writer for UNC Asheville Creative Writing program, Oct.15, 2014, Asheville, NC.

Visiting Writer for Alan K. Smith Reading Series, Trinity College, Sept.18, 2014, Hartford, CT.

Wild Goose Festival, writer's talk with Sara Miles, June 27-28, 2014, Hot Springs, NC.

Arkansas Literary Festival, April 24-26, 2014, Little Rock, AR.

Calvin Festival of Faith and Writing, April 10-12, 2014, Grand Rapids, MI.

Visiting Writer at Appalachian State University, April 3, 2014, Boone, NC.

Hazon benefit for Front Range Farmer's Fund, Impact Hub Boulder, Dec.9, 2013, Boulder, CO.

Let's Talk About Food festival, October 4, 2013, Boston, MA.

Carolina Mountains Literary Festival, Sept.12-14, 2013, Burnsville, NC.

BookMarks Book Festival, Setp.7, 2013, Winston Salem, NC.

Wild Goose Festival, Aug.8-11, 2013, Hot Springs, NC.

Come to the Table NC, March 15, 2013, Sylva, NC.

Visiting Writer in Creative Nonfiction at Brevard College, April 2012, Brevard, NC.

Creation care conference, University UMC, Chapel Hill, NC, April 28-29, 2012

Keynote for "Come to the Table" conference, Black Mountain, NC, March 2011

"A Rooted People—Church, Place, and Agriculture in an Urban World" conference, Englewood Christian Church, Indianapolis, IN. Oct.28-29, 2010.
Select Honors and Awards
North Carolina Artist Fellowship in Creative Nonfiction from NC Arts Council, 2012.
K. Kellogg Food & Community fellowship 2009-10
William Raney Scholar in nonfiction at Bread Loaf Writer's Conference, 2008.
Pilgrimage Essay Award for "Tender Groin of the Land," 2006.
Author Website
Contact
Email: bahnsoff@nullwfu.edu
Phone: 828.553.3564
Office: Davis Tower 504
Media Requests
The Office of Communications is responsible for communicating information regarding faculty research, programs, and other news to appropriate media sources. Faculty are available to provide comment for a story or be interviewed (recorded and/or live).  To request, contact Cheryl Walker, director of news and communications for Wake Forest University.