Main Content
Training as an Episcopal priest in this decade continues to demand more and more flexibility. The School of Divinity offers a rigorous academic program that covers the essentials for being rooted and trained in Episcopal Studies, and a diverse community that equips students to lead in an increasingly varied and complex world.  The Episcopal Studies concentration prepares students for ordination* and contemporary ministry in The Episcopal Church.
The three priorities of The Episcopal Church – evangelism, reconciliation, and creation care – advance relationships between God, people, and the Earth. Grounded in a call from the Gospel of Matthew, The Episcopal Church, through the Jesus Movement, invites leaders to initiate loving, liberating, and life-giving relationships.

*Specific ordination requirements vary between Dioceses. Please consult your bishop. The program will work to personalize a course of study for each Episcopal student.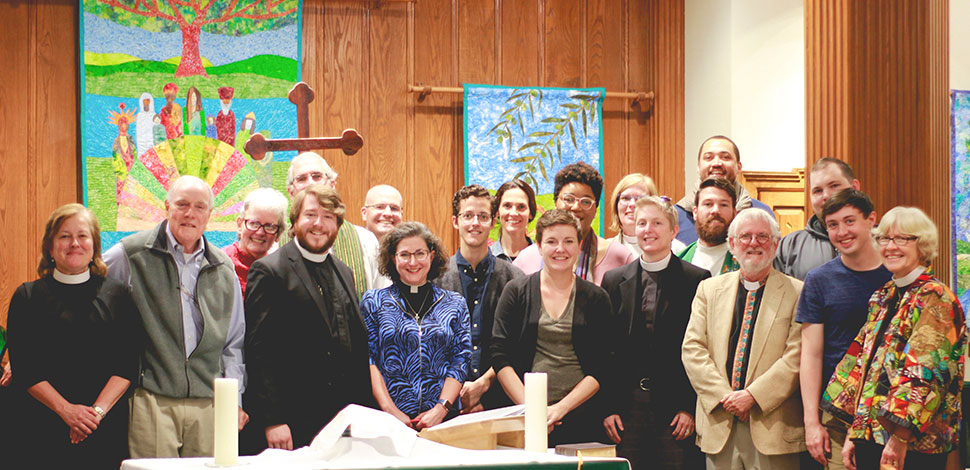 Concentration Requirements
The Episcopal Studies Concentration consists of 12 credit hours and an internship:
Episcopal Studies I: Sacramental Theology and Liturgics
Episcopal Studies II: The Book of Common Prayer
The History and Polity of the Episcopal Church
Anglican Theology and its Historical Roots
An internship completed in an Episcopal setting
Advisory Board Members
| | |
| --- | --- |
| Sara Ardrey | Dixon Kinser |
| Douglass Bailey | Nathan Kirkpatrick |
| Meg Finnerud | Matthew Phillips |
| James Franklin | Sam Rodman |
| Brooks Graebner | Porter Taylor |
| William Gregg | Jonathan Lee Walton |
| Katarina Holmgren | Ginny WilderGinny Wilder |
In Sacramental Theology and Liturgics, students will examine the theology embedded in various Episcopal liturgies found in the Book of Common Prayer, the Book of Occasional Services, and recent liturgies authorized by General Convention, such as the Marriage Rite for Same-Sex Couples.
The Book of Common Prayer introduces students to its history and evolution as well as possible future developments. Students will also have the opportunity to organize and conduct various rites.
The History and Polity of The Episcopal Church explores key periods and significant figures of The Episcopal Church in the United States. Particular focal points will include the role of women leaders before women's ordination, the contribution of African-American leaders, and key moments in the 21st century with the ordination of the first openly gay bishop in the Anglican Communion.
Anglican Theology and its Historical Roots will examine the core tenets of Anglican theology as they have developed. From the work of Richard Hooker to the theological reform of the Reformation, particular attention will be given to social theology and development of Anglican theology in England and the United States.
Internships: Episcopal congregations in the Triad represent diverse expressions and showcase ecclesiastic trends of the Anglican tradition. For summer internships, students can explore other opportunities outside Winston-Salem.
"We live in changing times. The School of Divinity's Episcopal Studies concentration will aid in training leaders who respond creatively, faithfully, and responsibly as they carry out their ministries as priests. " The Rt. Rev. Dr. Porter Taylor