Main Content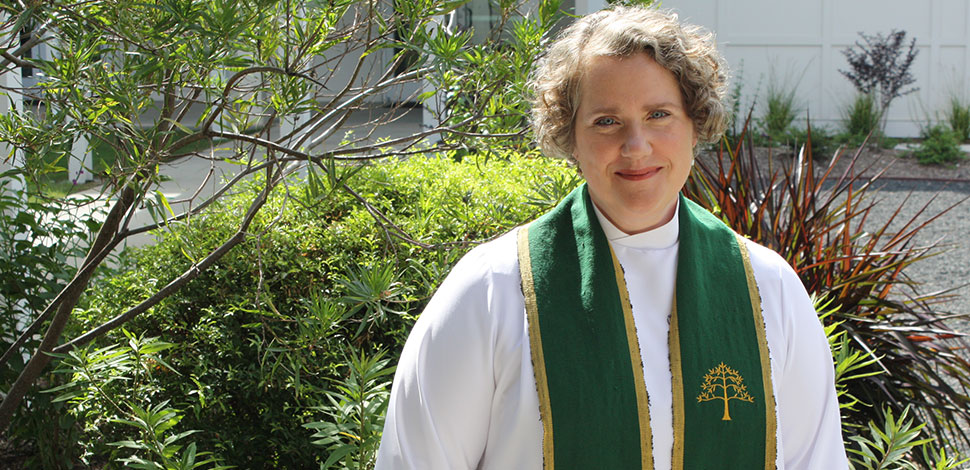 Rev. Laura Mayo (MDiv '03)
Rev. Laura Mayo is the Senior Minister of Covenant Church, an ecumenical, liberal, Baptist congregation in Houston, Texas. She is active in interfaith work, including membership in American's United for the Separation of Church and State clergy advisory group, The Coalition for Mutual Respect (of the Anti Defamation League), The Faith Leaders Coalition, and Interfaith Ministries' Multi-Faith Council.  Rev. Mayo is also a clergy surrogate for Memorial Herman Hospital. She has been part of many panel discussions including a panel hosted by The University of Houston Law School about what the Bible says about LGBTQ+ relationships, a panel hosted by Project Lifeline concerning the treatment of people at our borders, and panels hosted by The Alley Theatre, The Foundation for Contemporary Theology, Lifeline Chaplaincy, and PFLAG.  Rev. Mayo is regularly published in the Belief section of the Houston Chronicle, and has been interviewed several times on Houston Public Media's "Houston Matters" radio show. She also volunteers at her sons' school with art projects and literacy.
How did your time at Wake Div transform your life? How did it clarify your sense of purpose or calling?
I entered Wake Div just after completing my undergraduate studies. As a first year student, I could not imagine being a church minister.  Through classes, internships, many conversations with wonderful people like Jill Crainshaw, Diane Lipsett, Dave Odom, and others, and lots of trying on alternatives, I found that church ministry was the path I wanted to pursue.  I discovered that the models of church with which I was most familiar were not the only options.
Scrapbook Clippings
Rev. Mayo found her scrapbook from her time at the School of Divinity and sent a few scans of pages from it!
She writes, "This is a group picture of the Co-Ed Divinity House gang when I lived there.  Pictured, from left to right, are Lan (not a Div student), me, John, Brittany, Chris, and above Chris is Eric and below him is AJ."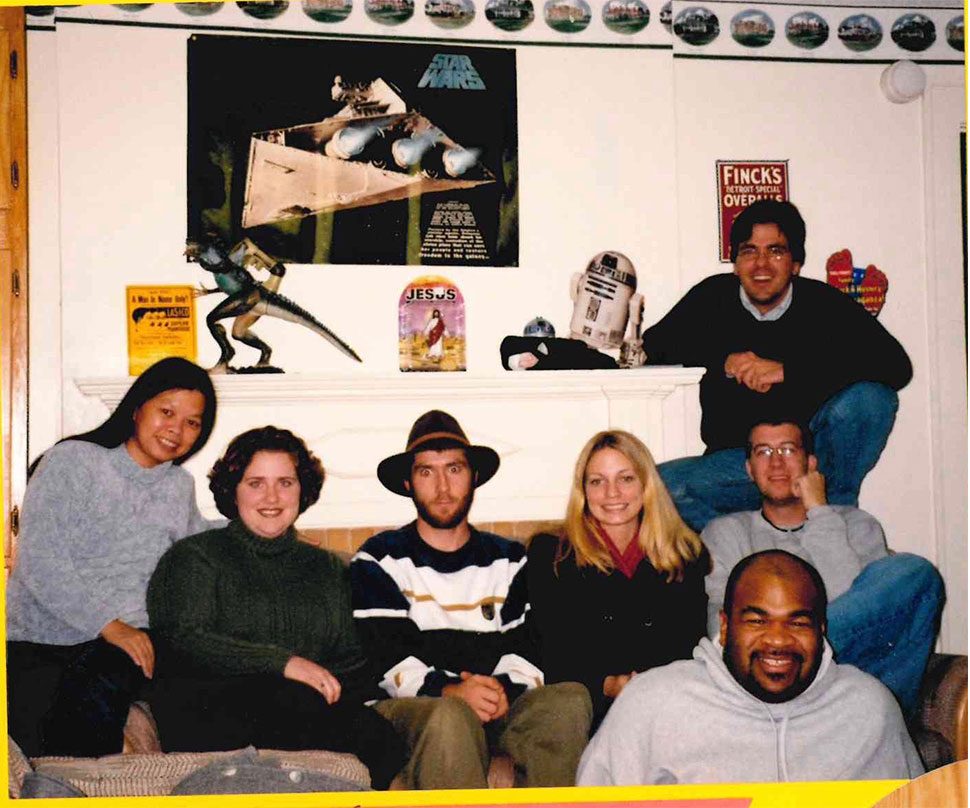 What is one of your favorite memories of the Wake Div community?
When a presidential debate between Al Gore and George W. Bush took place at Wake Forest the Divinity School students had to meet elsewhere as security tightened. Before leaving our classrooms, we began to see additional security personnel everywhere. One day, about halfway through Frank Tupper's theology class, a man walked out of the closet. He walked into the room, said nothing, and left. Days later, once we were back in our building, I arranged for Dave Brewer (a fellow student and friend who happened to have a Superman costume) to hide in said Superman costume and come out of the closet halfway through Dr. Tupper's lecture. Without missing a beat, Dr. Tupper said, "You know some people think God is like superman."
Perhaps the most poignant memory I have of my Divinity School days is from September 11, 2001. We were having chapel and as students and faculty and administration from across the university began to learn about the tragedies of that day, they began to join us in chapel.  Soon the small space had people sitting on the floor, in the aisles, and standing at the sides and the back. I don't remember what anyone said, but being together in that space was important and sacred.
I was in the second class of Divinity School students to ever attend Wake. We were a small community then and we all knew each other. There were many informal gatherings and lots of fun. In my second year, I was the resident director of the co-ed Divinity House. We hosted a monthly dinner and invited professors and additional students. Phyllis Trible was one of our guests! Having only known her in class, it was wonderful to spend time with her in an informal setting. She is really very funny. I had no idea.
During my third year of Divinity School, one chapel that stands out most clearly involved my fellow student and friend, Boo Tyson, as preacher. She used Esther as her text. Boo's powerful proclaiming of God's love and acceptance of all people was moving. I needed her words and her exegesis, and I have carried them with me.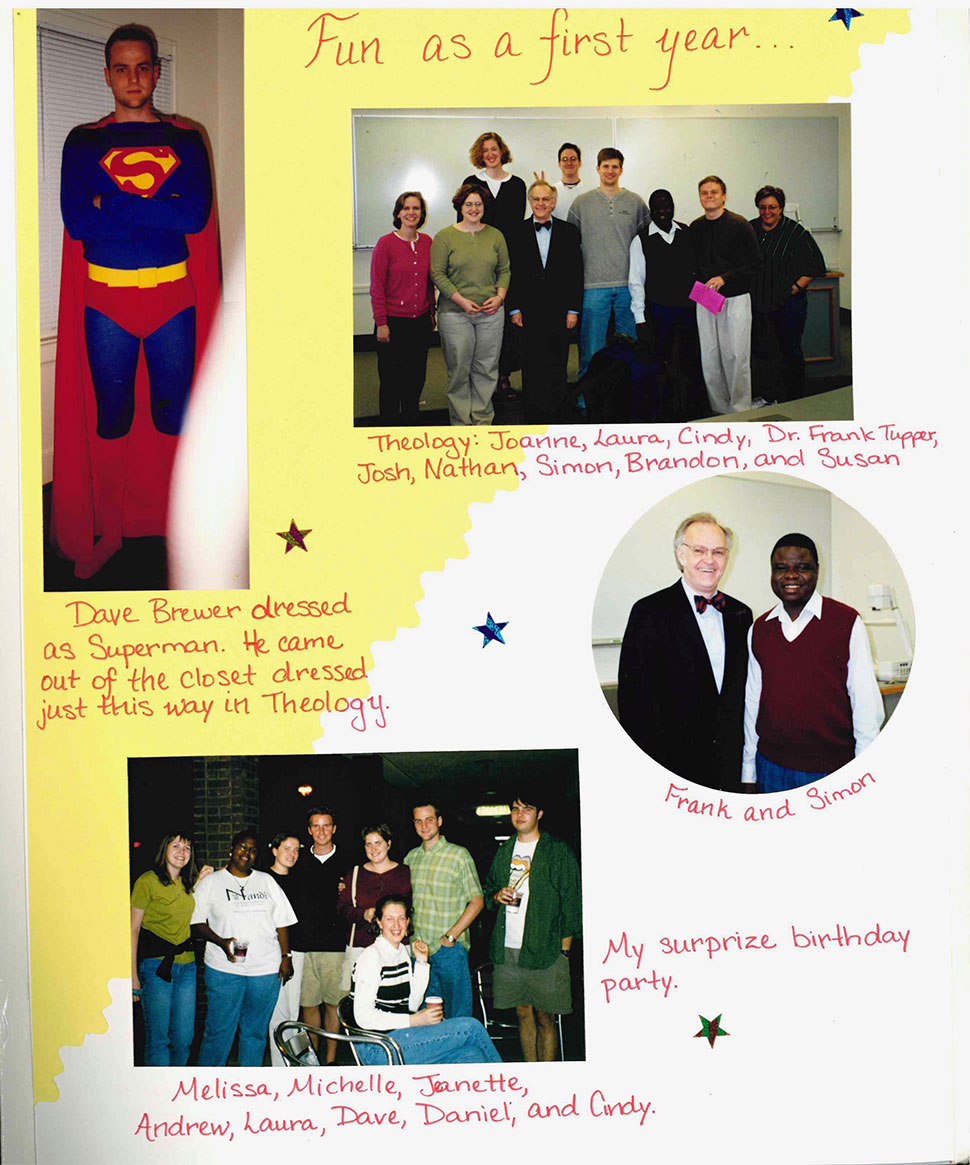 Fun as a First Year
Rev. Mayo writes, "The Superman picture [upper left] is from a story I mention in my reflections.  The class photo [upper right] is the entire Theology class from 2000. The group photo [lower left] is some of the first and second yearWake Div students spending time together outside of school.  Simon, pictured middle right, is standing with Dr. Frank Tupper. He was the first international student to join the MDiv program. Our graduation stoles, class of 2003, are made from fabric from Nigeria, his home country."
How did your experiences at Wake Div prepare you for your life's work?
Art of Ministry!!!  I have read and reread my notes at each church where I have worked.
Brad Braxton was also an excellent homiletics professor, and I have thought often of his admonition: "Preach, preacher, we need the good news!"  And his question: "What do you want me to do, preacher?" Actually, I could go through each class and each professor and each friendship – my years at Wake Forest have been invaluable in preparing me for ministry and justice work.
What is the best thing about your life?
This is hard to answer!  I am partnered with a fellow Wake Div graduate, Nicholas Stepp, and we have two wonderful sons: Owen and Grayson. I love my job and the community work I am involved with here in Houston.  We have a sailboat! I love the sun and the wind and the spray of a day on Galveston Bay.
How do you see God or the Divine at work in your life?
I get to be part of people's most sacred moments. I get to help people know themselves as God's beloved.
How do you stay connected to Wake Div?
I remain good friends with several classmates and continue my relationship with many professors.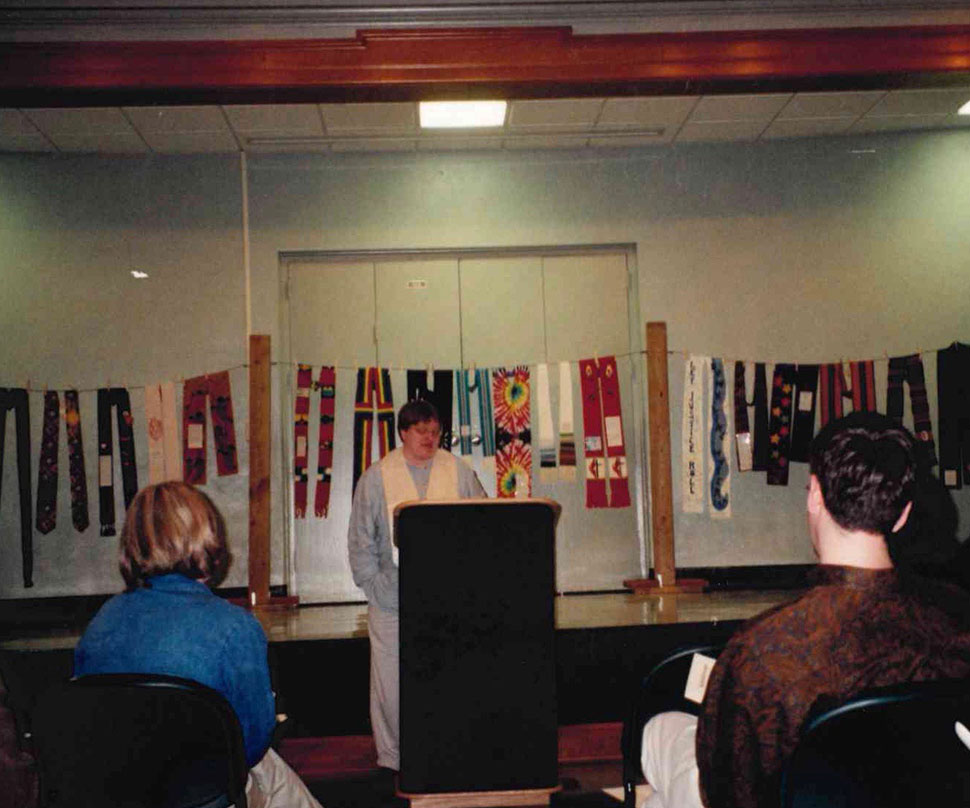 Community Worship
Rev. Mayo writes, "This is Boo Tyson (MDiv '03) preaching – I reference this in my reflections.  If I recall correctly, the stoles were part of a Methodist collection of stoles sent from ministers who had been removed or willingly left the denomination because of LGBTQ inclusion and rights."