Main Content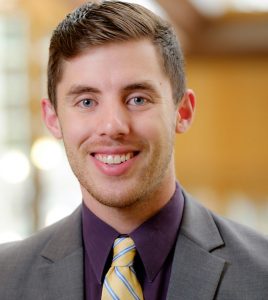 Rayce Lamb has been named director of admissions and enrollment management at Wake Forest University School of Divinity. Lamb, a 2016 graduate of the School of Divinity, most recently served as Director of Ministry and Vocational Exploration. He also previously served as Assistant Dean of Undergraduate Admissions at the University. 
In his new role, Lamb will continue to lead recruitment efforts for the School of Divinity's Master of Divinity program. 
"I'm excited to continue to expand the national recognition of Wake Divinity as a place where agents of justice, reconciliation, and compassion are formed authentically and holistically beginning with the recruitment and admissions process." Rayce Lamb, director of admissions and enrollment management
Lamb has been integral in growing a competitive group of applicants each year and building relationships with key partners to advance recruitment goals. In addition to establishing and implementing the school's strategic direction for recruitment, the role oversees the application and scholarship review process for incoming students. He will provide support to the Office of Financial Aid and serve as the primary contact for external school-directed scholarships. 
Lamb, who also has a passion for financial education, plans to continue offering learning opportunities for incoming students to gain knowledge about managing finances during graduate school. Each year he offers the workshop, "Blessed are the Financially Literate," to encourage and prepare students towards responsible financial stewardship. 
"My passion for this work is rooted in my belief that each of us are called to thrive in our vocation. For many individuals called into ministry, a graduate theological education is an important step on their vocational journey. My work allows me to journey alongside these individuals as they discern, explore, and take the first steps to get to where God is calling them to be." Rayce Lamb, director of admissions and enrollment management
Categories: News
Recent Posts
June 1, 2023

May 19, 2023

April 5, 2023