Main Content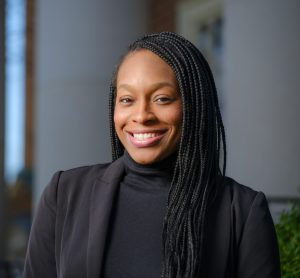 Brittani Hunt has been named director of student services at Wake Forest University School of Divinity. Hunt, a 2015 graduate of the School of Divinity, most recently served as the Director of Admissions Operations. In addition to working with prospective students during the recruitment phase, her new role will focus on the student experience from applicant to graduate.
"As a Wake Divinity graduate, this is a full-circle moment for me. My new role not only allows me to walk alongside prospective students as they prepare to join our learning community but also to walk alongside current students as they grow in our learning community." Brittani Hunt, director of student services
Hunt will oversee the planning and execution of paramount student experiences such as orientation. This year's theme of Wild Resilience emphasized the willingness of the incoming class to say yes to the call in the face of uncertainty and challenges caused by the pandemic. 
In addition to offering oversight for the Student Leadership Council and student clubs and organizations, Hunt will work with students to address their experiences during the program. She will act as a resource to help students maximize their journey through open discussion, mentorship, and discerning. 
Hunt says her own experience as a Wake Divinity student has influenced her approach to creating valuable and affirming space for students to develop into responsible religious leaders.
"It is an honor to create and hold sacred space for our students to navigate their multi-dimensional lives, develop their theological voice and find their vocational path, just as I experienced as a student almost a decade ago." Brittani Hunt, director of student services
Hunt will also serve as the School of Divinity's Title IX Deputy Coordinator.
Categories: News
Recent Posts
June 1, 2023

May 19, 2023

April 5, 2023