Main Content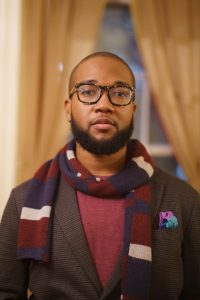 Wake Forest University announced the hire of Joshuah Brian Campbell as director of music and arts at the School of Divinity and director of the University Gospel Choir. The Grammy and Oscar-nominated composer will collaborate with choral groups from across the university to contribute to dynamic worship and concert experiences at Wake Forest.  His role will include weekly worship at the School of Divinity and leading a university-wide Gospel Choir with music inspired by the African American sacred tradition.  
Campbell first shared his talents with Wake Forest during Spring 2021 as an artist-in-residence at Wait Chapel. For several weeks he worked with students and alums of the Gospel Choir for the annual Easter service. Campbell returned to work with Professor Christopher Gilliam, director of choral activities, for the undergraduate commencement ceremony at Truist Field. According to Professor Gilliam, "Joshuah's musical direction in the recent Easter service at Wait Chapel and his gifted vocal contribution at Commencement is an indication of the breadth and depth he will bring to the musical offerings on our campus, and demonstrates his commitment to creative, collaborative leadership and disciplined artistry. I am thrilled to have the opportunity to work with him as we develop the choral offerings on campus and ignite Music at Wait Chapel."
Founded in 1974, the Gospel Choir at Wake Forest is among others the earliest organizations on campus organized by African American students.  The choir has a rich history of providing Black students a valuable space of community fellowship to express their faith. Students formed the University Gospel Choir only 10 years after the first Black full-time undergraduate student, Ed Reynolds, graduated. "The campus was an unfamiliar and unwelcoming place for many newly recruited Black students at that time," said the most recent Gospel Choir President Deja Dobson '21. 
Today, the choir continues to stand as a beacon of support for Black voices and expression at Wake Forest and welcomes all students to participate. With Campbell's appointment, Wake Forest is ensuring the longevity of this vital cultural and spiritual organization.  
"I am elated that Joshuah Brian Campbell will bring his extraordinary gifts to benefit our students and the Wake Forest community," said Jonathan Lee Walton, dean of the School of Divinity and Wait Chapel. "His appointment represents a commitment to ensure that this grand tradition of gospel music will continue on our campus at the highest levels."  
According to Dobson this appointment solidifies the future of this rich organization. 
"I am ecstatic that none other than the incredibly gifted Joshuah Campbell will attain directorship of the choir to continue its strong legacy. I had the honor of meeting and being under the direction of Campbell for the Easter service choir ensemble. His dedication, musicality, and spirit are felt so deeply. I am sure Campbell will be of intangible value to the University Gospel Choir and the Wake Forest community!" Deja Dobson '21, former Gospel Choir president
A native of Cheraw, South Carolina, Campbell captured the world's attention as an undergraduate at Harvard University when his original song "Sing Out/March On," written and performed for the late civil rights icon John Lewis, went viral.  The widespread acclaim of his performance caught the attention of Hollywood.  Campbell's original composition, "Stand Up," for the biopic "Harriet," co-written with the film's lead Cynthia Erivo, earned Grammy, Oscar, Golden Globe, and Critics Choice nominations.  Campbell and Erivo won the World Soundtrack Award. 
"I am looking forward to directing and mentoring the student artists in both the Gospel Choir and School of Divinity. I am positive that the learning experience will be mutual" Joshuah Brian Campbell, director of music and arts at the School of Divinity; director of the University Gospel Choir
"I come from many musical legacies and traditions birthed in community fellowship. Gospel is one of the richest and transformative forms of music because it causes people to relate to each other. I am excited to grow with the Wake Forest community as I help to facilitate faith expression and artistic formation," said Campbell.
In addition to a Bachelor's degree from Harvard, Campbell also holds a Master of Divinity degree from Union Theological Seminary in the City of New York. 
Categories: News
Recent Posts
June 1, 2023

May 19, 2023

April 5, 2023