Main Content
A message from  Dean Walton to Wake Divinity students
Dear Students, 
To say this past year has been different is an understatement. Navigating moments of uncertainty, pivoting with each adjustment, and rising to the occasion time and again have become hallmarks of your 2020-2021 experience. I am proud of each of you and grateful for your ability to persist as a community, even virtually. Many of you have questions about what the future holds. By now, you may have heard that the University intends to return to pre-pandemic in-person class offerings as much as possible in the fall. This shift to return to the classroom includes Wake Div. The following information will clarify what you can expect and help you prepare for the fall semester. 
A Return to Pre-pandemic In-Person Class Offerings
I am looking forward to once again cultivating community in person, seeing you in the halls between classes, and safely engaging in face-to-face instruction. The Master of Divinity degree at Wake Divinity is intentionally a residential, in-person program designed to foster intellectual growth and shared communion among peers and faculty. While we have offered a few online courses in recent years, Wake Divinity is not accredited as an online degree program. Therefore, there should be no expectation that any course will have an online pathway as was the case during this current academic year. As always, we will adhere to and provide all ADA accommodations.
MDiv Flex Options Remain Available
Before the change in instruction caused by the pandemic, we introduced MDiv Flex. Wake Divinity modified the MDiv curriculum with the addition of afternoon, evening, weekend, and a limited number of online courses meant to provide additional flexibility to all students, but particularly geared toward working professionals. We remain committed to providing this flexibility.
Safety Measures and Resources
The entire University will continue to adhere to safety requirements such as wearing masks and maintaining social distancing of at least three feet. Vaccine appointments are available for students. Once vaccinated, we ask that you update your immunization records with the University through the student health portal. 
With the precautions in place and each of our commitments to maintaining vigilance in following safety guidelines, we will experience a safe and successful fall. The faculty, staff, and I are making these adjustments with you. We understand the return to campus will require yet another pivot. Remember, this is the experience you first imagined and the one we believe will produce the richest learning opportunities for our community. You matter, and your presence matters. If you have questions about registering for classes, please do not hesitate to email acadiv@wfu.edu. 
Looking forward to seeing you mask-to-mask real soon.
One Luv,
JLW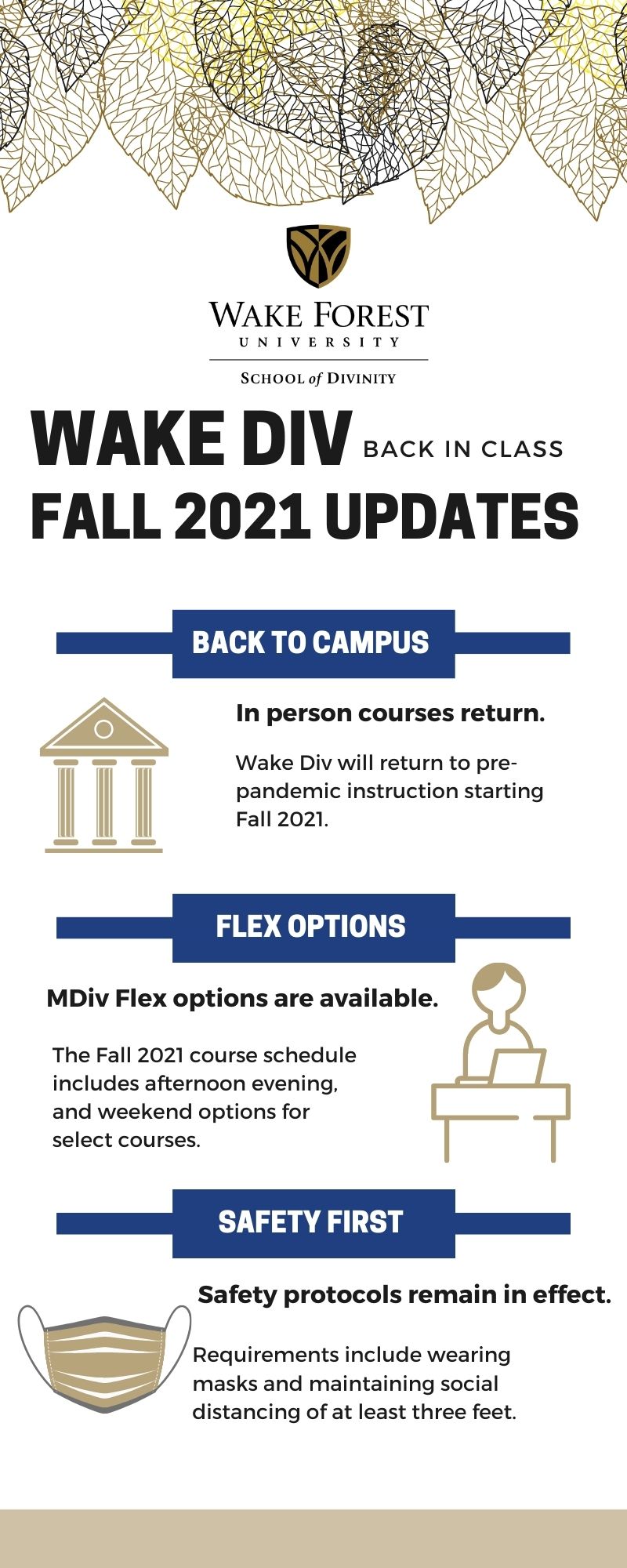 Categories: News
Recent Posts
May 19, 2023

April 5, 2023

March 21, 2023