Main Content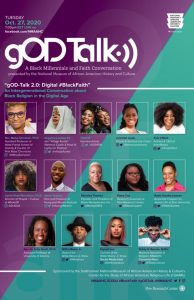 Wake Forest University School of Divinity Assistant Professor Rev. Dr. Melva L. Sampson and Master of Divinity student Dr. Carrie Kholi-Murrchison will be a featured panelists in the Smithsonian's National Museum of African American History and Culture's (NMAAHC) "gOD-Talk 2.0: Digital #BlackFaith" online program at NMAAHC's website and its Facebook page Tuesday, Oct. 27, from 7 p.m. to 9:30 p.m. ET. In its third year, the Telly and Shorty award-winning program will feature leading intergenerational African American voices exploring how religion and spirituality are evolving in digital spaces in the age of COVID-19. The free event includes two panel discussions with 14 distinguished activists, entertainers, educators, scholars and religious leaders.
"'gOD-Talk' brings together an exceptional group of panelists to discuss timely issues with religion and spirituality today," said Teddy R. Reeves, museum specialist of religion at NMAAHC. "This groundbreaking program expands the public discourse around Black faith and spirituality. It is moving the conversation beyond the traditional forms of religious practice to better understand the new and dynamic ways that individuals are choosing to engage with religion in the digital age."
"As a curator of digital Black faith space and a professor of religious practices I'm thrilled to bring my expertise in the ways the practice and dissemination of digital Black faith bypasses traditional systems of legitimation and historically recognized gatekeepers to the Smithsonian's 'gOD-Talk' program. These important conversations about Black faith are needed now during this pandemic more than ever." Rev. Dr. Melva Sampson, Assistant Professor
 The program, "gOD-Talk 2.0: Digital #BlackFaith," includes two panel discussions that will cover how and why African Americans are creating new ways to engage with religion and spirituality in the digital realm. Presented by the museum's Center for the Study of African American Religious Life, "gOD-Talk" grows out of the Pew Research Center's ongoing research, showing that a growing number of millennials (individuals born between 1981 and 1996) are moving away from established religious traditions and are identifying more as unaffiliated or spiritual not religious.
The program amplifies leading millennial voices, including activists, entertainers, academicians and religious leaders by creating a space for their experiences to be shared and documented. "gOD-Talk" also creates an opportunity for religious organizations and leaders, researchers and engaged citizens to understand better the dynamic ways Black millennials engage with religion and spirituality.
"... I wish, I'd been able to see black folks discussing faith outside of the walls of a church when I was growing up as a queer Black West African girl in the rural South." Dr. Carrie Kholi-Murrchison
"I'm thrilled to be participating in this particular gOD-Talk 2.0 discussing Digital #BlackFaith for both personal and professional reasons," said Kholi-Murrchison. "Personally, I wish, I'd been able to see black folks discussing faith outside of the walls of a church when I was growing up as a queer Black West African girl in the rural South. I wish someone had told me that our ancestors have forever held faith practices that centered on the fullness of community, that incorporated a love of nature, that valued connection outside the bounds of in-person interaction. Professionally, so much of my work in wellness has to do with the specific choices we make around our interior lives, and a discussion of Digital #BlackFaith makes these choices accessible in ways that are so very necessary for our capacity- and future-building."
This year "gOD-Talk" will take place online only and will be an intergenerational (Baby Boomers, Gen X, Millennials and Gen Z) conversation. Previously the program has been produced in the following cities with a live audience: Atlanta, Los Angeles, Chicago and Virginia Beach.
Panelists include:
Angelica Lindsey-Ali, host, "Lights On" podcast
Carrie Kholi-Murchison, Ph.D., director of people + culture, Whole30
Erika Gault, Ph.D., assistant professor, University of Arizona
Jibreel Salaam, host and producer, "The Young & Muslim Podcast"
Jynnette Lewis, oracle and spiritual life coach, Inner Sun Alchemy
Kiana Cox, Ph.D, research associate, Pew Research Center
Krystal Lee, co-host, "Willie Moore Jr. Show" (social media host)
Mandisa Thomas, founder and president, Black Nonbelievers Inc.
Melva Sampson, Ph.D., assistant professor of preaching and practical theology, Wake Forest School of Divinity
OSHUN, hip-hop artists
Rabbi Sandra Lawson, associate chaplain for Jewish Life, Elon University
Teddy R. Reeves, National Museum of African American History and Culture (moderator)
Tina Lifford, actress and CEO, Inner Fitness
Willie Moore Jr., host, "Willie Moore Jr. Show"
Categories: News
Recent Posts
June 1, 2023

May 19, 2023

April 5, 2023