Main Content
Hello Wake Div Students, 
Greetings!  I pray you are all finding moments of love, joy, and hope amidst what can only be described as an uncertain summer.  
We realize that you have many questions regarding how COVID-19 precautions might impact learning. The Faculty and Administration at Wake Div continue to work with officials from across the University to identify the best scenarios to maintain a safe, productive, and engaging learning experience.  Each scenario prioritizes the health, safety, and wellbeing of every member of our community and the communities around us.
At the School of Divinity, we are also working to ensure that your education this Fall is interactive, engaged, and of high quality.  As President Hatch stated in his update to the community on June 30, we plan to reopen the campus by adhering to public health guidelines around social distancing, masks, and de-densified buildings. Given the array of considerations, our courses this fall will likely be a mix of in-person, blended, and online courses. We will seek to preserve as many of our current course offerings as possible, with a commitment to be as flexible and accessible as possible for all students.
Faculty members are working diligently to determine how best to accomplish hybrid learning while also maintaining social distancing best practices. We hope to have the Fall Course Schedule released by July 15, which will indicate the precise course format and course meeting dates for all classes. Registration for new students is July 20-22, and current students are able to make adjustments to their schedules (add/drop/swap) on July 27-31.
Thank you for your patience as we all navigate the necessary changes meant to keep us all safe, yet still engaged in community and learning. No matter how we gather, virtually or in person, I believe in the strength of this community and know we will continue to support and champion each other. Thank you for all you do toward fostering agents of justice, reconciliation, and compassion.
Below you will find a useful infographic to help summarize key parts of our plan.
One Luv, 

Dr. Jonathan L. Walton
Dean of the School of Divinity
Dean of Wait Chapel
Presidential Chair in Religion and Society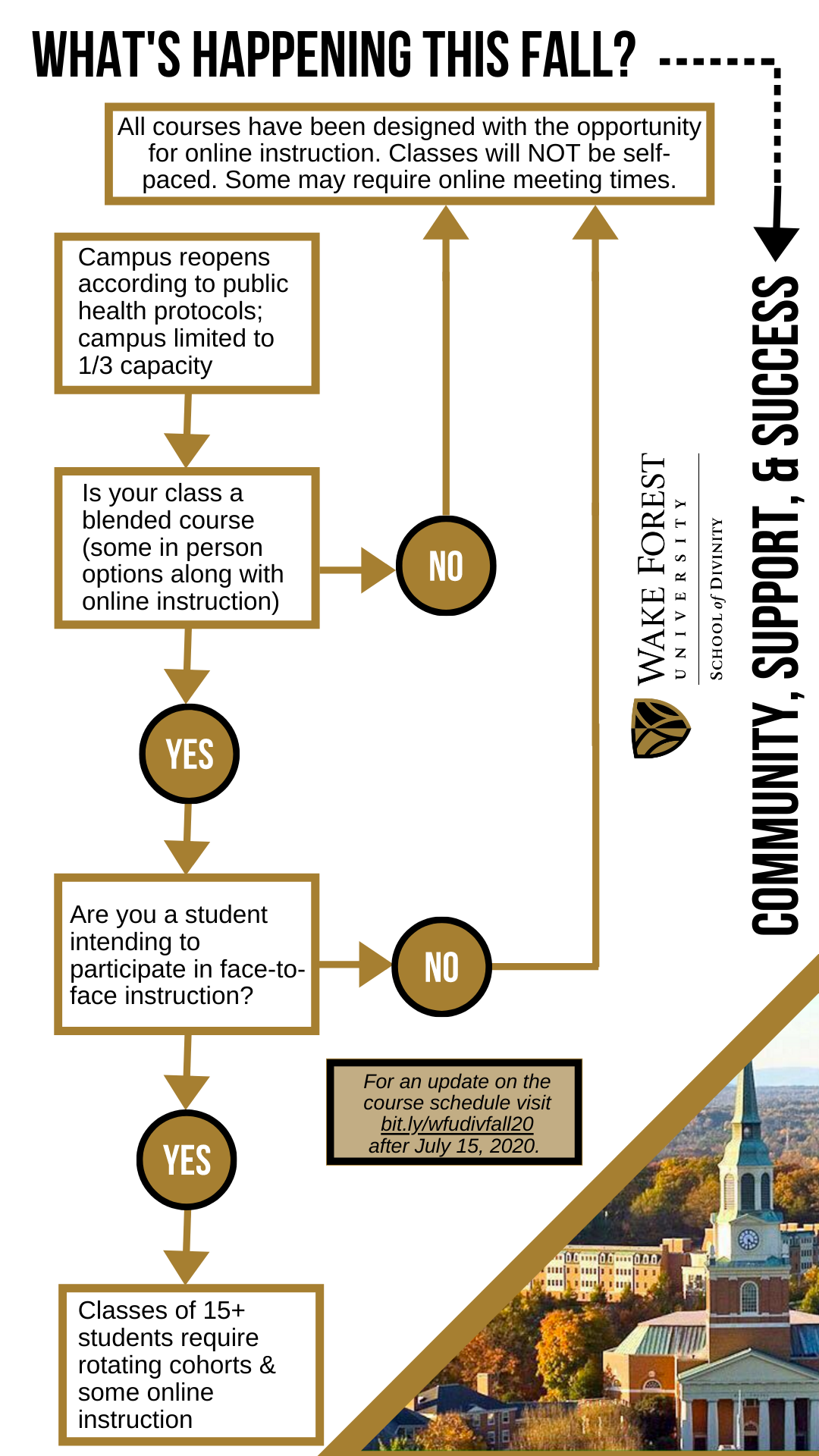 Categories: Academics
Recent Posts
June 1, 2023

May 19, 2023

April 5, 2023