Main Content
Media Contact : Brittani Hunt | huntb@wfu.edu | 336.758.3959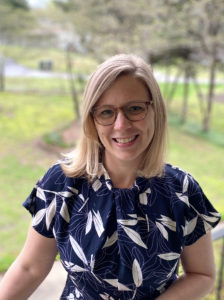 Natalie Aho has been named the first Program Manager of Baptist Commons at Wake Forest University School of Divinity.
The Baptist Commons forms students, engages alumni, and cultivates relationships with supporters to deepen the distinct Baptist heritage of the School of Divinity's ecumenical learning community. The program fosters networking, vocational formation, and peer learning and support between constituencies directly connected with the School and partners from the wider Baptist community. Aho will serve as the strategic liaison between the School of Divinity, its Baptist students and alumni and the Baptist community, with particular attention to North Carolina, to plan and execute high-touch events, strategic engagement and stewardship steps.
"Natalie Aho has spent years working on behalf of Baptists who desire more from the denomination than exclusion and intolerance. Her tireless efforts with Baptist News Global fostered networking and professional development opportunities for progressive clergy and lay leaders." Jonathan L. Walton, Dean
She joins the School of Divinity from Baptist News Global as Director of Engagement and Annual Giving where she developed communication, marketing and fundraising strategies and planned donor-focused events. As a lifelong Baptist raised in Cooperative Baptist Fellowship (CBF) churches and founding member of University Baptist Church in Waco, Texas, Aho has worked for and with Baptists for most of her career.
Accompanying Baptist roots is more than twenty years of program development, project management and online communication experience that she brings to The Baptist Commons program.
"Natalie has a proven commitment to leveraging the resources of educational institutions to serve local congregations. She has spiritual gravitas. I'm confident that she will catalyze the Baptist Commons Program and enable Wake Div to be an even greater resource for pastors serving faithfully in the southern region and beyond. We are fortunate to have her at Wake Div." Dean Jonathan L. Walton
The School of Divinity plays a vital role in fostering excellence in leadership among diverse communities of Baptists committed to justice, reconciliation and compassion. Built on the support of 19th-century Baptists in North Carolina, Wake Forest University treasures this heritage and frames it as a central component of the university's institutional identity. The School of Divinity, an ecumenical institution, likewise remains committed to honoring and nurturing the Baptist roots of Wake Forest as a whole.
"As the first program manager, I hope to continue efforts already made to increase networking, resources, training, and ways to live out our faith and calling," said Aho. I am thrilled for this opportunity to be in the trenches with our students and alumni and look forward to coordinating how our larger Baptist family can support the School of Divinity and The Baptist Commons can support them as we collectively raise up a generation of leaders who strive daily for justice, reconciliation and compassion." Natalie Aho
For more information, contact Brittani Hunt at (336) 758-3959.
Categories: Baptist Commons, News, Staff
Recent Posts
May 19, 2023

April 5, 2023

March 21, 2023