Main Content
by: C. Mark Batten | battencm@wfu.edu | 336.758.3959
The Wake Forest University School of Divinity celebrated the Class of 2019 at its 17th annual Hooding Ceremony on Saturday, May 18 and during the University's Commencement exercises on Monday, May 20.
Wake Forest University conferred degrees to nearly 2,000 graduates. Of the graduates, Master of Divinity degrees were awarded to forty-one students at the School of Divinity. Two divinity graduates received a joint degree with a Master of Arts in Counseling. The School also awarded five Master of Divinity degrees to students who had completed degree concentrations in Religious Leadership in Food, Health, and Ecology, or Sustainability.

"When  our journey began three years ago, our orientation theme was about piecing the puzzle," said Faria Armstrong. "A puzzle begins as many individual pieces, ready to be shaped into something new. We have come together these past three years as many pieces to form a greater whole."
"We have learned together, laughed together, worked together, and argued passionately together," said Steve Gardner. "We have grown to realize the divine way that each of us was created to fit into this greater community, this puzzle of people."
The class selected Katherine A. Shaner, associate professor of New Testament, to be the hooding speaker. In her remarks, based on Ezekiel 37:1-14 and 1 Corinthians 12:12-20,  Shaner noted that from the outset of their journey as a community, the class of 2019 was tasked with re-imaging and re-imagining resurrection in the world, transforming the expectations of what the picture of the body of Christ, made up of many different pieces, can look like for the world.
"The picture of your ministry doesn't look the same as it did three years ago. The picture of your future does not look the same, the picture of justice does not look the same, the picture of what is possible for the body of Christ does not look the same. The very image of God does not look the same today as it did three years ago. But bones need to rattle and dance. Bones need to get up off the desert floor and carry each other across the arid ground. Bones need to help each other imagine a different reality. Bones need to find new ways of making, puzzling, drawing out life in the world. You are those bones." Katherine A. Shaner
During the ceremony, several recognitions were offered:
Jill Y. Crainshaw, Interim Dean and Blackburn Professor of Worship and Liturgical Theology, recognized Rev. Dr. John Mendez, senior pastor of Emmanuel Baptist Church in Winston-Salem, as a recipient of the Bill J. Leonard Distinguished Service Award Pro Fide et Humanitate, an award given annually that honors those who embody the principles of Wake Forest's motto of Pro Humanitate and the School's commitment to educating leaders who are committed to justice, reconciliation, and compassion. Mendez, a prophet, preacher, professor, philosopher, psychotherapist, and activist, has supported the school's mission since its opening in 1999 by mentoring students and alumni.
Members of the Class of 2019 designated their class gift to the Gail R. O'Day Beloved Community Fund. Graduate Pamela Mitchell noted in the class' presentation, "Our class chose this gift

because Dean O'Day was special to each of us and because her vision for community at Wake Divinity helped shape our time together these past three years. This gift will assist in ensuring that this unique community will continue to shine brightly for future students."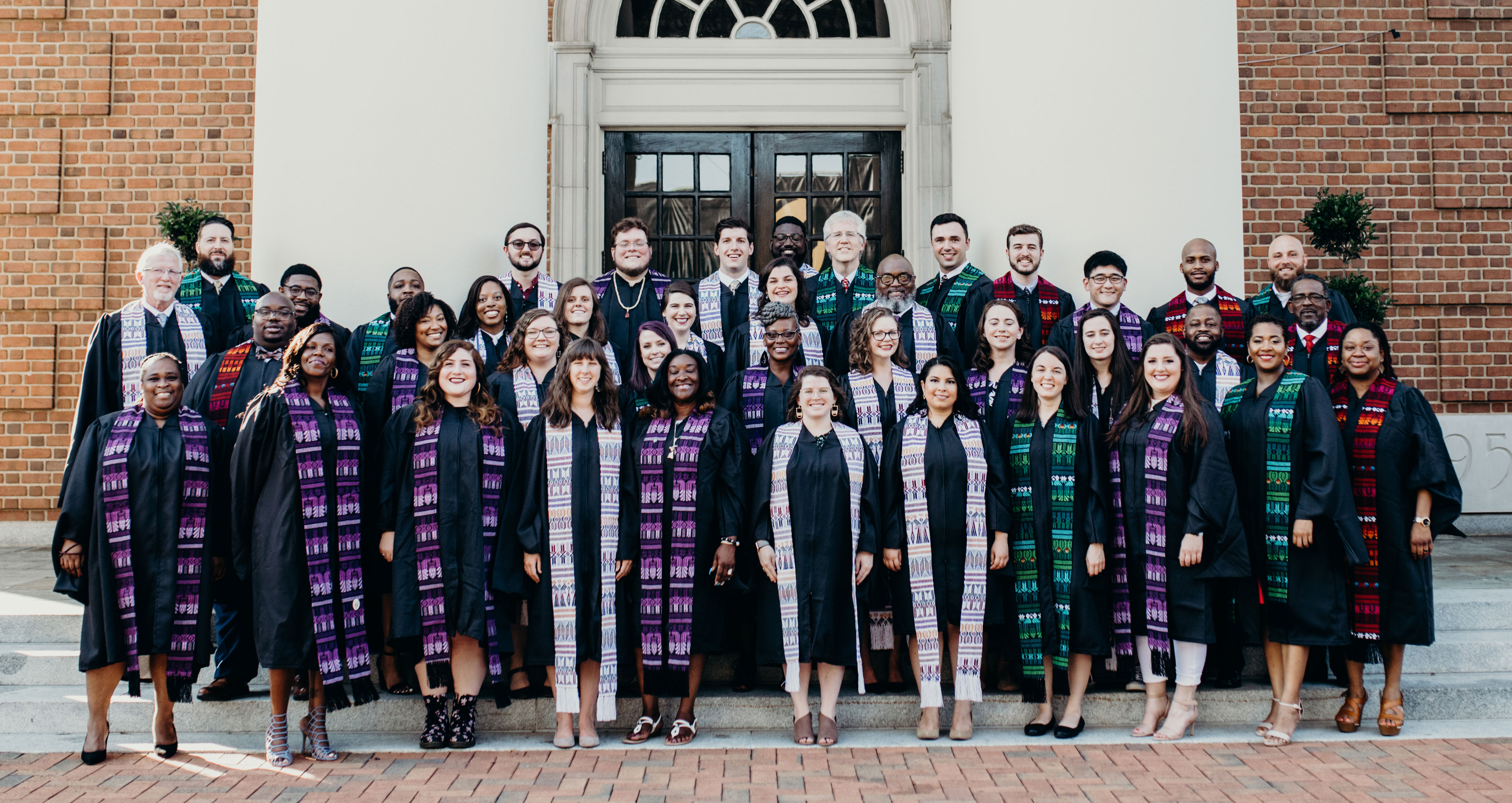 As the hooding service concluded, graduates received a blessing from classmate John Kernodle. "Tonight, as we leave this space with candles alight, representing our illuminated puzzle-piece-selves – let us shine brightly. Let our lights fill this glorious evening with light, and illuminate our work to come."
Congratulations to the Class of 2019!
Celebrating the Class of 2019
University Commencement
At Monday's (May 20) university ceremony keynote speaker Frederick J. Ryan, Jr., publisher and chief executive officer of The Washington Post, encouraged grads to use their knowledge to search for the truth in spite of efforts to obscure it.
"Embrace your role as a seeker and steward of the truth," Ryan advised. "At Wake Forest, you've been taught not to settle for the obvious answers or follow the easiest path. You've been encouraged to relentlessly seek and discover and to use what you learn to serve the greater good."