Main Content
Sanha Kang
Hometown: Cary, North Carolina
Denominational Affiliation: Non-denominational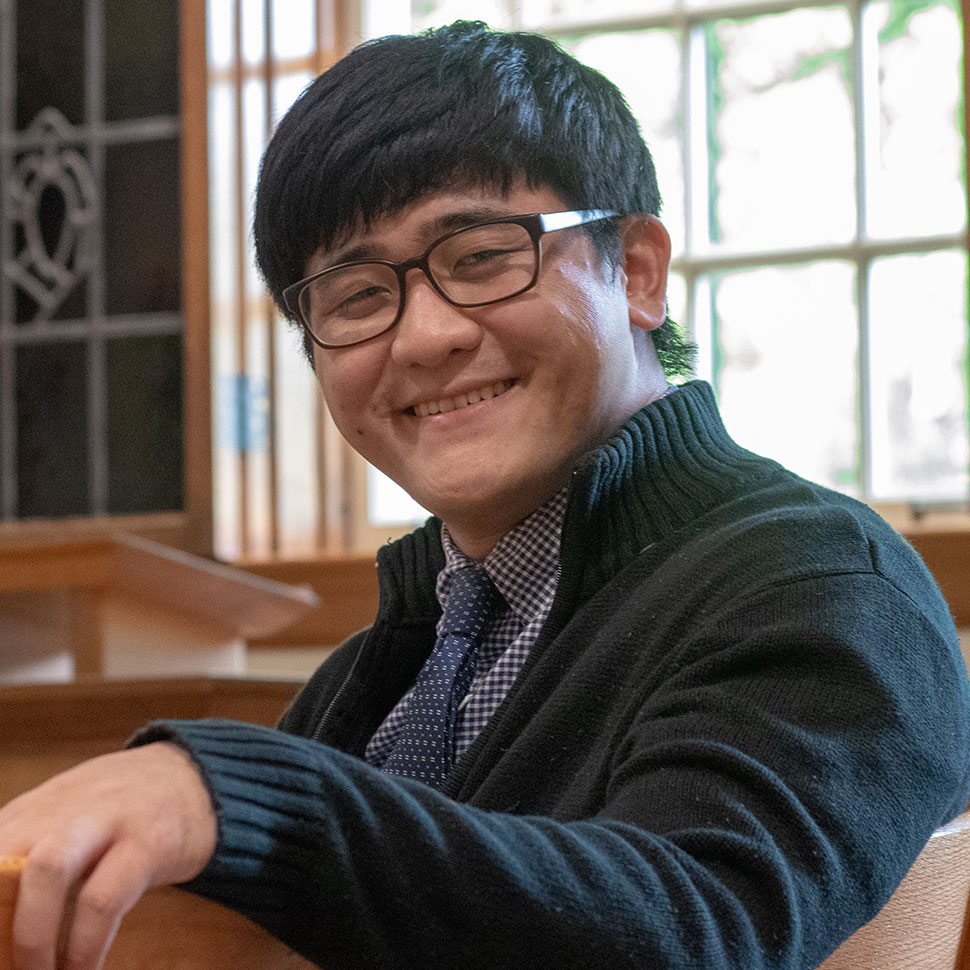 Before coming to Wake Div, Sanha double majored in english and philosophy at East Carolina University. For him, there were a number of complicated and personal reasons for applying to divinity schools. One big reason being Sanha wanted to pursue an academic career where he could practice his Christian faith through care and practical theology. Wake Div offered a chance to do both, and when he felt that the pastoral care and ministerial courses were not enough, he took a unit of Clinical Pastoral Education (CPE).
If someone asked you, "why should I get an MDiv degree?," what would you say?
While many places may offer a chance to reflect on your experiences, an MDiv degree allows you to do guided reflection working with people who can act as professional advisors as you come to understand your vocation while asking how your skills, passions, and vocational pursuits fit in a theologically-understood world. The MDiv degree shows that you not only can do Master's level work and think critically in a theological light, but it shows that you have reflected on your place in the world, an action not many do.
Who has impacted you most during your time at Wake Div? How did that enhance your learning experience?
There were many people who impacted me. To list a single person wouldn't give an accurate answer to this question. All of my biblical professors had some hand in shaping my path in biblical studies; all the other professors had some hand in my ongoing discovery of my vocation; all my friends had some hand in the change I experienced as both a scholar and a person. The entire community through one-to-one conversations impacted me, helping me ask questions that I would have never asked before.
How has your time at Wake Div clarified your sense of calling? Has it shifted from your original discernment? How did you feel supported?
I always knew that I wanted to be a professor. I came in wanting to pursue a Ph.D. Wake Div introduced me to experts, both future and present, that let me peek into their minds. It was through these interactions that I found that I loved biblical studies. Yet, I am still trying to understand if there is any calling beyond biblical studies that I have yet to discover.
What is one of your favorite memories from your time at Wake Div?
Working with my classmates on Biblical Hebrew has to be my favorite memory. We all were struggling to learn this new language, but all of us brought something to the table. Some of us remembered vocabulary really well, and some remembered grammar. Some kept us in a rigid line of thought, and some kept us thinking creatively. Our homework sessions before class were a time where I had fun doing homework instead of grinding through them.
What is a specific area in which you have grown during your time here?
This is an easy question. My ability to socialize. I brag about this (even though I shouldn't), but I used to be an anti-social, loner shut-in who refused to leave his room. That isn't a big exaggeration, but I refused to connect with community when I first came here. Now, I have communities that I belong to, people I trust, and the willingness to be a chaplain intern (though my lack of social skills is a constant obstacle that I have to work at).
What's next for you? What vocational path do you hope to pursue?
I was accepted into Garrett-Evangelical Theological Seminary's Ph.D. program for biblical studies. This is the next step of my vocational path; I hope to become a professor one day, but we'll see if I'm satisfied with only being a professor.
How has Wake Div prepared you for the PhD program you will be pursuing?
When I realized which field I wanted to go into a Ph.D. program for, I immediately contacted both my Hebrew Bible professors. Both of them gave me advice that helped me immensely, and I doubt I would have even applied the same way to the same schools. Other professors gave me their own opinion and advice that shaped my path.
What sparked an interest in biblical studies and the potential focus of your PhD?
I have always loved the Bible. It was the one book that I thought was boring, everyone I knew thought was boring, yet I could never put it down. It wasn't until I took the Old Testament Interpretation class with Dr. Walls that I got really interested. I was able to take my skills that I developed under my English and Philosophy majors and apply them to a text I loved. Dr. Moyer gave me a lot of advice on how to discern the climate of the field of biblical studies, giving me books and his support. My potential focus was sparked years ago, but I had always thought it wouldn't be an appropriate subject to pursue. Thanks to Dr. Shaner and the meeting at AAR/SBL (American Academy of Religion/Society of Biblical Literature) and FTE (Forum for Theological Education) that gave me confidence to seek out my own research.
Want to hear more from Sanha?
Check our Instagram and Facebook stories – @wakediv.
Other Class of 2019 Profiles
Categories: Graduation, News
Recent Posts
June 1, 2023

May 19, 2023

April 5, 2023