Main Content
Pamela S. Mitchell
Hometown: Lexington, North Carolina
Denominational Affiliation: Baptist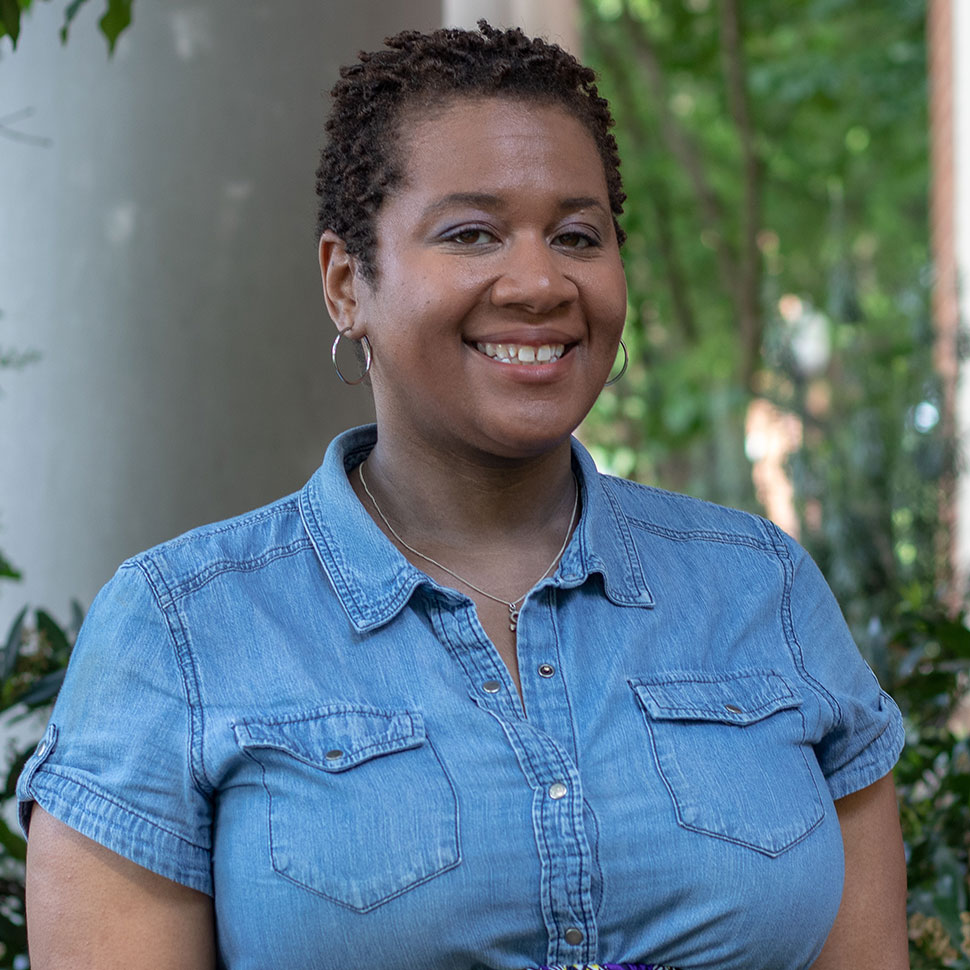 Before attending Wake Divinity, Pamela earned a Bachelor of Science from Winston-Salem State University and became a Residential Real Estate Broker. Through her decision to remain committed to her family, church, and community, she partnered with non-profit organizations and facilitated sessions that helped families through their times of crisis. She served as a IDA Success Coach at Experiment in Self Reliance and helped clients accomplish their goals of homeownership.  Pamela came to Wake Divinity to creatively connect her love of medicine with her call to ministry through the Religious Leadership and Health concentration of the MDiv program. The program's commitment to academic excellence has successfully catapulted her development as a servant leader and far exceeded her expectations during her time in the program.
If someone asked you, "why should I get an MDiv degree?," what would you say?
You should get your MDiv when you are ready to take the journey to becoming your best self for your ministry context.  You should come to Wake Div to get your MDiv when you are ready for an ecumenical opportunity to wrestle with any theological questions you may have.
Who has impacted you most during your time at Wake Div? How did that enhance your learning experience?
I cannot honestly name one person that impacted me most during my time at Wake Div.  The community has been equally generous with providing me with ways to learn and grow.  The class that started it all for me, surprisingly, was Art of Ministry I. The class and small group meeting assignments created crafty ways for me name all of my experiences that led me here. My true gratitude came during my capstone assignment that revisited our first moments of Art of Min. I saw how my blank slate I brought in 2016 had turned to a canvas full and overflowing with beautiful works of art. At that moment I knew Wake Div was well worth my time.
How has your time at Wake Div clarified your sense of calling? Has it shifted from your original discernment? How did you feel supported?
My time at Wake Div has been amazing because it allowed me to explore the many ways my calling could unfold.  Through various internships and student employment opportunities I've made connections throughout the university and the community.  For this I am beyond grateful. My classroom interactions with the professors and my peers have stretched me in ways I'd never considered.
What is one of your favorite memories from your time at Wake Div?
One of my most memorable moments happened during my first week of classes.  I was reconsidering my decision to come to Wake Div because I didn't think I was prepared to do the work.  During community lunch I had a conversation with Dr. Jill Crainshaw about my dilemma. Who would've thought that her using a cake recipe analogy would help me believe I would thrive during my time here?  
What is a specific area in which you have grown during your time here?
I have grown as a pastoral care provider.  I came into this space thinking I could be a chaplain without being pastoral.  Prior to coming to Wake I had little experience with female ministry leaders. The student organization Sistah Circle gave me a sisterhood filled with powerful women of color in ministry.  I finally heard my "voice" here and it sounds confident, compassionate, hopeful, and like music to my ears. This growth spurt happened in a time in my life that I needed it most.  I believe I'm a much better mother, daughter, sister, friend, student, and overall human being.
What's next for you? What vocational path do you hope to pursue?
Chaplaincy and Pastoral Care.  I will be completing my first-year residency at Wake Forest Baptist Medical Center.  Ultimately, I'd love to become Board Certified with ACPE and continue in this path.
Describe the impact Clinical Pastoral Education (CPE) had on you.
CPE was one of the best decisions I've ever made.  My cohort and supervisors were key to helping me with my pastoral formation.  The clinic and classroom equipped me with the skills necessary to be present with myself and others.  It increased my confidence as a chaplain and provided real-time life learning opportunities to see my faith in action.  
What do you see as your unique offering to pastoral care?
As a chaplain I believe I bring a genuine presence to pastoral care. I have a passion to empower, educate, and liberate women and young adults from hardships that prevent them from experiencing their true selves.  I am intentional about sharing any knowledge obtained through my relationships with the people I come in contact with and am committed to being a lifetime learner.
Want to hear more from Pamela?
Check our Instagram and Facebook stories – @wakediv.
Other Class of 2019 Profiles
Categories: Graduation, News
Recent Posts
June 1, 2023

May 19, 2023

April 5, 2023