Main Content
M. Devon Stewart
Hometown: Tampa, Florida
Denominational Affiliation: Baptist / United Church of Christ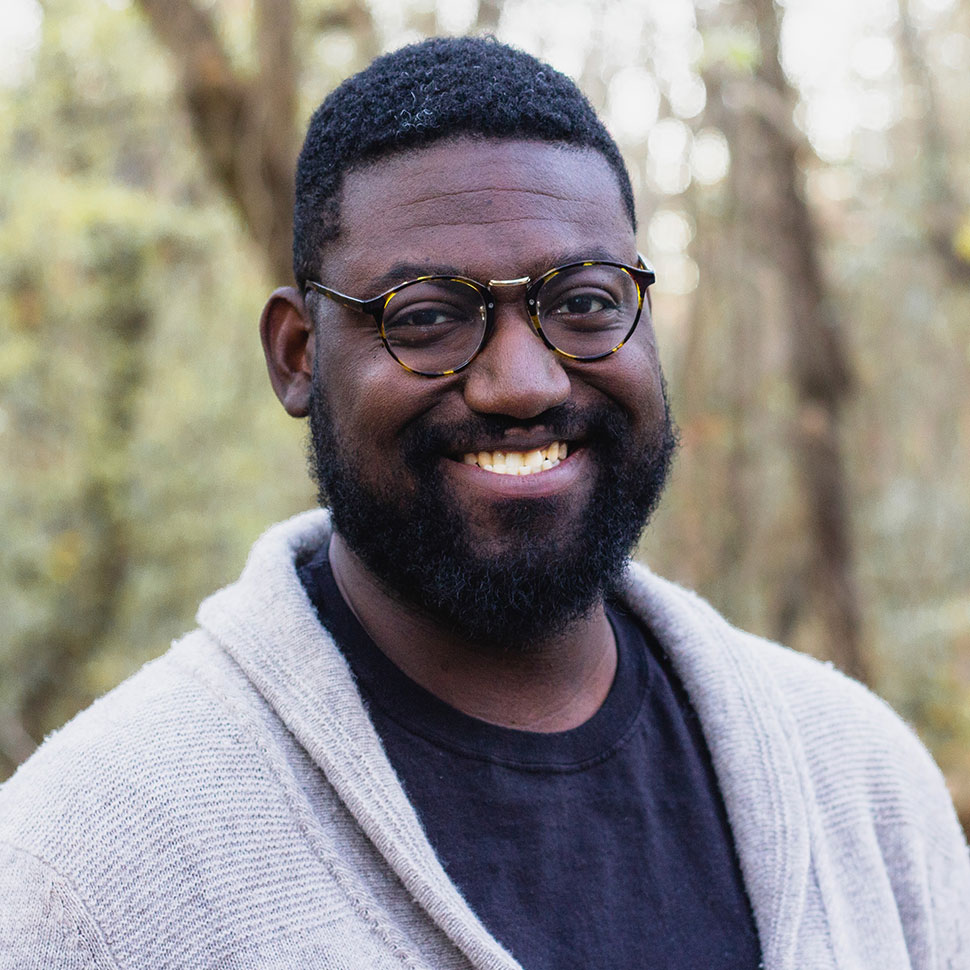 Devon earned his undergraduate degrees at Vincennes University and Florida State University in Economics and Political Science.  After working in Student Support Services, he came to Wake Divinity to further examine a calling to a social gospel and to discover its implications for congregational ministry.
With significant experience in policy analysis and evaluation, Devon found avenues of interest – particularly in congregational/nonprofit consulting and public policy – where his 'social scientist' approach cultivated unique avenues of scholarship.  What Devon appreciates most about Wake Divinity is the ecumenical and contextual approach to rethinking religion, theology, and faith; and the manifold ways in which the Wake Divinity community continues to refine the methodology.
If someone asked you, "why should I get an MDiv degree?," what would you say?
One should pursue an MDiv if they are interested in faith-based, nonprofit, or community-centered opportunities.  One should pursue this degree if you want to engage in the pivotal work which affords the privileges of taking spiritual inventory and knowing oneself.  I also believe that this program merits an attitude of prayer, reflection, and discernment. Three years is a long time to invest without completing a personal form of due diligence beforehand.
Who has impacted you most during your time at Wake Div? How did that enhance your learning experience?
I wish I could choose just one.  In terms of faculty: Dr. Estrada, Dr. Taylor, Dr. Jung, and Dr. Sampson have impacted me the most.  As a practitioner: Dr. Gambill, Dr. Martin, Rev. Kennett, and Rev. (Craig) Schaub have imparted immeasurable forms of wisdom and practical application in my professional endeavors.  These scholars and practitioners have positively shaped the way I see myself as a leader and as a scholar.
How has your time at Wake Div clarified your sense of calling? Has it shifted from your original discernment? How did you feel supported?
I believe the time I've spent at Wake Div has not only clarified my sense of vocation and calling, it has broadened my sense of calling. Over the past three years, I have become more comfortable with my calling in academic and congregational environments. Conversations with members of the faculty have been most helpful throughout my spiritual and vocational discernment.
What is one of your favorite memories from your time at Wake Div?
I find that my favorite memories during my time at Wake Div have been the time invested in getting to know my classmates and instructors. I find that those moments – whether they be in the classroom or off-campus – have been the most substantial learning experience. It's amazing what you can learn when you just listen and glean from the experiences of this community.
What is a specific area in which you have grown during your time here?
During my time at Wake my ability to discern and identify opportunities for effective pastoral care and presence have significantly improved. It is vital to know how one's presence can add or subtract from any environment. Also, my ability as a storyteller has improved greatly.
What's next for you? What vocational path do you hope to pursue?
I am weighing the options of continuing my education – within a Master of Theology (ThM) program.  I am also currently exploring congregational ministry opportunities. I am most interested in pursuing the scholar – practitioner model in terms of my vocation.
What do you see as your unique offering as a religious leader?
In a society that can take so much away from us, I believe that my unique offering is to help congregations and communities alike dream again.  That is one of the most beautiful aspects of the Jesus story; the prospects of hope, identity, and restoration.
Categories: Graduation, News
Recent Posts
June 1, 2023

May 19, 2023

April 5, 2023