Main Content
Kim Thornton
Hometown: Winston-Salem, North Carolina
Denominational Affiliation: Moravian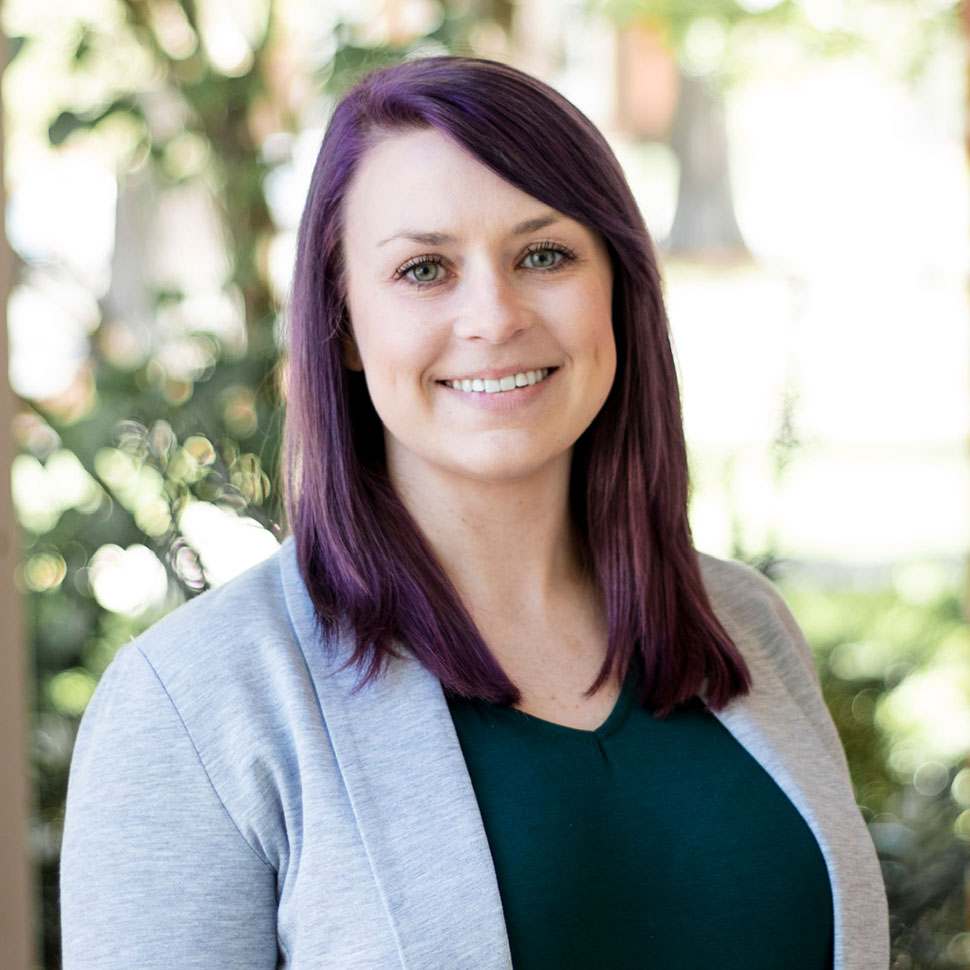 Kim attended the University of North Carolina at Wilmington where she studied Psychology and Spanish. She worked full time for 2 years in Wilmington at a community mental health agency doing social work. Kim was led spontaneously to Wake Divinity as part of her journey to become a mental health counselor.
Kim is a graduate of the Master of Divinity and Master of Arts in Counseling joint degree program.
If someone asked you, "why should I get an MDiv degree?," what would you say?
An MDiv is such a diverse degree. There are so many things that you can do with it. My main focus had not been divinity or religion, but mental health. Even so, I followed the call and found a world of spiritual tools that will aid my professional counseling. It is a wonderful opportunity that intentionally explores not only Christianity and religion, but self-awareness, social justice, spirituality, intersectionality, and community. I am a more informed practitioner and a better person because of my time at Wake Div.
Who has impacted you most during your time at Wake Div? How did that enhance your learning experience?
Dr. Walls has been the most impactful faculty member for me. Old Testament was no joke! Taking his class was one of the first times in my life that I felt validated in some of my own beliefs. He was able to bring an appropriate amount of humor, seriousness, and passion to the subject that kept me engaged. He also guided a group of us on a pilgrimage to Israel/Palestine –  an absolutely life-changing experience for me. Dr. Walls is the Indiana Jones of the Divinity School!
How has your time at Wake Div clarified your sense of calling? Has it shifted from your original discernment? How did you feel supported?
I came into Wake Div very clearly wanting to continue with counseling afterwards. Throughout my time in school, this idea was challenged, broken down, and questioned. Where could I best serve God? The most supportive experiences were Dr. Jensen letting me cry in his office, Art of Ministry with Dr. Senior, and the many growth opportunities provided by Dr. Copeland in Spirituality and Discernment. Working with the Clearness Committee was huge in my own discernment and really helped lead me to the confirmation that Counseling is where I do my best ministry.
What is one of your favorite memories from your time at Wake Div?
Some of my favorite memories are from late nights sitting awake on my couch with friends; sometimes we laughed, sometimes cried, sometimes had a glass of wine, sometimes vented. I'll never forget some of the great people who supported me throughout this journey and made me laugh so hard I cried.
What is a specific area in which you have grown during your time here?
Every area! I've seen the most growth, though, in areas of my own spiritual formation and confidence. Wake Div helped me to figure out who I am, what my spiritual gifts are, and how I can give back. It has helped me to live more fearlessly and trust in God. Divinity School taught me how to engage in community and to really appreciate humanity as a part of creation.
What's next for you? What vocational path do you hope to pursue?
I will be headed to Raleigh as a Post-Masters Fellow at the North Carolina State University Counseling Center starting in August. I hope to bring a unique and thoughtful approach to the art of college counseling.
What do you see as your unique offering as counselor now that you've completed the joint degree program?
I've had many more opportunities for self-reflection and engagement in real-world issues through the dual degree program than I would have otherwise. I believe that the counseling degree trained me in the skills and professional orientation of counseling, and my Master of Divinity degree prepared me for the intricacies of working with real people. I have much more knowledge of differing belief paradigms, systems of oppression, values, meaning-making, and the art of caring conversation than I did before. Personally, I feel more in touch with myself as a result of the joint-degree program than I ever have before, which I believe will allow me to better serve others.
Want to hear more from Kim?
Check our Instagram and Facebook stories – @wakediv.
Other Class of 2019 Profiles
Categories: Graduation, News
Recent Posts
June 1, 2023

May 19, 2023

April 5, 2023