Main Content
Hollis Dudgeon
Hometown: Crestwood, Kentucky
Denominational Affiliation: Cooperative Baptist Fellowship (CBF)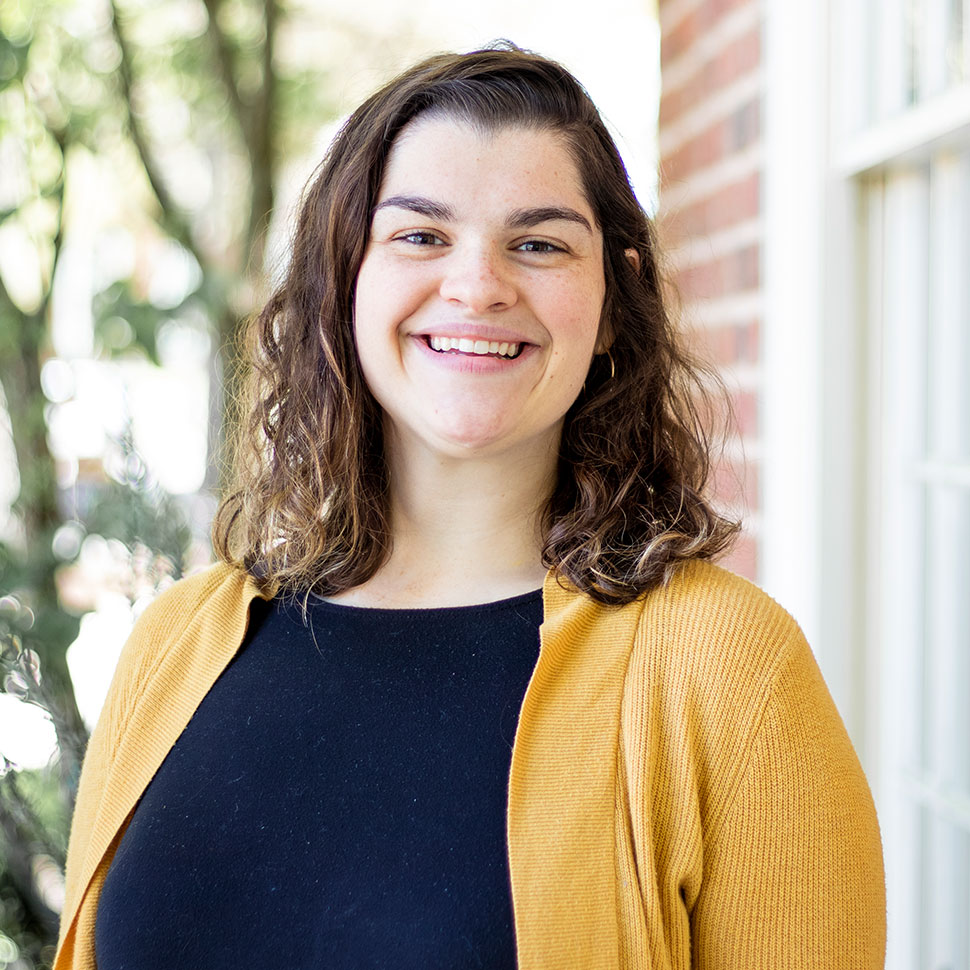 Before attending the School of Divinity, Hollis earned a B.A. in Philosophy and Spanish from Georgetown College. She came to Wake Divinity unsure what she was wanting to do other than help people in a way that engaged her faith and see more about what embodying a call to justice, reconciliation and compassion might mean. While here, she has discovered and grown into her passion for reflectively engaging her faith, pastoral and spiritual care, and even a little bit of preaching.
If someone asked you, "why should I get an MDiv degree?," what would you say?
I think that there are a lot of different reasons that folks come to get an MDiv.  There are those that have felt called to this their whole lives, there are those who felt a call later in life, there are those whose call has been chasing them down, and there are those that are unsure how they ended up here in the first place.  The beautiful thing with an MDiv, in my experience, is that wherever you are at on the journey, the degree seems to greet you with what you need.
I would say if you are interested in being challenged, if you are interested in growing, and if you are interested in improving yourself and being of service to others, as an agent of justice, reconciliation and compassion, then the MDiv degree is an opportunity waiting for you.
Who has impacted you most during your time at Wake Div? How did that enhance your learning experience?
This is a hard question for me to answer because, genuinely, all the professors and staff at Wake Div have impacted me in different and profound ways.  I think, though, that Dr. Leonard has always been the voice that grounds me and brings me back to the call. He has made it feel possible to embrace my Baptist identity and discover the beauty of all that can be.  He has challenged me to consider the significance and relevance of the "Jesus Story" and how we might tell that good news again. Finally, he has served as a constant reminder and example of what it looks like to be an agent of justice, reconciliation and compassion.
How has your time at Wake Div clarified your sense of calling? Has it shifted from your original discernment? How did you feel supported?
I sort of landed in divinity school totally unsure of what I was wanting to do.  I had incredible professors in my undergrad experience at Georgetown and a best friend that saw things in me long before I was able to see them.  They encouraged me to explore the possibility of what it might look like for me to go to divinity school. I knew that I felt called to help people in some way and that way of helping people somehow tied into the way I understood my faith.  I realized Wake Div was the place to figure that out, with its promise to cultivate agents of justice, reconciliation and compassion.
My time at Wake Div has been incredibly helpful in clarifying my sense of calling.  The professors, the community, the experiences, and God's moving presence within all of that has felt tangible in my time at Wake Div. I have discovered a love of spirituality, pastoral care, and religious leadership that has helped to guide my sense of calling in discerning where my gifts intersect with the world's needs.  Before I couldn't have imagined a call that felt so congruous with who God has created me to be; it is almost as if in discovering my call I have discovered more of myself and in discovering myself have discovered more of my call.
I have felt incredibly supported by the community at Wake Div, fellow travelers on the journey, even when the journey has sometimes felt impossible and like I wanted to stop going on.  I am grateful for the professors and staff that have served as teachers, mentors and pastoral caregivers, and for my friends and colleagues that have taught me so much and have made it feel possible to keep going on.
What is one of your favorite memories from your time at Wake Div?
One of my favorite memories from my time at Wake Div is the trip I went on to Iona, Scotland after my first year.  It was the trip of a lifetime with a group of amazing colleagues and professors. Iona truly felt like a thin place, hard to distinguish from the earthly and the ethereal.  I will always hold the memories, the laughter, and the profoundly holy experiences with me from that trip.
What is a specific area in which you have grown during your time here?
There are a multitude of ways in which I have grown during my time at Wake Div.  The most encompassing way in which I have grown, though, is realizing both that I have something to offer and that I too am limited in the things that I offer. I have really come into myself and discovered more of who I am and the things that I am passionate about in powerful ways.  This has been through examining my beliefs in classes, self- reflection through therapy, the enneagram and CPE, and discovering myself in community. It has been beautiful to come into the unique gifts that I bring to the world and to come to the realization that I cannot be all things to all people all the time, as much as I think I would sometimes like that.  I am limited in the things that I can do and the ways that I can connect, and that is okay and provides an invitation to care for myself.
What's next for you? What vocational path do you hope to pursue?
After graduation, I will head back to Georgetown College in Kentucky to be the Director of Faithways Academy, working with youth theological leadership.  I am really looking forward to working with the youth, everyone at the college, and the Georgetown community. I am excited about the creative possibilities that I will find in this position in working with theological and ministerial exploration!  I carry with me also my passion for spirituality, pastoral care, and religious leadership and look forward to the ways that these gifts will continue to guide me on my vocational path.
How did your internship experiences prepare you for the work you will be doing with youth?
The two internship experiences that I had were the extended unit of Clinical Pastoral Education at Wake Forest Baptist Hospital and a Pastoral Internship at Pfafftown Baptist Church.  Both were formative experiences that impact the way that I understand myself and that I understand the work that I do.
One of the most powerful things that I carry with me from my experience with CPE in the hospital is the capacity to sit with hard things and be present to the Divine in others.  In other words, the ministry of presence and what it means to bear witness to someone with whatever they may be going through.
One of the things that I carry with me from my Pastoral internship at Pfafftown Baptist is the creative learning experience in church youth ministry that I was able to have in my time there.  I am grateful for the church that created opportunities to help me develop my pastoral gifts and for a youth group that was willing to share their lives with me and journey with me as we tried to discover more of our faith together.
What is one specific practice you learned through planning worship that you will take with you to your new job?
Planning worship is something that I thought I would never do in my time at Wake Div because I didn't think that I had the gifts or the skills to do it.  When Dr. Copeland asked if I would be a part of the worship committee I was a little surprised, but flattered, and figured that at the very least I had a lot to learn in that realm. Learn, I did!  I find that I gained practical, organizational, and critical skills of worship planning, skills that have seeped into other parts of my life and that will continue to be helpful in my new job! These skills along with the desire to continue to seek creative in worship and never limit the possibilities of how the Spirit might move.
Want to hear more from Hollis?
Check our Instagram and Facebook stories – @wakediv.
Other Class of 2019 Profiles
Categories: Graduation, News
Recent Posts
June 1, 2023

May 19, 2023

April 5, 2023