Main Content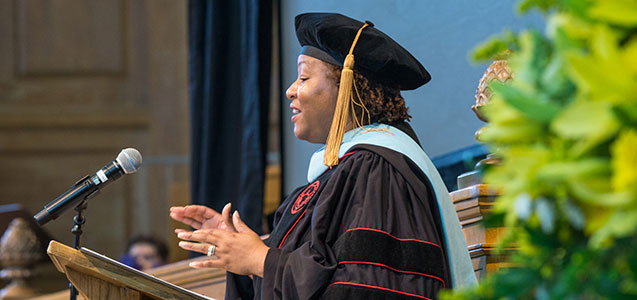 Media Contact: C. Mark Batten | battencm@wfu.edu | 336.758.3959
Shonda R. Jones has been named Senior Associate Dean for Strategic Initiatives and Integrative Learning.
Jones has provided strategic leadership at the School of Divinity for the last seven years, establishing innovative practices in recruitment and admissions, promoting diversity and inclusion, and engaging student learning through co-curricular programming.  Under her leadership, the Master of Divinity student population has grown by thirty-six percent, with racial/ethnic students growing significantly to forty-seven percent in 2019, up from approximately twenty percent in 2011.
As Senior Associate Dean, Jones will continue to provide oversight of admissions and student services, as well as teach courses to aid students in their capacity to effectively bridge differences and commonalities in ways that help them to be faithful to the various communities they will serve. She will add to these responsibilities oversight of the School's strategic planning and related initiatives.
"I am grateful for the wisdom and experience Dr. Jones brings to operational leadership at Wake Forest University School of Divinity. In this new role she will offer vision for the School's administrative planning, implementation, and assessment as well as develop new approaches to integrate programming and practice with the academic and formational goals of the School." Jill Crainshaw, Interim Dean
Jones is co-editor of the forthcoming book, Transforming Service: Reflections of Student Services Professionals in Theological Education. This edited volume is a seminal book in which administrators of Association of Theological Schools (ATS) member schools critically and creatively address topics that focus on student services professionals and their work in graduate theological education. Amid the various and serious changes afoot within the church and academy, this project provides astute and perceptive expertise to assist theological educators and institutions in transforming how to reach and sustain those they wish to enroll and serve.  Transforming Service brings together perspectives from experienced administrators on a variety of topics related to leadership – from understanding the conceptual models that guide the work and gaining deeper knowledge of institutional contexts, to setting and executing academic and co-curricular goals.  
Jones has also contributed as a chapter co-author to Fifty State Systems of Community Colleges, Fourth Edition (Mission, Governance, Funding, and Accountability (Overmountain Press, 2014), where she focused on the community college system in the state of Indiana and local efforts the state has taken in becoming a leader in student success, degree completion, and implications for workforce and economic development in the region and nation. 
Her future projects will focus primarily on graduate school choice of students of color attending predominantly white theological institutions.
More About Shonda R. Jones
For over 20 years Jones has worked in theological education having served as a senior administrator at Emory University's Candler School of Theology and Perkins School of Theology at Southern Methodist University. She is an Ordained Elder in the United Methodist Church and has actively served congregations in Texas, Georgia, and North Carolina.  She holds an Ed.D. in Higher Education Administration from the University of Alabama, a master of divinity degree from Texas Christian University's Brite Divinity School and a bachelor's degree in English from Texas Christian University.
Recent Posts
June 1, 2023

May 19, 2023

April 5, 2023