Main Content
James H.
Wilkes, Jr.
Hometown: Gastonia, NC
Denominational Affiliation: Baptist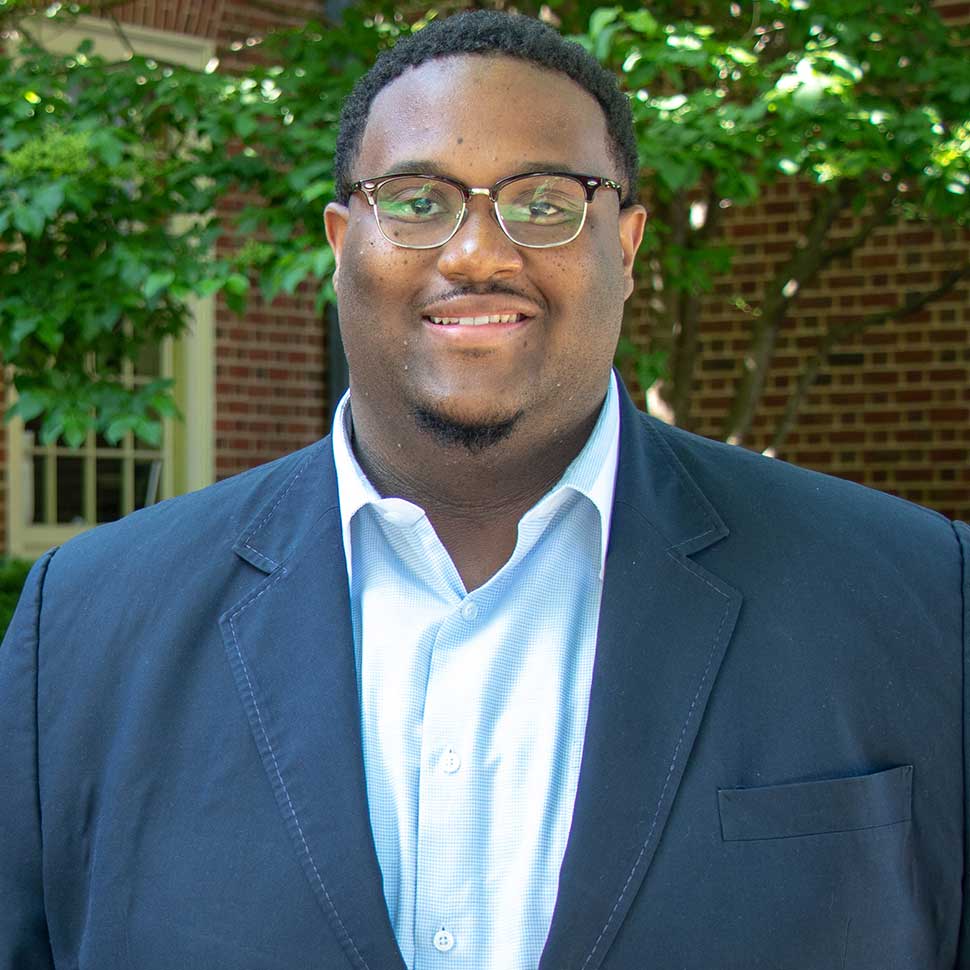 James earned his B.S. degree in Business Administration from the University of North Carolina Greensboro. He is the son of Mr. James Henry Wilkes, Sr. and the late Deborah Wright Wilkes. James is married to Melia Olivia Wilkes and is the Senior Pastor, Teacher, and Servant at Elon First Baptist Church in Elon, North Carolina. The School of Divinity gained his attention because of its strong outlook on social justice.
What are some of your most meaningful experiences in ministry or community service?
My most meaningful experience was with my church community this past Resurrection Sunday (Easter). I had the opportunity to baptize fifteen people. All were from various backgrounds, one of which had lost his mother the year before. I had the opportunity to minister to him out of my own experience with losing my mother. In this moment I saw God expanding our church to reach beyond our "limitations" and "excuses."
Who has impacted you most during your time at Wake Div? What have you learned from them?
Interim Dean Jill Crainshaw made an indelible impression on my life. She taught me a lot about preaching and the value of preparation. Also, she impacted my ministry by allowing me to do a independent study researching ways in which black pastors can transform their leaders and laity to help them in ministry. This has not only transformed my life, but several other pastors that I have been in conversation with.
How has your time at Wake Div shaped your sense of who you are and what you are called to do?
Wake Div has empowered and confirmed me in what I have already been doing. I have been equipped with resources, knowledge, and tools in order to be more effective in my pastoral ministry.  Also, Wake Div enabled me to rely on God's strength in all of my weak areas.
What is one of your favorite memories from your time at Wake Div?
My fondest memory at Wake Div was my Introduction to Christian Theology class. After great discussion and conversation one class meeting, many of us reflected that though we had different theological beliefs based on our diverse backgrounds and experiences, there are ways to have ecumenical conversation that better all of us and our community.
As you reflect on your time here, what advice would you give your first-year self?
My advice is read, read, and read. Don't take the information you have for granted, but be grateful for the opportunity to learn from some of the most knowledgeable scholars in the world. Another piece of advice is to have fun and enjoy the process! Sometimes it can be difficult to enjoy a rigorous process because of the load that may be on your plate. It is important to find ways for self-care and enjoy the community and space in which you are a part of.
What's next for you? What vocational path do you hope to pursue?
I will continue serving my current church community and plan to pursue a Doctor of Ministry.
Categories: Graduation, News
Recent Posts
June 1, 2023

May 19, 2023

April 5, 2023