Main Content
Beth Barksdale
Hometown: Germanton, NC
Denominational Affiliation: Presbyterian Church U.S.A.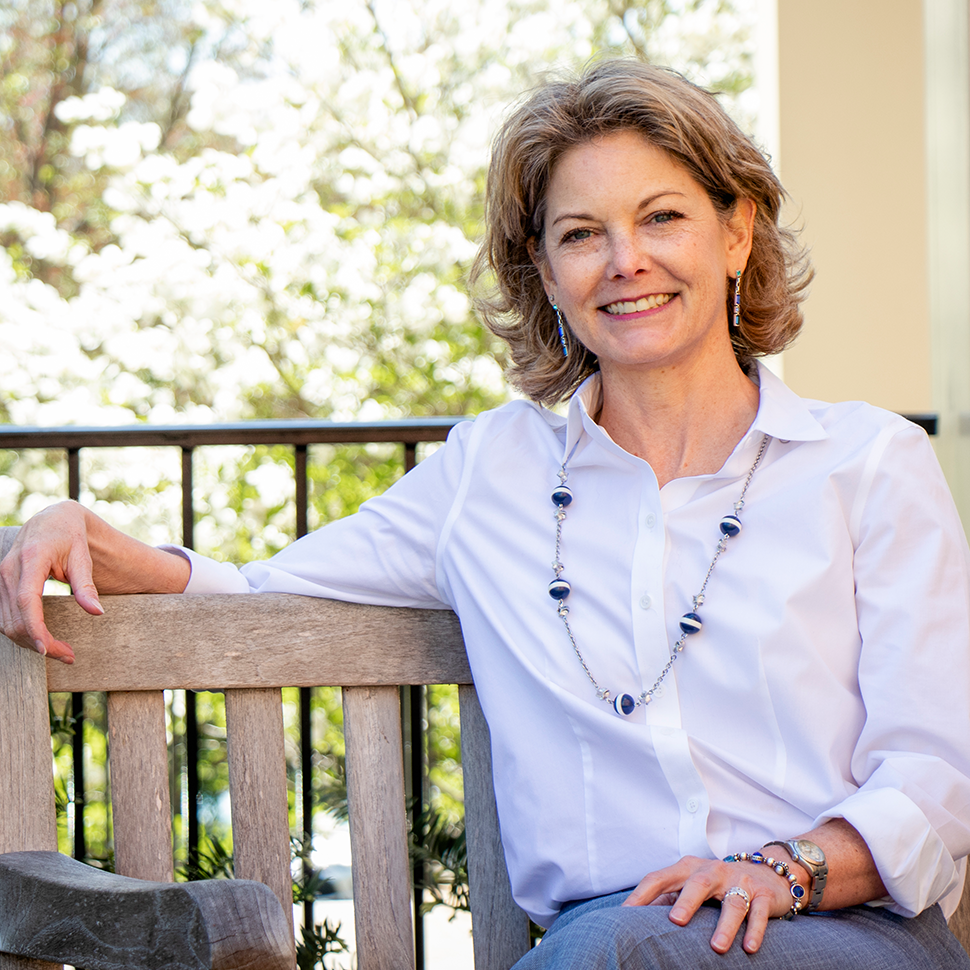 As a second career divinity school student, Beth has spent the majority of her life as the President and CEO of CCi, a patient communications company serving hospitals throughout the United States.  At least three times during her 30 year tenure, she contemplated leaving the company to pursue ordination in the Presbyterian Church U.S.A, but "reason" always eclipsed her call. Beth can truly say one of the most clarifying moments of her life was speaking with associate dean of admissions Dr. Shonda Jones and coming to the realization that it was time to "get on with it."  Prior to attending Wake Forest University Divinity School, she attended Harvard Business School's Executive Leadership program, the University of the South's Education for Ministry (EFM) program, and earned a BA degree in Psychology from Salem College.
What are some of your most meaningful experiences in ministry or community service?
As I am one to see the sacred in the ordinary, meaningful experiences in ministry and service seem to stand out in daily encounters.  At Wake, it is in the liturgy of our community worship services, the rich tapestry of our choir, the internships students engage between classes, the intercultural trips we experience together, and the dialogue between classmates and professors. Beyond this everyday rhythm of life on campus, a few exceptional experiences stand out: a family style farm to table eucharist meal for those "tending the field," blessed by Rev. Steve Blackmer (Church of the Woods) and sanctified by the fiddle of our own Fred Bahnson; a celebratory parade down the streets of an affluent Tucson neighborhood, led by the Director of Iskashitaa after harvesting unclaimed fruit for refugees; leading a Good Friday worship service with six of my peers and experiencing the joy of a congregation even as we remembered Christ's death on the cross; playing tag with the children of Rancho Pando, who were elated that the people from Wake Divinity delighted in life's simple pleasures.   
Who has impacted you most during your time at Wake Div? What have you learned from them?
Without a doubt, my professors have had the greatest impact on me during my time at Wake. Dr. Neal Walls and Dr. Katherine Shaner have taught me the importance of deep biblical knowledge and from them I have come to love scripture and exegesis.  Dr. Michelle Voss Roberts and Dr. Kevin Jung have taught me the value of comparative theology and the significance of morality and from them I have come to know the ideas of brilliant theologians that are affirmed in Christian living.  Dr. Mark Jensen, Professor Bahnson, Dr. Jill Crainshaw, and Dr. Porter Taylor have each taught me the true art of ministry and from them I have come to understand my faith and I have discovered my passion.
How has your time at Wake Div shaped your sense of who you are and what you are called to do?
When I started at Wake Div I had a sense of what I wanted to do but I had not yet come into the person I believe I am called to be.  My time at Wake has inspired me, shaped me, even claimed me, and prepared me to do God's work in the world.  But more importantly, my experience at Wake has transformed me, turning me inside out, readying me for a new tomorrow.  I have often wondered how such a change occurs, and I have watched my peers undergo a similar metamorphosis. It is as if we grow into our stoles by the time graduation rolls around, day by day, year by year, imperceptible perhaps to those who stand at a distance but visibly clear to those who are by our side.  It is a miraculous change and I attribute it to Wake's wisdom to teach an ecumenical curriculum, Wake's vision to practice the art of ministry, Wake's fortitude to seek justice for all God's people, and Wake's commitment to a faith expressed in community. I am not the same person I was when I started Wake, searching to do something in terms of vocation. Rather, the very essence of my being has changed, and I now know who I am called to be.  I am excited about the opportunity to serve in a congregational setting after graduation and helping in some way to make church more relevant in today's world.  
What is one of your favorite memories from your time at Wake Div?
A favorite memory from my time at Wake Div is walking on a dusty road in Rancho Pando (a small village in the Chinendega Region of Nicaragua) with a few classmates and Dr. Jensen under a canopy of stars so brilliantly exposed by the night sky that our entire galaxy seemed in view. While most of us were looking up in awe and wonder, Dr. Jensen, who had grown accustomed to the sight from his travels, looked to the ground capturing the reflection of a thousand spider eyes with a tiny beam of light.  After a few moments, our gaze too shifted to the dirt as he taught us a trick that I have since passed on to my son and nephews. While there are countless memories I could share, in and out of the classroom, this particular moment in time captures the Wake experience. Together we were serving Rancho Pando as agents of justice, reconciliation and compassion, in one of the most humble and beautiful places I have ever seen, led by a teacher enamored with God's creation, on earth as in the heavens.
As you reflect on your time here, what advice would you give your first-year self?
The School of Divinity experience at Wake is such an incredible journey that I would tell my first-year self to savor it, to find time to encounter its wisdom and to reflect on its purpose, to recognize it is more than a degree; it is a profound and significant passage.
What's next for you? What vocational path do you hope to pursue?
Following graduation, I will continue to pursue ordination requirements for the Presbyterian Church U.S.A (PCUSA) in hopes of first serving a church as a Teaching Elder and later serving a PCUSA presbytery as a General, Executive or Missional Presbyter.
Categories: Graduation, News
Recent Posts
June 1, 2023

May 19, 2023

April 5, 2023