Main Content
by: C. Mark Batten | battencm@wfu.edu | 336.758.3959
Wake Forest University conferred degrees to nearly 1,900 graduates during Commencement held on Monday, May 21. Of the graduates, Master of Divinity degrees were awarded to thirty students at the School of Divinity. Three divinity graduates received joint degrees, two with a Master of Arts in Counseling and one with a Master of Arts in Education. The School also awarded Master of Divinity degrees in memoriam to the families of two students who passed away during the academic year.
The School of Divinity held a Hooding Ceremony on Saturday, May 19 to honor graduates.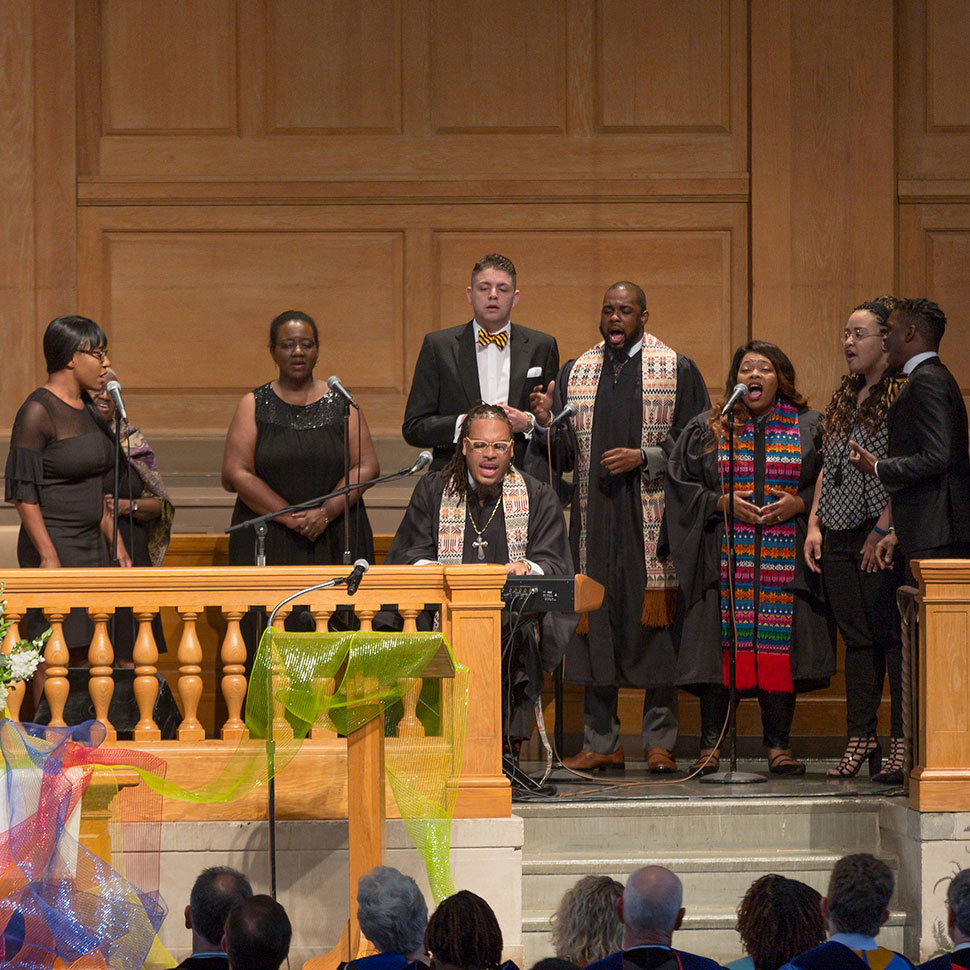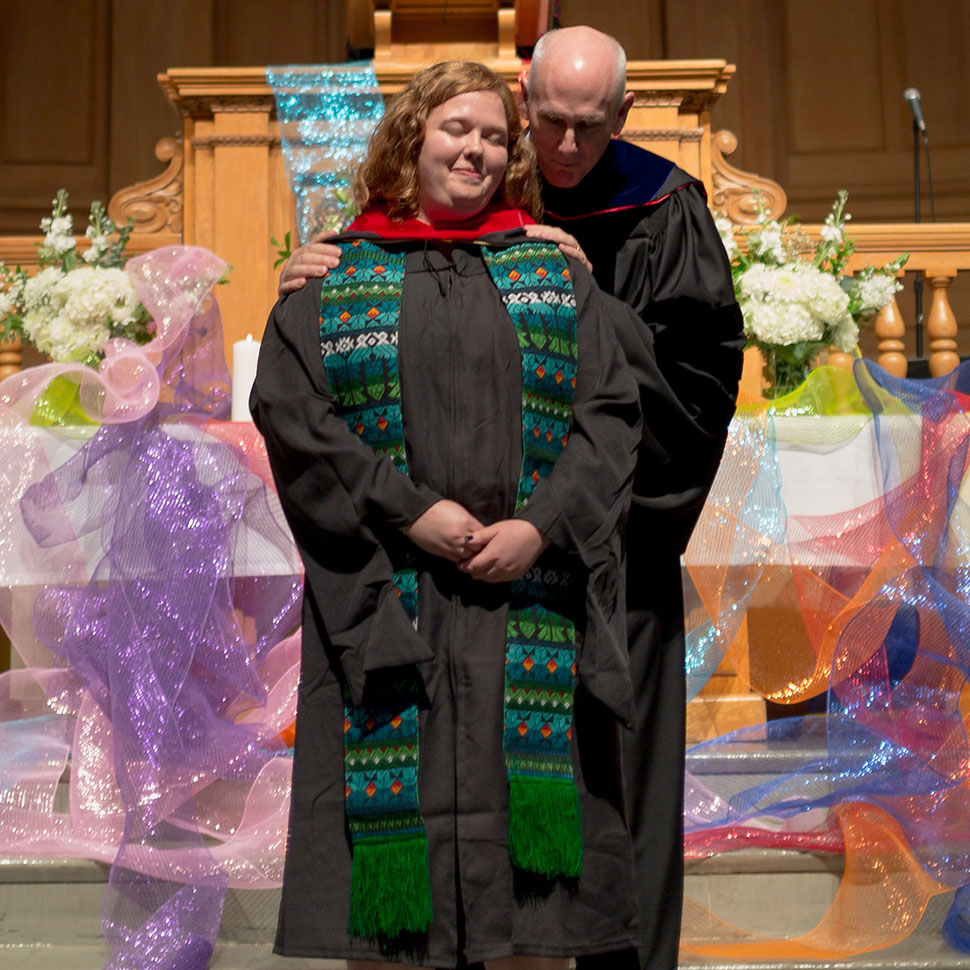 "When we entered into this space, we began a journey of exploration into discovering for ourselves what it means to be agents of justice, reconciliation, and compassion," said Shakeisha Holton Gray. "Our orientation theme was 'Vibrant Threads,' a theme which we now celebrate as our individual threads have come together and woven a beautiful tapestry."
The class selected Bill J. Leonard, Dunn Professor of Baptist Studies and Professor of Church History, to be the hooding speaker. In his remarks, based on 1 Corinthians 12:4-7, Leonard acknowledged the leadership gifts of the graduates gifted by the Holy Spirit and reminded graduates that the Gospel call to action moves beyond one's identity, courage, and commitments.
Vibrant Threads
The image of weaving was used throughout the service to highlight the myriad of ways graduates have experienced support and challenge. Graduates expressed gratitude for the diversity and strength of their individual tapestries as they were woven together working for the common good and a transformed world.
"Who knows where the Spirit will take any of us? So whatever your vocation, whatever your gifts, what ethical, theological, spiritual non-negotiables form you? Indeed, I hope we've contributed to such formation during your time here. At its best the school's mission statement informs us all. All of us are to be 'agents of justice, reconciliation, and compassion,' living out our diverse gifts in light of those shared, immutable, essential, enduring, dangerous, scary, gospel imperatives. Go out and confront a volatile world, take those imperatives with you. But tonight, let's add one more grace to the list — wherever the Spirit and the gifts take you, have some passion about it." Bill Leonard
During the ceremony, several recognitions were offered:
Rogan Kersh, Provost and Professor of Politics and International Affairs, recognized Leonard on the occasion of his retirement after serving at Wake Forest University for 25 years, several of which were spent as the visionary and Founding Dean of the School of Divinity.
Members of the Class of 2018 designated their class gift to purchase a memorial bench to honor the lives of two of their classmates. The bench is constructed out of timber salvaged from the Wake Forest campus and was built by Mr. J.L. Bolt of Wake Forest Facilities and Campus Services.
Jill Y. Crainshaw, Interim Dean and Blackburn Professor of Worship and Liturgical Theology, recognized Gail R. O'Day, Dean and Professor of New Testament and Preaching, as a recipient of the Bill J. Leonard Distinguished Service Award Pro Fide et Humanitate, an award given annually that honors those who embody the principles of Wake Forest's motto of Pro Humanitate and the School's commitment to educating leaders who are committed to justice, reconciliation, and compassion. O'Day will be stepping down as Dean this summer.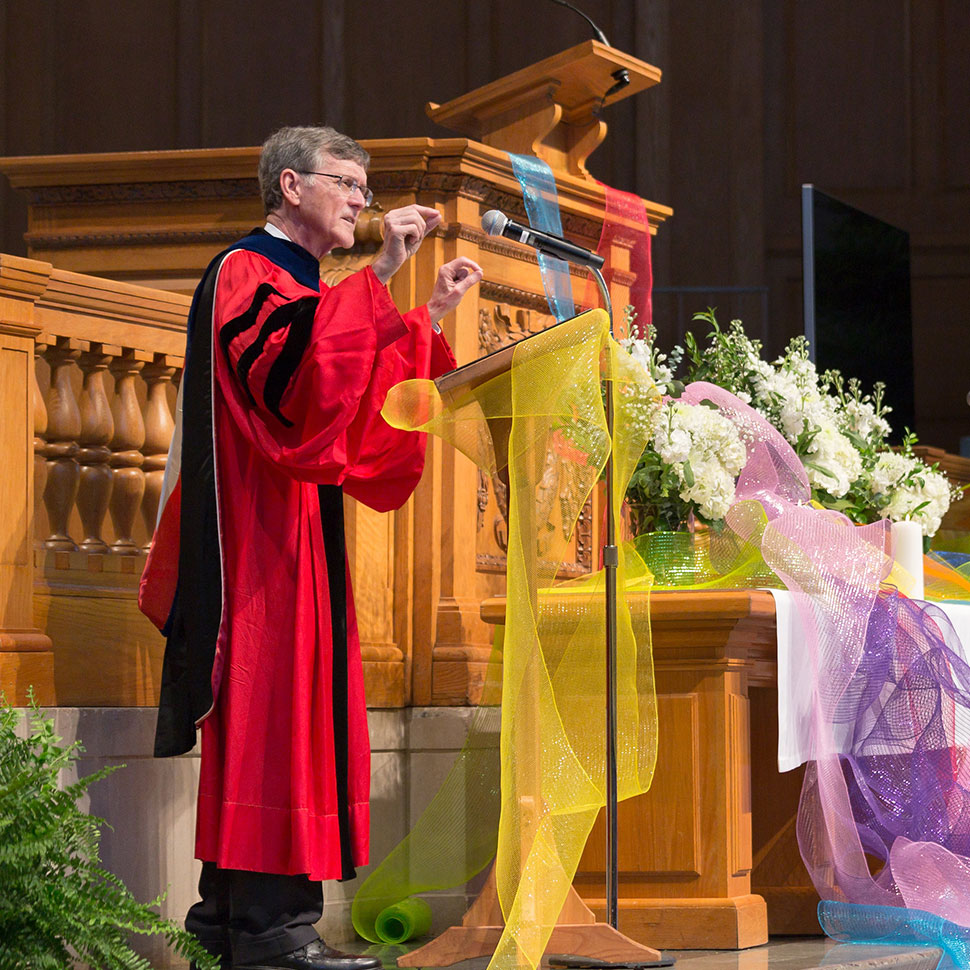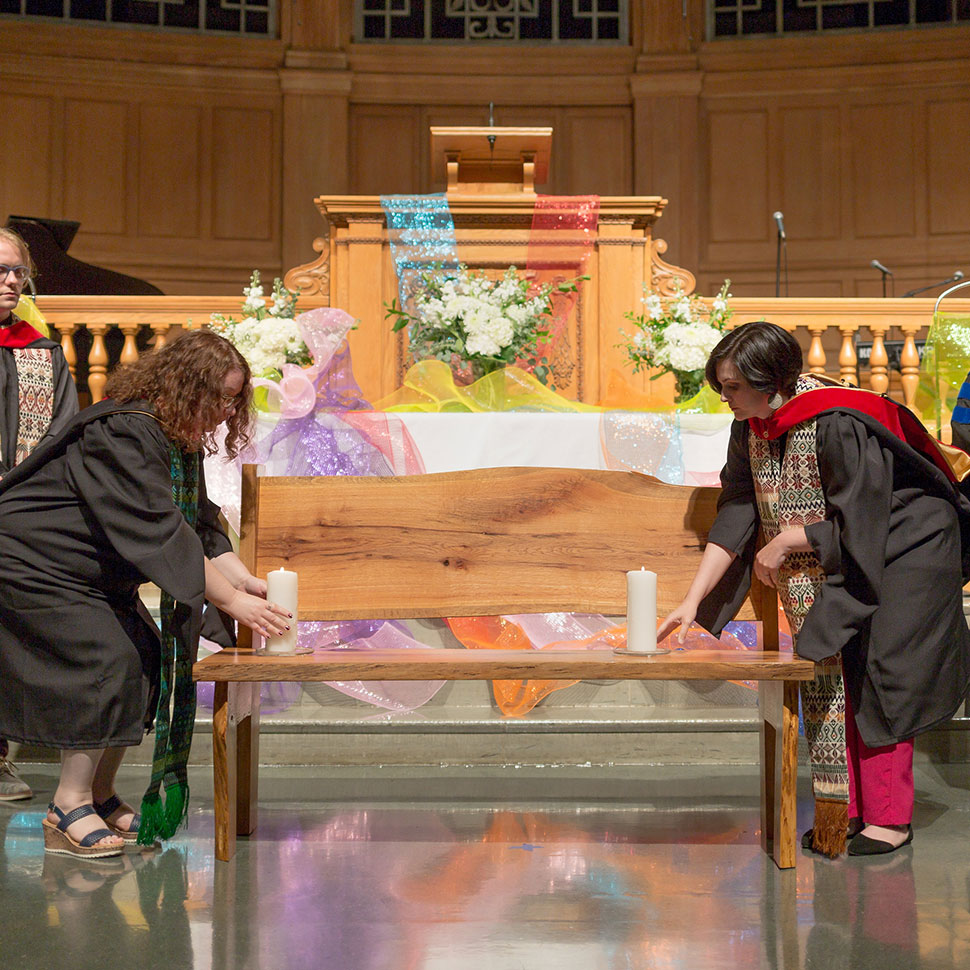 As Leonard finished his remarks and graduates prepared to receive their masters hoods, he spoke once more about the passion behind one's leadership gifts. "The Spirit and the gifts don't just say what we do, they define who we are. I will always remember a single line declared in a sermon by Dean Gail O'Day. 'I create to say yes in the face of the world's often resounding no.'"
Congratulations to the Class of 2018!
Celebrating the Class of 2018
University Commencement
At Monday's (May 21) university ceremony keynote speaker Carla Harris, vice chairman, managing director, and senior client advisor at Morgan Stanley, asked the class of 2018 to focus on four things: choice, chance, change, and courage.
"When faced with a choice, choose the options that position you to be a leader. Choose the options that create a multiplier effect, and make the choice that will inevitably push you and stretch you the most," she said. "Choose to lead."