Main Content
by: C. Mark Batten | battencm@wfu.edu | 336.758.3959
Editor's Note: Over the next five weeks, the School of Divinity will be introducing you to members of the Master of Divinity Class of 2018.
Jude Swanson
Hometown: Appomattox, Va.
Denominational Affiliation: Presbyterian Church (USA)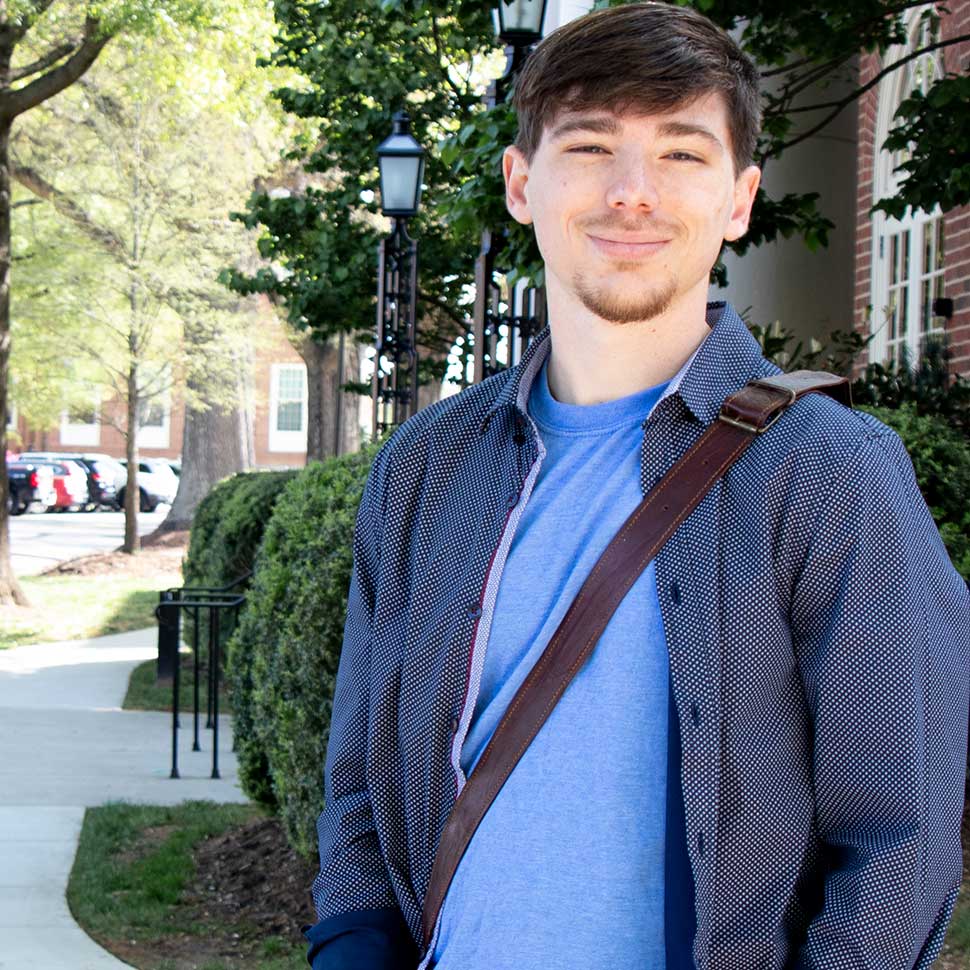 Before arriving at Wake Forest School of Divinity, Jude Swanson earned a Bachelor of Science degree in Computer Science from Averett University. He says he came to the School of Divinity to "explore how Christianity can gain deeper meaning through ecological themes" and to explore his "own faith story, and how a person of faith can pursue a meaningful life without distinctly feeling 'called.'"
What are some of your most meaningful experiences in ministry or community service?
I spent a summer as a Chaplain Intern at Wake Forest Baptist Medical Center in Winston-Salem. On an overnight shift one weekend, I was called to speak with the daughter of a patient. The mother was on a breathing tube, and likely wouldn't make it through the next couple of days. As we walked through the halls of the hospital, the young lady turned suddenly and asked me, "Why would God want to take my mommy from me?" All this theological training, education, experience – and I had no answer. It really made me think about how it can be easy to explain away tragedy and suffering when we sit on the outside looking in, but how we can really only help if we sit on the inside with those who are suffering.
Who has impacted you most during your time at Wake Div? What have you learned from them?
There are two people. First, Dr. Kevin Jung, Associate Professor of Christian Ethics. In an elective course entitled, Life, Death, and Beyond, we talked about prayer, and what it means for different people. At one point, he posed the question, "Do we believe that God would not heal people if we didn't ask for it?" This made me start to take stock of my own faith beliefs and solidify what I believe. It's questions like these, brought by Dr. Jung, that have become a central component of how I view faith. The second person is a good friend of mine Daniel Francis (MDiv '17), my compatriot and foosball nemesis. It was on long runs and intense foosball games with Danny that I began to ask questions about what an ecological faith really means, and also was able to survive Old Testament!
How has your time at Wake Div shaped your sense of who you are and what you are called to do?
Over the past six semesters, I've realized how important stories and experience are to anyone's faith. To be a part of someone's life story is a remarkable gift, and it's one that we are granted on a daily basis. I feel that the greatest thing that anyone can do with their life is to have a positive impact on the life of another. Recognizing the potential for good that humanity, and all of Creation, has within it has become a central component of what I might consider my 'calling.'
What is one of your favorite memories from your time at Wake Div?
During my first year, there was some kind of undergrad event in the Lower Auditorium, so I had to find a new place to do some last-minute reflection writing for Church History class. I wandered up to Wait Chapel and sat in the upper level and started typing away. All of a sudden, I became aware of an immense silence crowding in around me, and the presence of single shaft light, in which danced innumerable specks of dust became so real to me. And I thought of how in this space where there are no Christian symbols, no singing, no one to invoke the presence of God, and yet God was right there, before my very eyes.
What's next for you? What vocational path do you hope to pursue?
Lesley (my spouse), our two dogs, and our fish plan to move back to southern Virginia, where we would like to get involved in the revitalization of the city of Danville, which is home to our alma mater. Specifically, I hope to get involved in the world of non-profit work and bring with me what I've learned here at Wake Divinity to help rebuild the Dan River region in an authentic and holistic way. Also, I may pursue chaplaincy (either Hospital or University) – a field with has taken on a whole new meaning since my time at the School of Divinity.
"If I had to give myself advice about my time at the School of Divinity, I'd tell first-year me to not spend all three of his years here in anticipation of graduating and leaving, but maybe to realize that the journey is part of the goal." Jude Swanson (MDiv '18)
Categories: Graduation, News
Recent Posts
June 1, 2023

May 19, 2023

April 5, 2023