Main Content
by Erica Saunders (MDiv '19)
Media Contact: C. Mark Batten | battencm@wfu.edu | 336.758.3959
Master of Divinity students in Dr. Katherine Shaner's course, "Women and Slaves in the New Testament," collaborated to publish a daily devotional book, Shouts and Whispers: Radical Meditations for Lent. Shaner is Assistant Professor of New Testament at the School of Divinity.
The idea for book of meditations arose from class conversations about the intersections of gender and slavery in New Testament texts, the ways that women's and slaves' voices disappear in these same texts, and multiple strategies for interpreting the New Testament.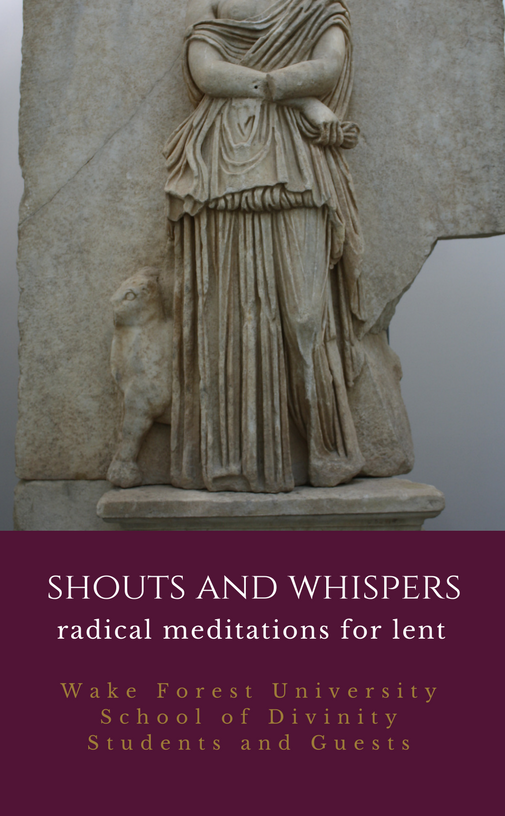 Throughout the semester Shaner said the class discussed some of the most difficult texts in the New Testament and other early Christian writings. "As we wrestled with these texts and grappled with the injustices done in the name of Christianity, we kept coming back to the same question: How do we find hope in these texts?" said Shaner.
"And this is precisely the question we train our students to sit with in the Master of Divinity program. As a professor, I realized that I could give my answer to this question or I could help our students hone their ministerial skills and build confidence using them." Dr. Katherine A. Shaner
As their final project, students composed meditations on biblical texts they studied, drawing on insights from lectures, readings, and class discussion. They collaborated in choosing appropriate texts, editing each other's writing, and inviting guest authors.
Daily meditations cover topics including women's leadership roles in faith communities, how ideas of slavery infuse our theologies, and empowering those whose voices are often silenced in our faith communities and larger world.
"While the project was a pedagogical tool for students to learn how to use their ministerial voices, collaborate with others, give constructive feedback, and to see the publication process at work, it ultimately demonstrates the wealth of wisdom that our students have to offer the world," Shaner said.
Students grappled with New Testament and other early Christian texts about women and enslaved people with an end goal of exploring and proclaiming God's profound hope for the world. For Mia Sloan, a third-year student, that hope involves pushing for the liberation of marginalized communities.
"I do my best to make sure that voices are not being silenced and pushed into deeper forms of oppression," she said. "My hope is that all are open to read the devotional and create healthy discourse with it.  Many of the meditations provide opportunity for healthy discussion beyond one's personal belief of the matters and subjects that we chose to include in this project."
"I hope that this devotional is a theological vent for individuals who desire to challenge theological warrants that have marginalized and silenced oppressed communities." Mia Sloan (MDiv '18)
Several other School of Divinity classes have published resources as part of the school's mission to nurture spiritual growth by providing opportunities to explore personal and communal spiritual practices. Two liturgical writing courses produced anthologies of liturgical art.
Your Purchase Supports the Student Emergency Fund
Shouts and Whispers is available for purchase on Amazon, Barnes & Noble, and Alibris today. Hard copies are priced at $6.95 or Kindle e-book for $0.99. Students and alumni may purchase hard copies directly from the school for $3.00. Proceeds from the book sales will go to the School of Divinity student emergency fund, Stealey's Purse, which provides financial assistance to students who experience unexpected need.
Categories: Academics, Current Students, News, Publications
Recent Posts
June 1, 2023

May 19, 2023

April 5, 2023