Main Content
by Erica Saunders (MDiv '19) and C. Mark Batten
Media Contact: C. Mark Batten | battencm@wfu.edu | 336.758.3959
Offering an intense bonding, storytelling, writing, and theatre experience, the School of Divinity's Spiritual Transformative Theatre course this fall encouraged students to use dance, music, voice, poetry, and visual arts to retell their spiritual journeys.
Taught by 2006 alumna Karen Dresser, the course drew on the internationally-acclaimed Theatre of Witness work of Teya Sepinuck. Students engaged in deep memory retrieval of past events, particularly those that affected spiritual development, and reinterpreted their meanings for the present.
The course was taught in a collaborative nature in order for students to have the opportunity to honor the stories of others in an effort to create bonds of friendship that transcended differences.
Culminating in a public theatrical performance of students' stories on Nov. 28 entitled, "Memories and Mystery," students performed stories ranging from religious conversion after the death of a parent and personal insecurities stemming from mental health issues to conversations about Hell and encounters with a homeless man in a soup kitchen.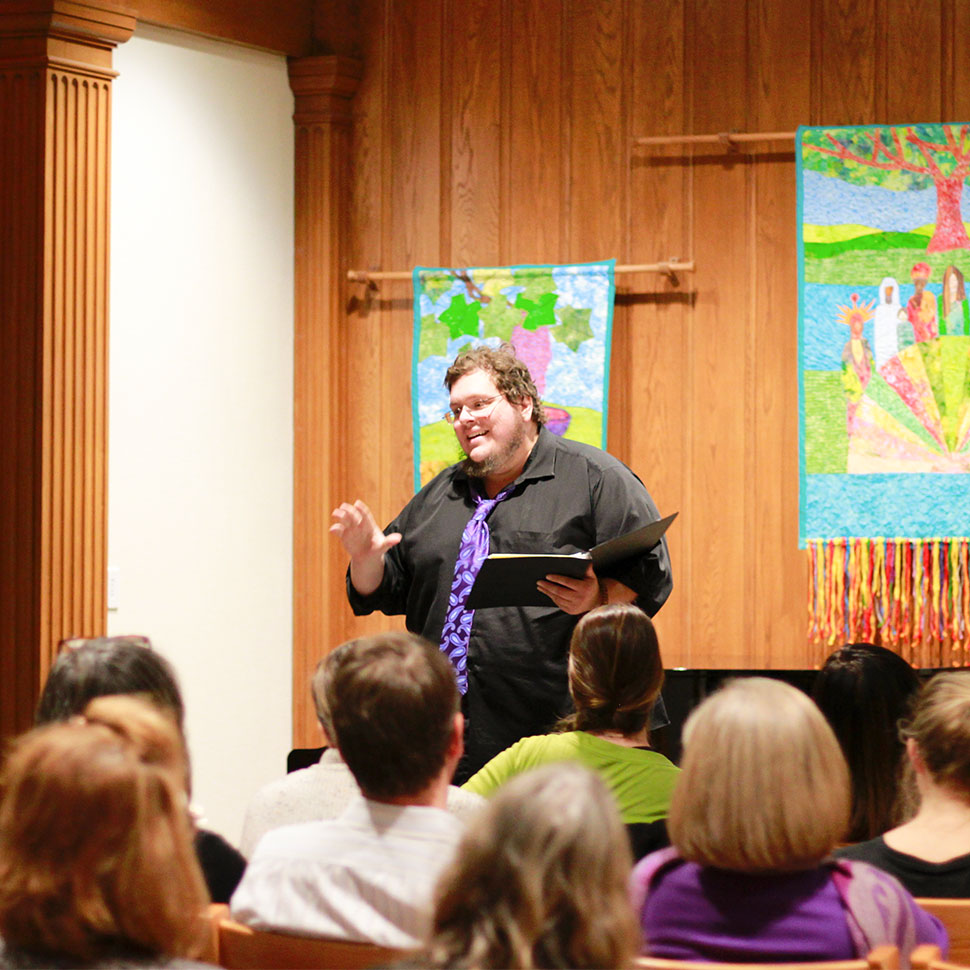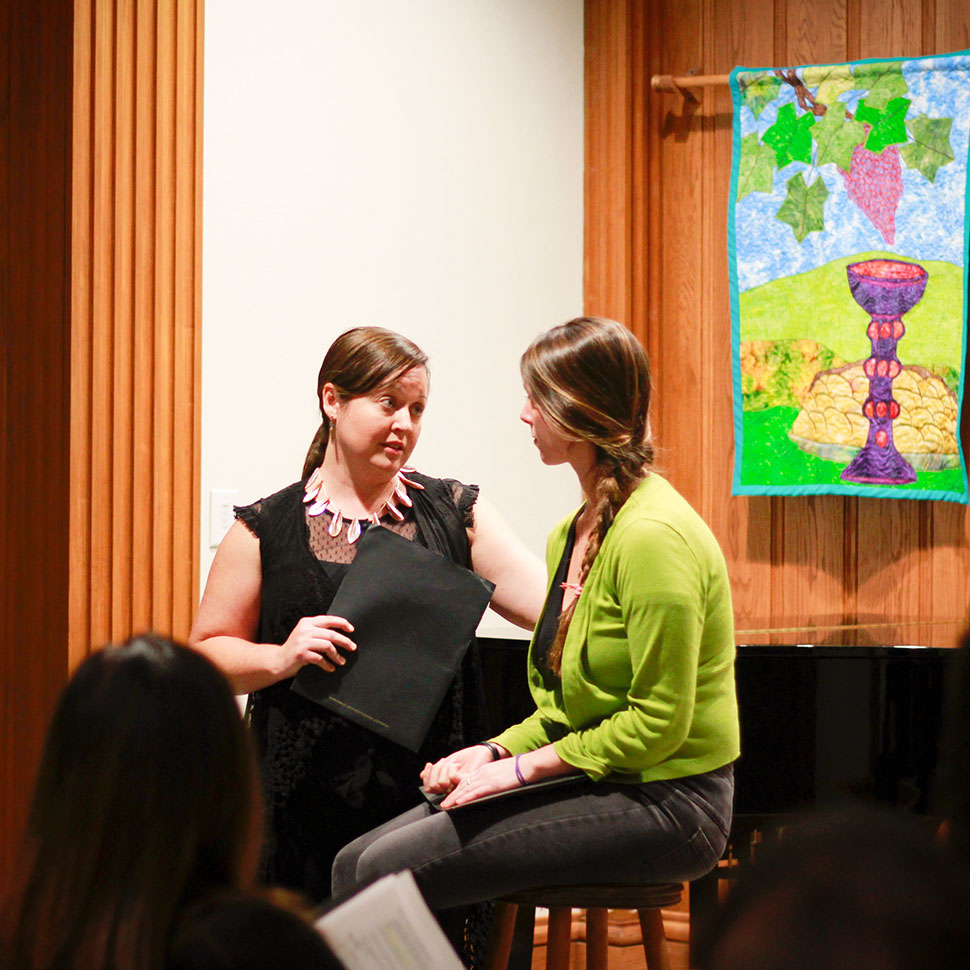 Over the duration of the course, students shared their own stories, in writing, to bear witness to issues of suffering, redemption, and social justice. Offering feedback and affirmation to one another as the performances began to take shape from the scripts, students began to understand playmaking as ministry.
"I think it's safe to say that all of us who worked together came away from this class with deeper connections and greater understanding of each other," said John Kernodle, a second-year Master of Divinity student. "Sharing stories is one of the key building blocks of a strong community."
For Hannah McGrath, a joint degree student in the Master of Divinity and Master of Arts in Counseling program, taking the course and participating in the performance underscored the power of storytelling.
"How we share our stories is important. Our experiences and our stories matter, and we really need to examine how we are portraying that not only to others, but also to ourselves." Hannah McGrath
Prior to the performance several rehearsals were held to honor stage movement and expressive language.
Alumna Karen Dresser holds a Ph.D. in cultural foundations of education from the University of North Carolina at Greensboro. She is a teacher, freelance artist, poet and playwright who has won numerous awards. She also serves on the Jewish Studies and Fine Arts faculty at the American Hebrew Academy in Greensboro, N.C.
"It has been one of the joys of my life, as an alumna, to return to the sacred space of the School of Divinity classrooms as a teacher. Spiritual Transformative Theatre is one of the most rewarding courses I have taught because students not only exhibit their interpretation of class readings through intense discussions, but show their struggles and transformations with their lives, callings, and spiritual paths in their writing and sharing." Karen Dresser
"Some students shared about reconciling their own spiritual truths with those others have tried to impose upon them, or reconciling family or church members after events of upheaval," Dresser continued. "Others questioned justice within religious institutions, and how these institutions maintain a hierarchy of power over those in need. I found myself challenged by my students' compassion and love for each other and for the people to whom they minister."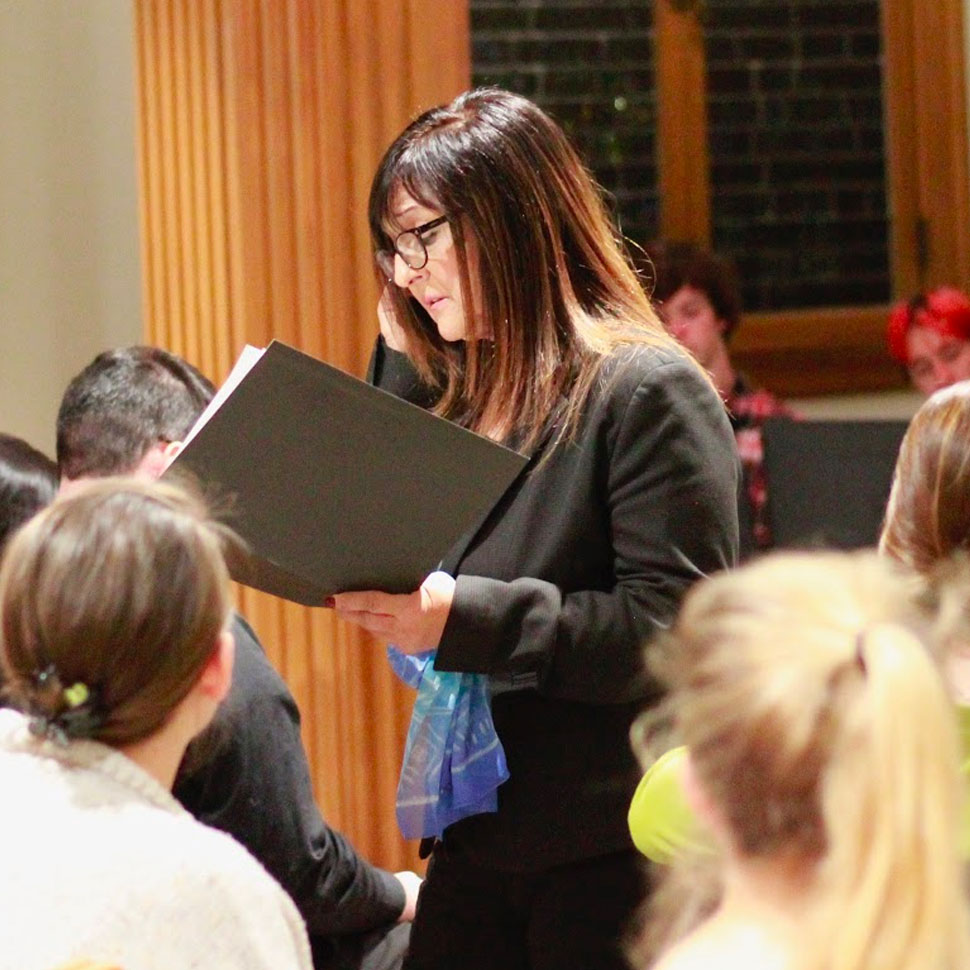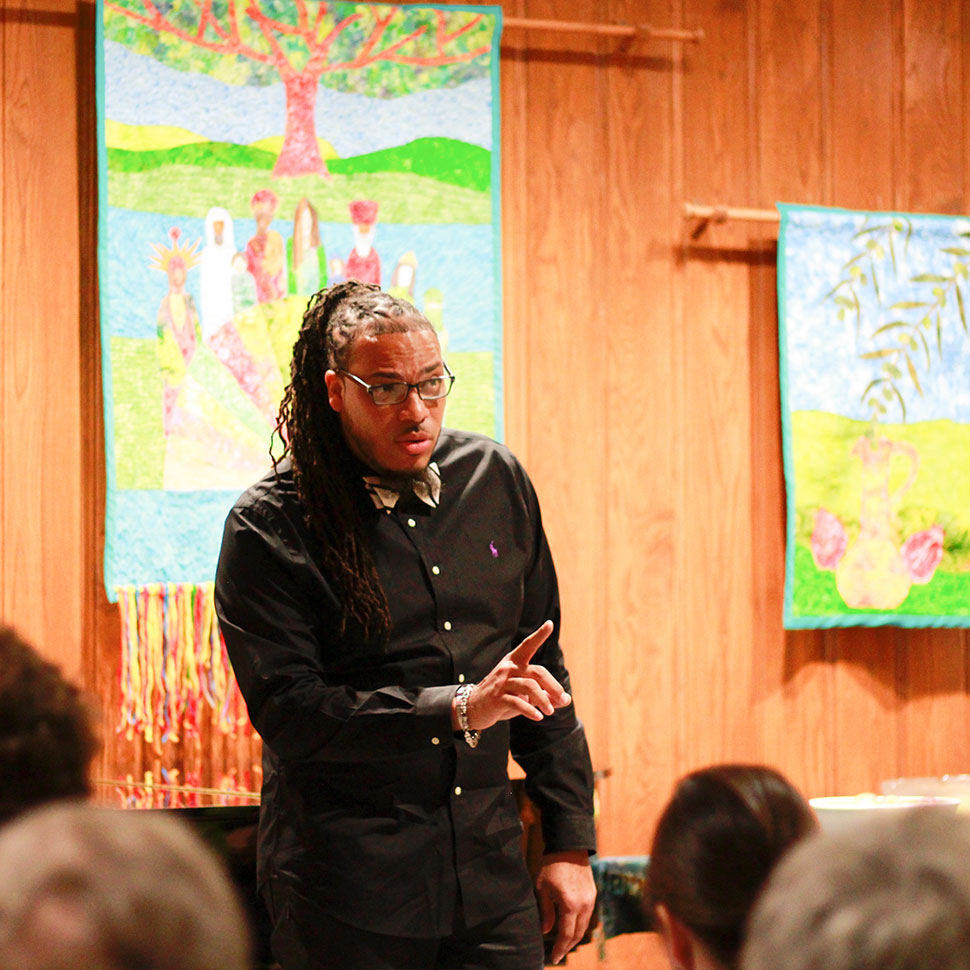 photos by Carly Geis (MDiv '19)