Main Content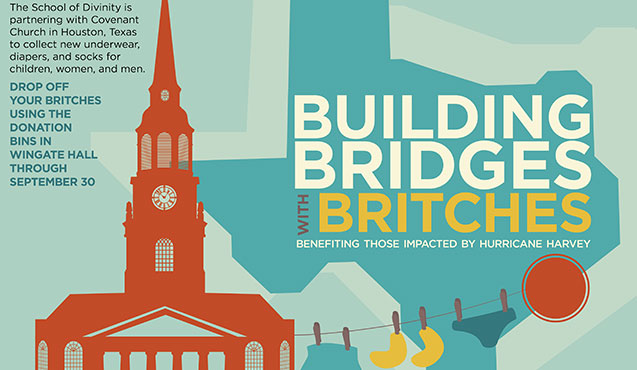 by Luke Klingstedt (MDiv '20)
Media Contact: C. Mark Batten | battencm@wfu.edu | 336.758.3959
After Hurricane Harvey devastated communities along the Gulf earlier this year, the School of Divinity launched "Building Bridges with Britches," a campaign to support relief efforts by collecting new underwear, diapers, and socks for children, men, and women throughout the month of September.

Organized by Master of Divinity students Kaylee Godfrey and Michael Hood with the assistance of Shonda Jones, associate dean of admissions and student services, "Building Bridges with Britches" collaborated with Covenant Church, an ecumenical Baptist congregation in Houston, Texas. Reverend Laura Mayo, a 2003 School of Divinity alumna, serves as the congregation's Senior Minister.
In the aftermath of the hurricane, Jones conversed with Godfrey and Hood during a community lunch about what could be done to provide assistance to those affected. Godfrey noted that she had seen an expressed need for items such as underwear and socks. Most organizations do not immediately think to provide this type of resource.
"Everyone thinks about donating general clothes and food, but not many donate underwear, one of the most basic human needs," Godfrey said. "A clean pair of socks and underwear can matter a lot."
"As soon as I pitched the idea for the campaign everyone jumped on board and was really excited," she continued. "We used teamwork to spread the idea and gain awareness. It really filled up my heart to see how quickly the bins filled up."
The donations were collected by School of Divinity students, faculty, and staff, the School of Law Legal Ethics class, and Wake Forest University undergraduate students. Donation boxes were placed throughout Wingate Hall on the campus of Wake Forest University throughout the month of September.
18 large boxes of materials were collected and sent to Covenant Church for Rev. Mayo to facilitate the distribution.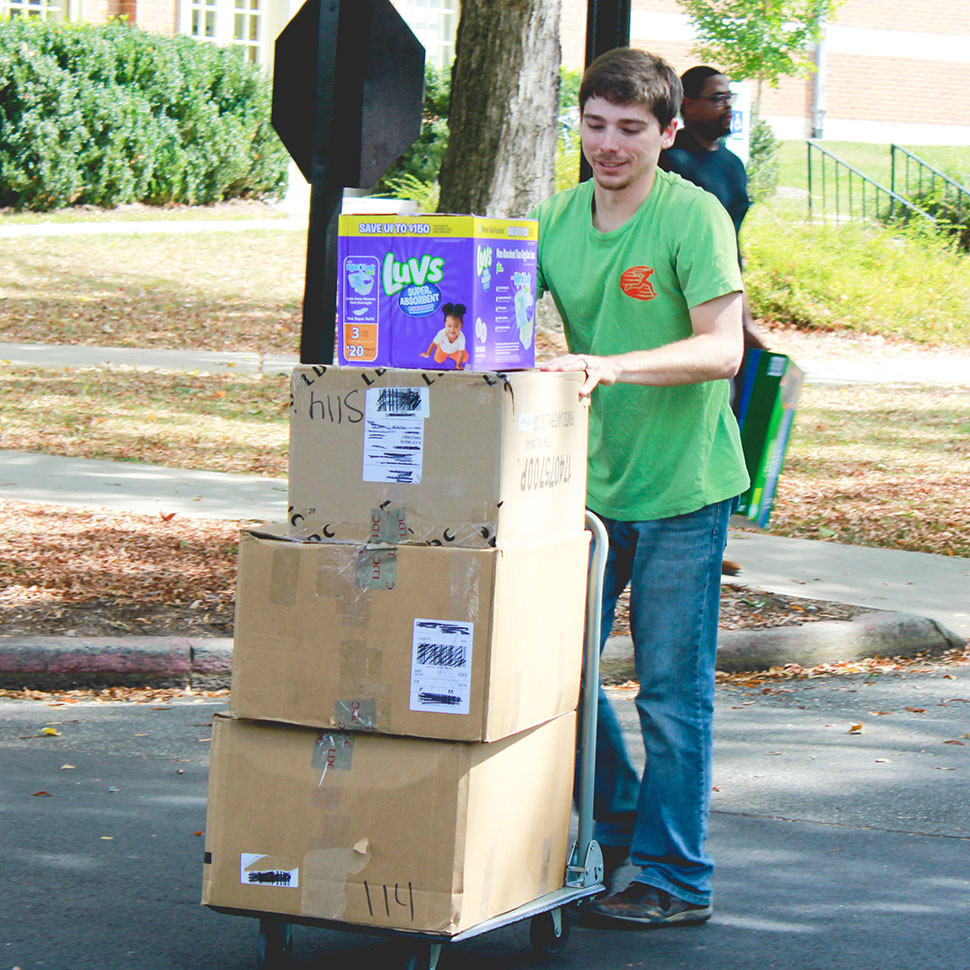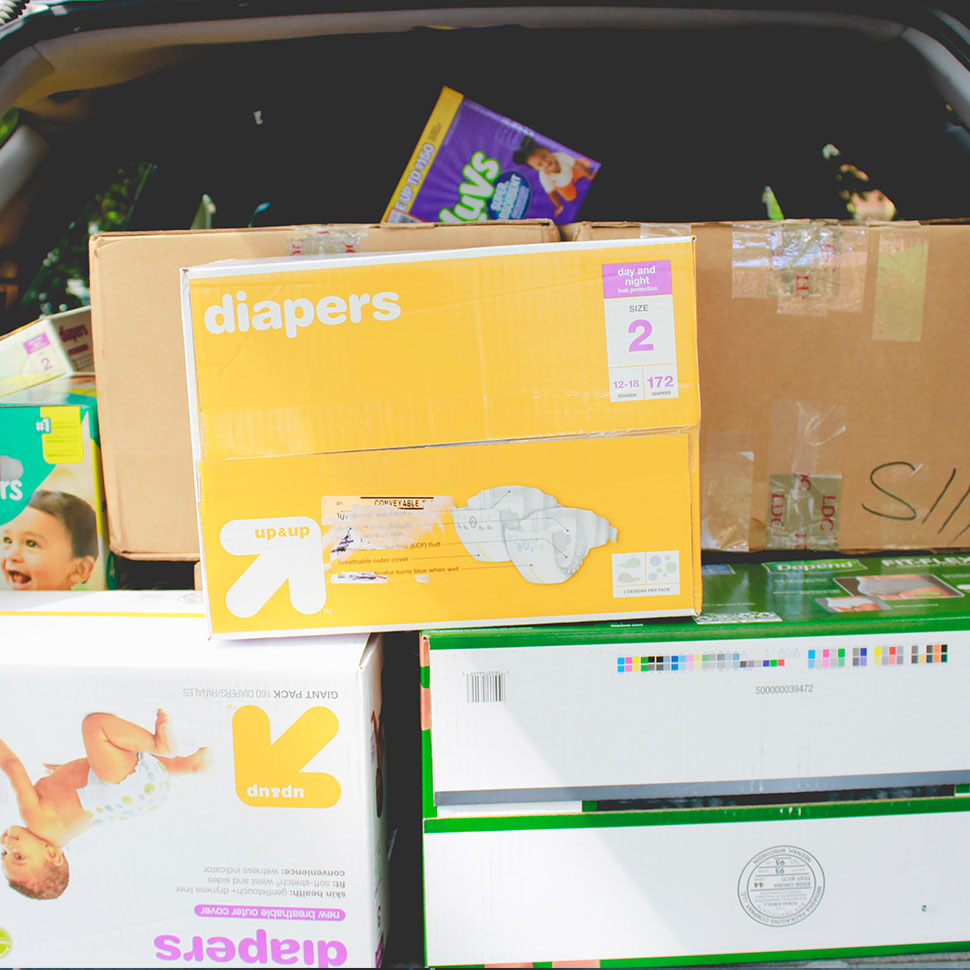 "The need is great and will be here for a long time to come. The School of Divinity's efforts will be of tremendous support." Rev. Laura Mayo (MDiv '03)
Mayo noted that some of the donations went directly to families who had extensive losses while others went to the Christian Community Service Center (CCSC), a ministry partner of Covenant Church in Houston.
"One family connected to the school my children attend just sent out a request for diapers," Mayo said when describing an encounter made possible by this campaign. "They were renters and have not been able to relocate. In addition to their school age children, they have two young children and desperately needed your diapers. I was delighted to take the diapers to them."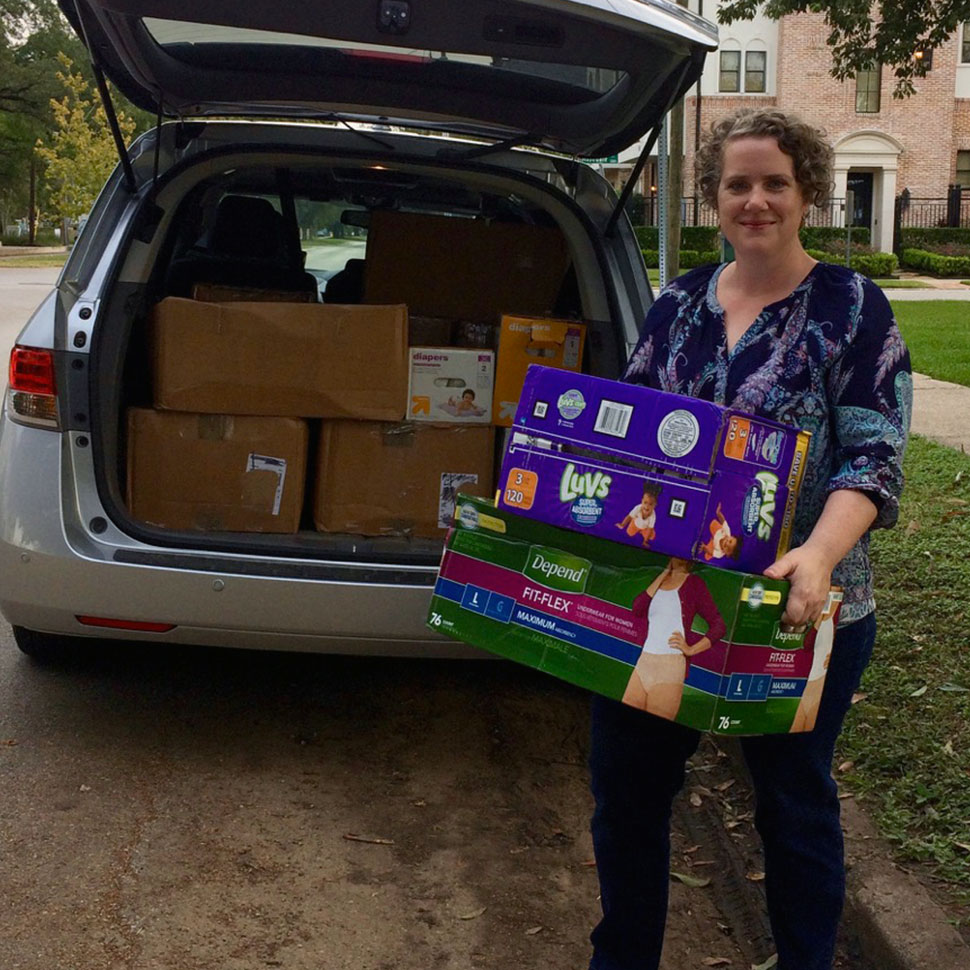 "I think it's a great example of one of the things Wake is all about. It was a collaborative idea that came from the interaction of students, faculty, and staff. From that intentional conversation came that idea which had the potential to impact many who were in need. I think this is the kind of community Wake Divinity seeks to be and often times is. It is not only learning how to do those things but making space for those things to happen." Michael Hood (MDiv '20), Student Co-Organizer
In addition to the material donations, cash donations were collected by many individuals and several local congregations, including Mt. Pleasant AME Zion Church, pastored by Reginald Keitt (MDiv '19); Sharon Missionary Baptist Church, pastored by Kenneth Moore (MDiv '18); and Shepard Church of God.
The monetary donations totaled $1,450, which were also sent to Covenant Church.
Along with the "Building Bridges with Britches" campaign, divinity students found other unique ways to get involved in relief efforts. Christian McIvor, a first-year Master of Divinity student, is a trumpeter in the Piedmont Triad Jazz Orchestra (PTJO). Under McIvor's leadership, PTJO organized a free benefit concert at College Park Baptist Church in Greensboro, N.C.  in September to support the ongoing relief efforts. 100% of the donations went to Harvey relief and the concert encouraged attendees to also donate clothing items for the "Building Bridges with Britches" campaign.
"Building Bridges with Britches" played a small but significant part in the relief efforts that are still going on in the city of Houston and surrounding areas.
Categories: Alumni, Current Students, News
Recent Posts
June 1, 2023

May 19, 2023

April 5, 2023