Main Content
Media Contact: C. Mark Batten | battencm@wfu.edu | 336.758.3959
School of Divinity and Wake Forest College students, and special guest Dr. Joshua Bennett, took to the stage at "Just-US: Just Voices, Just Words, Just Human," an open mic event on November 10.  For nearly two hours performers used their voices to give due diligence to the affirmation and value of human difference.
The School of Divinity organized the event under the creative planning of first-year Master of Divinity student Janiece Williams. It was co-sponsored in collaboration with Wake Forest University's Department of English, Intercultural Center, Writing Program, and Writing Center. The event also received a grant from the Provost's Fund for a Vibrant Campus, which supports the invitation of speakers, artists, or performers to help foster a vibrant campus and facilitate the intellectual and creative community at the University.
Dr. Joshua Bennett, winner of the 2015 National Poetry Series, is an accomplished academic and artist who is currently a Junior Fellow in the Society of Fellows at Harvard University. He is the author of The Sobbing School (Penguin, 2016) and the forthcoming Being Property Once Myself: Blackness and the End of Man. He holds a Ph.D. in English from Princeton University and an M.A. in Theatre Performance from the University of Warwick. Bennett has recited his original work at venues such as the Sundance Film Festival, the NAACP Image Awards, and President Obama's Evening of Poetry and Music at The White House.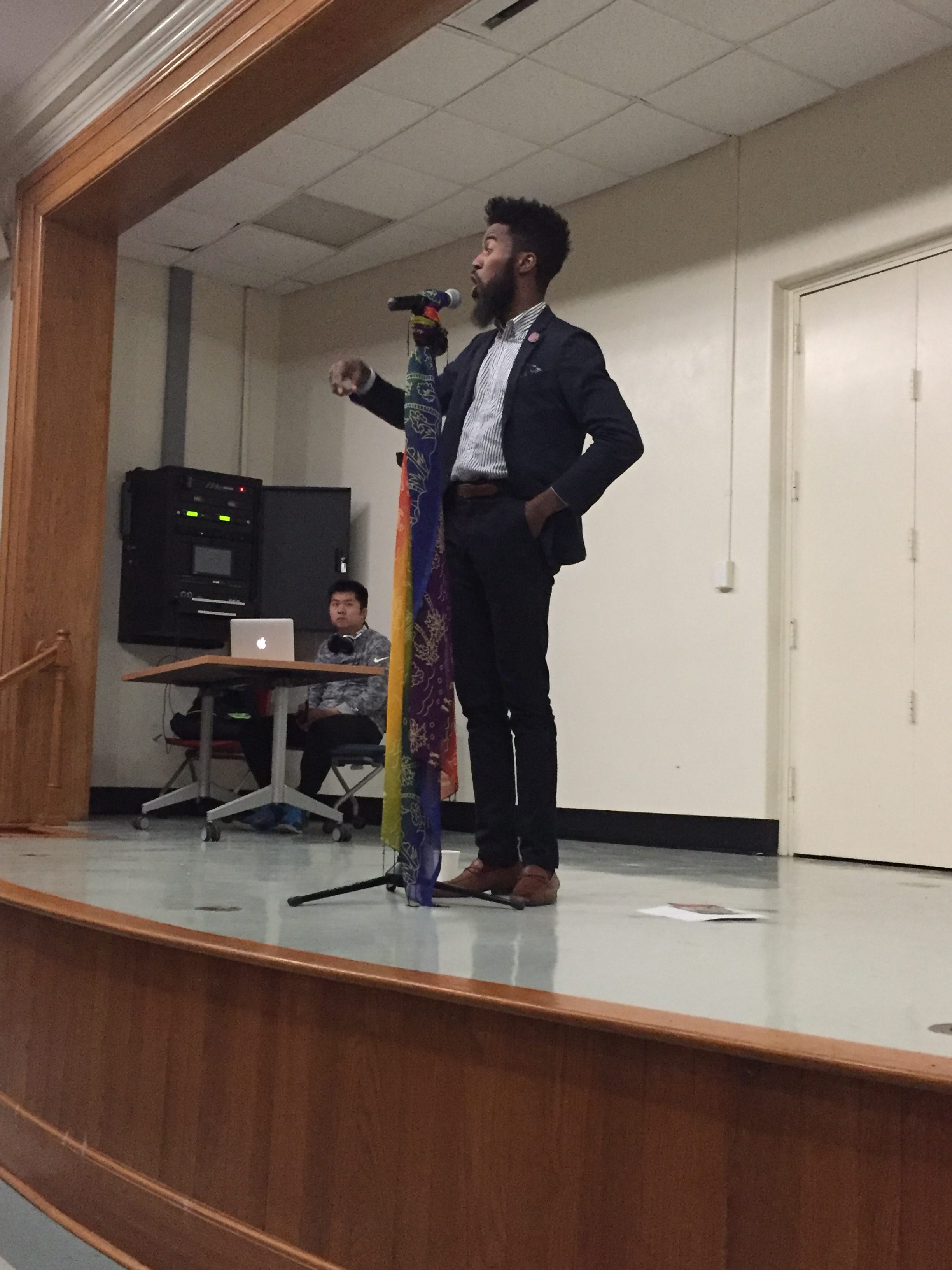 "I had the time of my life. It was an honor, and a great joy, to be a part of a night where so many divergent communities came together in the name of poetics, in the spirit of unfettered celebration." Dr. Joshua Bennett
School of Divinity alumna Demi McCoy (MDiv '17), who currently serves as a Program Coordinator with the Office of Admissions and Student Services at the School of Divinity, provided leadership for the event. "Just-US was a powerful way for students to have the opportunity to interact with someone like Dr. Joshua Bennett, who has found a way to creatively share the knowledge he has gained from his experience in the academy," she said. "The poetry of the performers was timely and compelling."
First-year Master of Divinity student Michelle Johnson attended the open mic and found the speakers engaging and profound, even while sharing very personal material. "I went that evening to get a message," she said, "and that message ended up being love yourself, love the skin you're in, and love it more than anyone else could." Johnson is an active writer and looks forward to having an opportunity to give voice to her work at a future open mic event.
"Just-US: Just Voices, Just Words, Just Human" was open to students, faculty, and staff to showcase their talent and lift up narratives of authenticity and social justice.
Categories: Current Students, News, Special Events
Recent Posts
June 1, 2023

May 19, 2023

April 5, 2023