Main Content
by Erica Saunders and C. Mark Batten, Office of Communications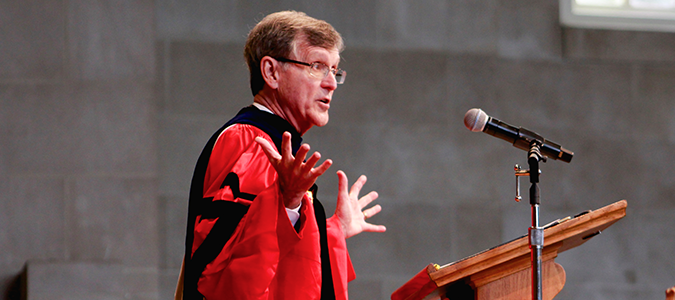 On Tuesday, August 29, nearly 300 students, faculty, staff, alumni, and community members gathered together in Wait Chapel to hear Bill J. Leonard deliver this year's Fall Convocation address. Leonard, who will retire at the end of the 2017-18 academic year, is Dunn Professor of Baptist Studies and Professor of Church History.
Leonard's address, entitled "Redeemer Nation and Lost Cause Religion: Making America Great Again (For the First Time)," explored the connections between white supremacy, American exceptionalism, and the current political climate. According to Leonard, the "Make America Great Again" mentality belying President Donald Trump's policies and the alt-right is an outgrowth of America's national self-conception as a "redeemer nation" and the marriage of religion with the Lost Cause, a philosophy that sought to explain the Confederacy's defeat in the Civil War.
"Introduced to explain the South's defeat and memorialize its honored dead, [the Lost Cause] morphed into a broader method for undergirding racial segregation, denying blacks' voting rights, and promoting culturally entrenched white supremacy, zombie mindsets that stalk us yet," Leonard said.
Read the transcript or watch Leonard's address now » Invoking "prophets and other dissenting weirdos" such as Ann Hutchinson, Dorothy Day, and Martin Luther King, Jr., Leonard posed a four-part challenge. He challenged the audience to read culture with a sense of history, particularly white supremacy; to distinguish Christian conviction and cultural prejudice, especially when appealing to the Bible; to cultivate gospel dissent, contesting the ways in which religious communities cut deals with the culture; and to understand the United States as a beloved community rather than a redeemer nation.
"The School of Divinity's audacious mission to help students and faculty learn to live as agents of justice, reconciliation, and compassion is the language of a beloved community," said Leonard. "Language that these days seems like a really Lost Cause, hope as inconceivable as a stone-cold Galilean, laid out in a borrowed tomb, waiting on Sunday morning for the audacious grace of God."
The conclusion of his address was met with a standing ovation.
"Dr. Leonard's convocation address has made it clear that our call is to spread love, truth, and compassion to the world. Given the current political climate, that challenge is daunting," said third-year Master of Divinity student Emily Davis. "However, the work of Dr. Leonard inspires me to continue fighting the good fight. Dr. Leonard has been a special part of my life during my time at Wake Div, as he offers the voice of the Spirit through the holy moments and not-so-holy moments."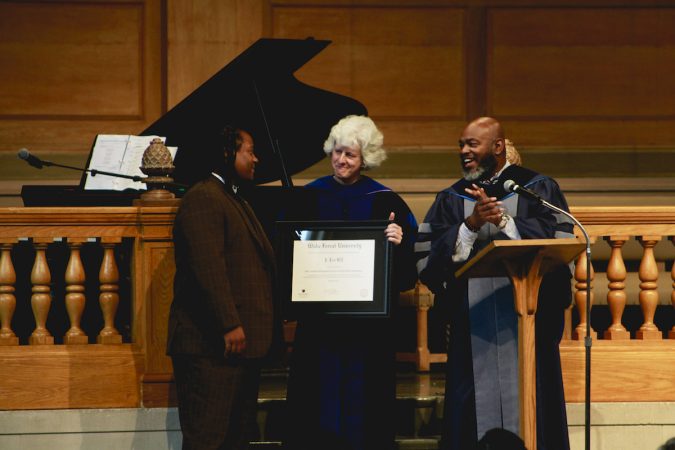 Before Leonard delivered his benediction, Dr. Derek Hicks, associate professor of religion and culture, named this year's recipient of the Bill J. Leonard Distinguished Service Award Pro Fide et Humanitate. The Rev. Dr. J. Lee Hill, Jr. (M.Div. '05) was presented the award, which honors those who embody the principle of Wake Forest's motto of Pro Humanitate and the School of Divinity's commitment to diverse faith engagement and to being agents of justice, reconciliation, and compassion. Hill, an ordained minister in full standing with the Alliance of Baptists and the United Church of Christ, is senior pastor of Christian Fellowship Congregational Church, a UCC congregation in San Diego, California, that seeks to recontextualize Christianity through black liberation theology and praxis. The award was established in 2010 by the late James M. Dunn and his wife, Marilyn, and is awarded annually to a faculty member, alumni, or friend of the school.
The School of Divinity begins each new academic year with convocation and this year welcomed a new class of 47 new Master ofDivinity students from diverse places and religious perspectives.
Related Coverage
photos by Carly Geis (MDiv '19)
Categories: Faculty, News, Special Events
Recent Posts
June 1, 2023

May 19, 2023

April 5, 2023