Main Content
by C. Mark Batten and Erica Saunders (MDiv '19), Office of Communications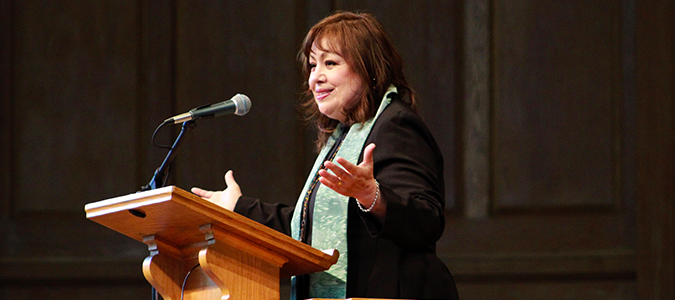 Bishop Minerva G. Carcaño presided over a bilingual worship service Thursday as this year's preacher for the Mac Bryan Prophetic Preaching Series. Carcaño is the first Latina to be elected to the episcopacy of the United Methodist Church (UMC), the second-largest Protestant denomination in the United States. She currently serves as Bishop of the California-Nevada Annual Conference of the UMC and is an official spokesperson for the United Methodist Council of Bishops on the issue of immigration.
Carcaño's sermon, entitled "A Hope Beyond Ourselves," reimagines the Gospel of Mark's Gerasene demoniac. The possessed man called "Legion," she said, bore the sin of his community. Today's vulnerable populations, including immigrants and people of color, bear the collective sins of cruel immigration policy and systemic racism. People with privilege become accustomed to the exploitation of these people, implicating themselves in sin. Yet there is hope in Jesus, who liberates us just as he liberated Legion.
"How did we get here, friends?" she challenged those in attendance. "How did we forget that we are followers of Jesus, who always leads us to the edge of life, to those places of deep human suffering, especially to the side of those whose suffering others do not seem to notice or care about?"
Carcaño prophetically proclaimed that people of faith should be responsible citizens in the country where they live, but above all they should be faithful citizens of the reign of God. "Jesus comes proclaiming good news to all who are tormented by the sins of this world," she continued. "The reign of God arrived for all God's children, and life will never be the same. Jesus has come among us. Jesus, who is that hope beyond ourselves."
A native of Texas, Carcaño has led congregations in Texas and California. In 1986 she became the first Hispanic woman to be appointed a district superintendent in the United Methodist Church, serving in West Texas, New Mexico, and Oregon. Carcaño also previously served as director of the Mexican American Program at Perkins School of Theology Southern Methodist University.
She provided expert commentary on the latest season of "Finding Jesus: Faith, Fact, Forgery," which aired on CNN earlier this year, and regularly contributes to The Huffington Post and TIME magazine.
The Mac Bryan Prophetic Preaching Series brings preachers and speakers to campus who inspire people to live and serve at the intersection of Christianity and social justice. It was established at Wake Forest University School of Divinity in honor and memory of George McLeod "Mac" Bryan, Sr. ('41, MA '44) by George ('61) and Carol ('64) Williamson. Bryan was professor of religion and taught at the University for thirty-seven years after joining the religion faculty in 1956. He introduced courses on feminism, religion and science, medical ethics, and black and liberation theology. He fought tirelessly for Civil Rights, pursued social reform, and was instrumental in helping to integrate Wake Forest College in the 1960s.
Watch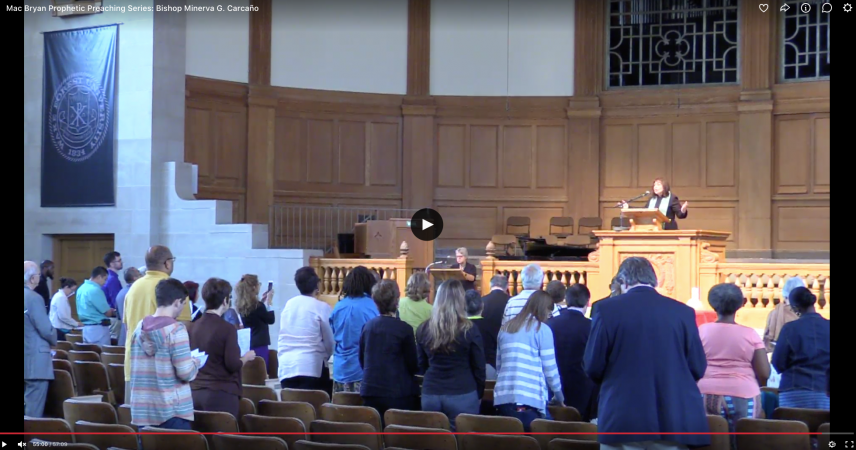 photo by Carly Geis (MDiv '29)
Categories: News, Special Events
Recent Posts
June 1, 2023

May 19, 2023

April 5, 2023