Main Content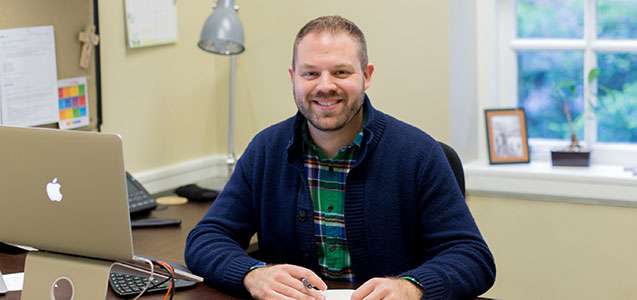 C. Mark Batten has been named assistant dean of admissions and strategic communications at the School of Divinity.
"This appointment acknowledges Mark's creative leadership at the school," said Shonda R. Jones, associate dean of admissions and student services at the School of Divinity. "He has helped us in every way possible to expand the prominence of our programs and collaborate with faculty, staff, and students so that all aspects of our communications and marketing, across departments, tells a genuine story about our innovative and evolving theological education environment."
Since 2011, Batten has led the communications and positioning strategy for the School of Divinity, leveraging social, print, and digital technologies to connect a variety of populations to the school in creative, new, and compelling ways. He has also streamlined the school's admissions processes to enhance how prospective students move through the school's recruitment funnel while also strengthening the application and admissions technology the office uses.
"Having the opportunity to enhance the reputation, promotion, and visibility of the School of Divinity has been one of the highlights of my career in higher education," Batten said. "Not many have the privilege to be a part of a professional community that is as forward-thinking and responsive to the needs of people today, or one that intentionally creates an educational structure that supports the many ways the next generation of leaders desire to make an impact in our communities."
Batten's involvement at Wake Forest extends to other areas of the university. He was a member of the latest cohort of the Leadership Development Program, sponsored by the Professional Development Center (PDC) supporting senior leaders and faculty members through personal coaching and group dialogue on critical leadership and management topics. He is also active with Information Systems, aiding the implementation of Workday as a Change Management Partner and is participating in conversations about the evolving nature of student technology and digital experiences at the university. Batten works closely with members of the university news team to broaden the school's reach by tapping into specific media channels and resources. He also works with the digital and print creative services teams to ensure the School of Divinity remains brand consistent with the larger University initiatives.
Prior to Wake Forest, Batten served as the admissions analyst and manager of admissions programming at Emory University's Candler School of Theology. Before his work in theological education, he served in congregational ministry in North Carolina and Georgia, as a prison chaplain, and with human resources and finance for NSTAR Global Services, a semiconductor service company. He also teaches introductory religion courses at Campbell University and regularly preaches at congregations across North Carolina.
Batten earned a bachelor's degree in religion from Campbell University and a master's of divinity degree from Emory University's Candler School of Theology.
Categories: Admissions, Staff
Recent Posts
June 1, 2023

May 19, 2023

April 5, 2023