Main Content
by C. Mark Batten, Office of Communications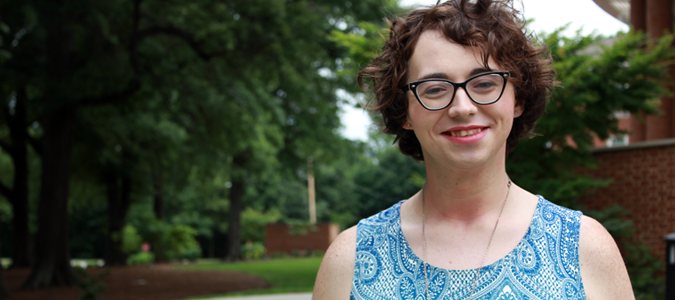 Christian Feminism Today (CFT) has announced that second-year Master of Divinity student Erica Saunders is the recipient of the Fourth Annual Nancy A. Hardesty Memorial Scholarship.
The scholarship is awarded to a college senior or graduate student who aspires to exemplify the values and achievements of Nancy A. Hardesty, a founding member of CFT and former professor at Clemson University and Emory University. Saunders was informed of the scholarship by her internship supervisor Rev. Lia Scholl, pastor at Wake Forest Baptist Church.
"Thanks to CFT and the Hardesty Memorial Scholarship I have the opportunity to continue my research at the intersection of feminist, postcolonial, and queer approaches to the New Testament," Saunders said. "And I get to do so in conversation with other gifted and talented women who share with me the values of uplifting women in Christian vocation and recovering those voices that have gone largely unnoticed in our tradition."
Saunders said that guidance and support from Katherine A. Shaner, assistant professor of New Testament, has had great influence on her growth as a feminist scholar and theologian. "Dr. Shaner's course highlighted for me the multiplicity of voices and perspectives that contributed to the richness of the earliest Christian communities."
Shaner provided a letter of recommendation for Saunders' scholarship application. "She is quickly emerging as one of the most promising young feminist scholars I have had the privilege of working with," Shaner wrote. "Her potential for transformational feminist Christian ministry cannot be overstated. She is convicted that gender justice must be a central tenant of Christian work in the world."
Before joining the Master of Divinity program, Saunders earned her bachelor's degree in French, Spanish, and Philosophy and Religion from Queens University. After she graduates from the School of Divinity she plans to pursue doctoral studies in New Testament.
Read the full press release from Christian Feminist Today and their profile feature of Saunders.
About Christian Feminism Today
Christian Feminism Today is a Christian feminist organization with a long history of working for gender equality. CFT welcomes members of any gender, gender identity, race, ethnicity, color, creed, marital status, sexual orientation, religious affiliation, age, political party, parental status, economic class, or disability. Its biennial conferences sustain spiritual connectedness and foster learning about critical Christian feminist issues. The Christian Feminism Today website provides Christian feminist news, articles, book reviews, blogs, Bible study, audio, links to explore, and inspiration. CFT members network with and support each other through regional events, biennial conferences, and the Internet. https://eewc.com/
Categories: Art of Ministry, Current Students, Faculty, News
Recent Posts
March 21, 2023

February 16, 2023

February 2, 2023