Main Content
by C. Mark Batten, Office of Communications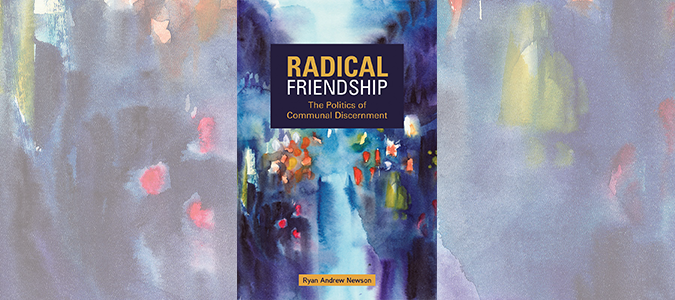 While a Master of Divinity student, Ryan Newson (MDiv '11) was formally introduced to the practice of communal discernment, the practice that promotes a thoughtful response of a community or individual to a problem after collective conversation, prayer, and study of scripture instead of being reactionary.
"For churches and ministers today it is important to gather together and have hard conversations about difficult topics we so often avoid," Newson says. "I am convinced that a key way for Christians to discern the ongoing activity of God in a dynamic world is to gather, read, pray, and engage in honest conversation."
Earlier this year, Newson's doctoral dissertation was published by Fortress Press. Titled Radical Friendship: The Politics of Communal Discernment, he uses the practice of communal discernment as observed in Anabaptist, New Monastic, and Catholic Work communities to promote communal dialogue as a means for communities and individuals to be empowered to work for a shared vision of justice in the world.
Newson says that the book demonstrates the multidisciplinary approach to theology he was introduced to at the School of Divinity. From tools of New Testament exegesis and working through perplexing theological concepts to learning about sixteenth century historical reclamations of communal discernment, Newson helps position people closer towards good and virtue by investigating the impact communal discernment can have on a person's practical formation.
"Wake Divinity prepared me for the work of academic theology," he says. "I learned the discipline required to do any academic work well. That is the discipline of slowing down, giving one's interlocutor a charitable reading, and engaging in critical questions as one reads. Because that's where our concepts of God are shaped and sharpened."
After graduation from the School of Divinity, Newson completed a doctoral degree in Christian Ethics and Philosophical Theology at Fuller Theological Seminary. He currently teaches religion, ethics, and philosophy at Campbell University and lives in Raleigh, NC with his wife, Rebecca, a 2011 alumna of the School of Divinity.
Radical Friendship is available on Amazon in paperback or as an e-book.
Categories: Alumni, News, Publications
Recent Posts
June 1, 2023

May 19, 2023

April 5, 2023