Main Content
Media Contact: C. Mark Batten | battencm@wfu.edu | 336.758.3959
For the second year, students in the School of Divinity course titled, "Liturgical Writing as Spiritual, Theological, and Prophetic Act," collaborated to put together a published worship resource of prayers and poems. The course was led by Jill Y. Crainshaw, Blackburn Professor of Worship and Liturgical Theology.
The syllabus presented a few guiding questions inviting course participants to explore what theologies they embody through their choices of language, images, styles, and forms in public prayers and written liturgies. What ideas, hopes, dreams, and laments do the words of worship spark or stir or set loose in our hearts and minds? What images of God swirl up out of communal prayers and hymns to shape what we believe or who we are as people of faith?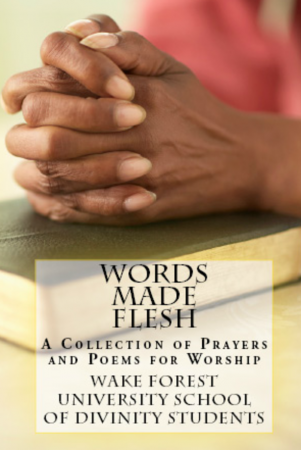 The resource, Words Made Flesh: A Collection of Prayers and Poems for Worship, was a direct result of students embracing Crainshaw's challenge with her guiding questions. Words are powerful and how religious leaders use words in worship matters.
"Students wrote some amazing pieces for this course as they reflected on how God is at work in communities and our world," said Crainshaw. "In these pieces, I hear the unique tone and timbre of student voices along with a depth of vocational passion and theological wisdom."
The experience of creating this resource also challenged students to consider their roles as public prophets, theologians, and spiritual leaders.
"These dreams and contemplations are where God has spoken to us, nudged us, and pointed to the holy in the every day," the class wrote about the book's purpose. "We hope that as you read these that maybe you too will feel a special tug on your spirit to express the sacred in your own way."
Words Made Flesh was designed and published by Library Partners Press at Wake Forest University. It is available for purchase in paperback from Amazon at http://wakediv.school/words-made-flesh.
About Library Partners Press
The idea behind Library Partners Press is to publish quality books (of any length and size, in both electronic and print-on-demand formats) created by Wake Forest University and North Carolina library patrons and friends. LP Press is a cooperative program established by Wake Forest University, the Z. Smith Reynolds Library, and Digital Publishing @ Wake, for the purpose of collecting, publishing, and delivering content created by library patrons everywhere. Learn more at https://librarypartnerspress.org/.
Categories: Courses, Current Students, News, Publications
Recent Posts
May 19, 2023

April 5, 2023

March 21, 2023