Main Content
by Erica Saunders (MDiv '19) and C. Mark Batten, Office of Communications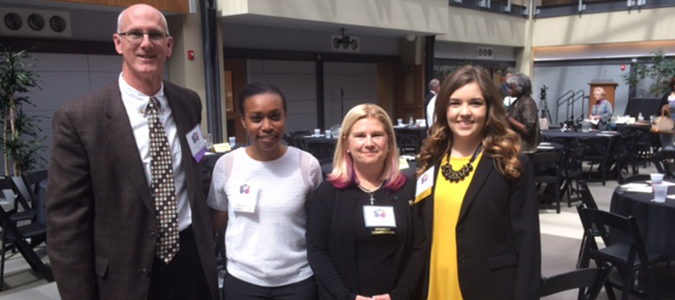 Earlier this year, Abby Catoe (MDiv '17), Darnysha Nard (MDiv '17), and Victoria Lasley (MDiv '17) joined interdisciplinary teams to compete during the fifth annual MACHE Bowl.
Presented by the Maya Angelou Center for Health Equity (MACHE), the event fosters interactive conversation about health disparities affecting communities. Each team is given a fictional health care case prior to the event to craft an analysis and response about the case. On the day of the event each team presents their responses to a panel of judges comprised of faculty members of the participating universities. A second round follows, where teams are given more information about the case and have twenty minutes to formulate responses.
Students were invited to participate in the event by Mark Jensen, teaching professor of pastoral care and pastoral theology, who also served on the faculty panel of judges. "I was glad for our students to have the opportunity to reflect on real-world health disparities, and proud of their engagement with students from other disciplines," he said.
Catoe, who plans to work with marginalized populations to help them acquire better mental health care, found the MACHE Bowl to be a helpful glimpse into her future.
"This experience gave me great insight into working with a very diverse group of individuals coming from different disciplines and how it takes multi-disciplinary perspectives to address the whole person in tackling all of our societal problems," she said. "My original intention in attending the Divinity School was to learn about the connections of food, faith, and health. The MACHE Bowl proved to be a good test of my ability to pull all of that together."
Nard, who hopes to work in a health care setting after graduation, found it helpful because it allowed her to approach situations with different perspectives and appreciate all of them.
"Participating in the MACHE Bowl helped me to grow as a minister," she said. "I learned to work with other people. It reinforced for me that I may not always have the answers, but that doesn't mean I can't provide someone with resources to find the answers themselves."
Categories: Current Students, Leadership Development, News, Special Events
Recent Posts
June 1, 2023

May 19, 2023

April 5, 2023